After a painful surprise cut in earnings guidance last quarter, Target's (NYSE:TGT) stock price has been punished. The shares now appear to have bottomed, and while they may not come roaring back in the immediate future, they are likely to begin creeping higher from here for a few key reasons. The company is growing rapidly online, they will benefit from the closure of hundreds of J. C. Penney (NYSE:JCP) and Kmart stores, and the border tax appears to have no hope of becoming reality. In addition to these positives, the stock already trades at a discount to the broader market and has an outsized dividend yield with a dividend increase coming soon. Downside risk from here is minimal, and patient value investors can confidently accumulate Target shares at these levels where they are likely to safely earn double-digit returns going forward.
I'd like to come right out and state that I believe the bottom is in for Target. When the company lowered their forward earnings guidance by 20% last quarter, a mass exodus of frustrated shareholders began. Now that a couple of months have passed, the stock has stabilized, and what is left behind is likely a shareholder base consisting of the very patient value investors.
There is no question Target is cheap. The stock trades for billions of dollars below the value of the real estate. The larger issue of late has been the fact that unless you are a deep value investor, there was no reason to own Target. When a company comes out and slashes the profit forecast and offers little hope for an immediate rebound, Wall Street generally runs the other way. Regardless of how cheap Target is, traders and investors sell first and ask questions later. On top of the guidance cut, the fears about a border tax have hurt most all retailers. The other obvious concern is the rapid growth of Amazon.com (NASDAQ:AMZN) and other e-commerce retailers.
The negative issues surrounding Target and many other retailers are widely known. One funny thing about Wall Street is that stocks generally bottom at the point of maximum pessimism. There are very few investors out there who are unaware of the problems facing retailers. With that being the case, there's a strong possibility that the worst is priced in already. Perhaps we should begin to look at things that may actually be positive.
First of all, the struggles of retail have caused the weakest competitors to continue to close hundreds of stores. This year, J. C. Penney announced the closure of 138 stores this year. Sears (NASDAQ:SHLD) and Kmart have announced the closure of 150 stores. The closure of these hundreds of competing stores will bring about hundreds of millions of dollars in sales that will be up for grabs. My guess is that Target will get a very nice chunk of those sales. Going forward, Kmart still had 735 stores at year end, with J. C. Penney having over 1,000 stores. Should these two chains continue to struggle, billions of dollars in sales could be up for grabs in the near future as they continue to shrink.
The second positive is that the border tax that Donald Trump has been pushing for is dead. This proposal, even while unpopular among many in Congress, was still a dark cloud hanging over most retailers, and now that it has been lifted, the market should respond by bidding up prices of retailers. Target was very much opposed to the border tax and will be much better off without it.
A third positive for Target is that their online sales have been growing at near 30% rates. This is the No 1 thing I believe investors are failing to understand with Target and most omnichannel retailers. While people focus on the growth rates of Amazon.com, they are oblivious to or ignoring the equally fast e-commerce sales growth of Target and Wal-Mart. I believe this will be the year that investors finally recognize the embedded growth of the e-commerce division of Target and accept it as a positive. While Amazon has had the advantage for years, Target and others have a huge advantage in that they own thousands of physical stores filled with merchandise. These stores already are able to ship items directly out of the stockrooms, and going forward, I believe the future will be one where Target will fulfill online orders within a matter of hours, directly out of their 1,800-pus stores. Amazon has no hope of doing this without building a massive network of physical stores or acquiring a brick and mortar retailer. Until they do one of these, Target has an advantage that many investors do not give them credit for.
Target will increase its dividend at the next board meeting. The company has a long history of increasing its payout annually and the company CFO already stated on a recent investor presentation that this year will be no different. The next board meeting is just over five weeks away so expect an announcement on the dividend in early June.
Target stock already trades at a huge discount to the broader market. The company has reduced its profit outlook based on the massive investments it is making in price. They are not going to grow earnings this year, but this doesn't mean they will never grow again. The response by the market has been to punish the stock relentlessly. This is something that fascinates me about Wall Street. Typically a stock will trade at a discount to the market multiple when investors are pessimistic on the outlook of that company's earnings or when they expect earnings to decline in the future. Not only have earnings estimates already come down, but the multiple given to Target's earnings still remains significantly lower than the multiple given to the overall market. Believe it or not, this is actually fantastic news for new investors. Not only do they have the opportunity to buy Target stock cheaper based on temporarily reduced earnings projections, but also because as the general opinion of Target remains negative, they are paying a very low multiple for what are likely trough earnings.
The other nice thing about Target's earnings estimates is that the company already lowered them, and considering the fact that they lowered them in order to voluntarily invest in price, something which is entirely in their control, they are extremely unlikely to lower earnings projections again. Investors should now feel the most confident in the numbers. Yet most investors generally are the least confident. This type of situation allows new investors the opportunity to take advantage of the pessimism and buy Target with confidence that the company has a very high probability of earning what they said they will.
With months now passed since Target's lowered forecast was announced, there has been more than sufficient time for unhappy Target shareholders to sell. I believe the stock bottomed earlier this month in the $52 range. The market is ignoring many potential positive catalysts that are very likely to occur or are already happening now. In addition, the market is well aware of the problems Target is facing, and therefore, has priced it accordingly. Target's dividend is very generous and will almost certainly increase at the next board meeting. Taking all of this into consideration, I feel there is minimal downside from here, and that it is time to begin to focus on the positives and to accumulate Target on down days.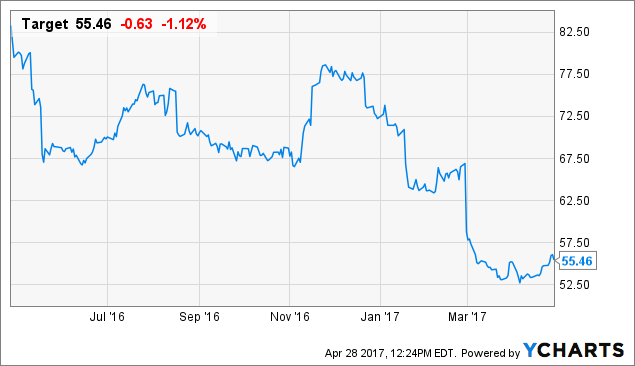 Disclosure: I am/we are long TGT.
I wrote this article myself, and it expresses my own opinions. I am not receiving compensation for it (other than from Seeking Alpha). I have no business relationship with any company whose stock is mentioned in this article.