Over the past three months, Jazz Pharmaceuticals' (NASDAQ:JAZZ) share price has been cruising. It has risen just over 22%. The company has had good news after good news. In this article, I will be breaking down the news and what I think it means for the company's future.
Settlement With Hikma
On April 5th, Jazz Pharmaceuticals released the news that it had just come to a settlement with Hikma Pharmaceuticals (OTCPK:HKMPY). To say the least, it was a major win for Jazz. The settlement ruled that Hikma could not sell the authorized generic version of Xyrem until January 1st, 2023. Moreover, when Hikma does start selling Xyrem, Jazz Pharmaceuticals will receive undisclosed royalties on it.
Why is it so important Jazz Pharmaceuticals holds the full rights to the drug? Well, as shown on the most recent financial results (full year and 2016 fourth quarter), under 2017 financial guidance, it shows the company predicts that just over $1.2 billion in net sales will come from Xyrem while its total net product sales guidance is $1.6 billion. That's 75% of the company's revenue. Thus, with this settlement, all of these sales are protected from Hikma for the next six years. With Xyrem as the backbone for the next six years, I believe Jazz will have enough time to build a more diverse portfolio. In addition, the royalties Jazz will receive could be up to 50%, which would be a major income.
What Do Other Lawsuits Mean?
This was stated in the recent press release about the Hikma settlement:
"Similar patent litigation brought by Jazz Pharmaceuticals against four other companies that have filed ANDAs with the FDA seeking approval to market a generic version of Xyrem remains pending in the U.S. District Court for the District of New Jersey."
Now, after reading this, I could understand how others could be worried that Xyrem is not protected from other generic brands. However, the lawsuit by Hikma was the strongest one and look what came out of it. It had a great settlement. Thus, Jazz Pharmaceuticals should not have any big problems fighting off the other lawsuits.
Jazz Builds Up Its Pipeline
The company has already started on building up its portfolio. Just recently it has released successful Phase 3 data on JZP-110 in both TONES 3 and TONES 4 studies. JZP-110 treats obstructive sleep apnea (OSA). This drug will fill the "important unmet need for OSA patients who experience excessive sleepiness, and the robust magnitude of effect …", according to Karen Smith, chief medical officer at Jazz Pharmaceuticals. Additionally, the full data results from the TONES 2 study are expected to be released sometime over quarter 2 in 2017.
"We expect to announce preliminary results from our Phase 3 TONES 2 study evaluating JZP-110 in excessive sleepiness associated with narcolepsy in the second quarter of 2017. Subject to final data analysis and regulatory discussions with FDA, we continue to target NDA submission in late 2017." – Karen Smith said in recent press release about positive Phase 3 data for JZP-110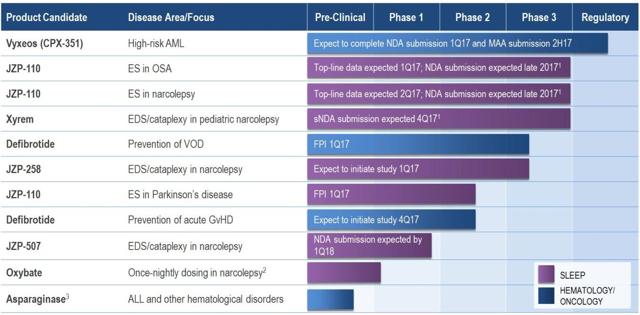 Furthermore, JZP-110 is not the only drug that has been updated on recently and moving forward. Many others including JZP-258 just started enrolling patients for Phase 3 trials. JZP-110 started enrollment for Phase 2 trials to treat ES in Parkinson's disease. Additionally, Vyxeos and Defitelio have both signed license agreement for development and commercialization in Japan.
Analyst are Upgrading
SunTrust Banks set a $210 price target and reiterated its buy rating.
Leerink Swann set a price target of $170 and has also reiterated its buy rating
Guggenheim has reiterated its buy rating and set a price target of $200
Ultimately, I believe that Jazz Pharmaceuticals is set up for success. It contains a major drug, which just received good news that will protect its sales for six years. JAZZ is building a better pipeline and has recently had good data from the Phase 3 trials. Lastly, many analysts are raising their price targets.
Disclosure: I/we have no positions in any stocks mentioned, and no plans to initiate any positions within the next 72 hours.
I wrote this article myself, and it expresses my own opinions. I am not receiving compensation for it (other than from Seeking Alpha). I have no business relationship with any company whose stock is mentioned in this article.
Editor's Note: This article discusses one or more securities that do not trade on a major U.S. exchange. Please be aware of the risks associated with these stocks.