The way to make money in the stock market is to jump on underappreciated stories before they become appreciated by the mass of market participants. In the gold mining sector money is usually made when expectations are low and a company either surprises with a new discovery (in the case of exploration) or better than expected production and profit margins (for producers).
Most analysts agree that mid-tier producers with growing production profiles are a sweet spot in the gold mining sector and we have recently witnessed a tendency for mid-tiers to outperform senior producers, even during bear market periods for the sector.
Source: Stockcharts.com
Mid-tier producers Alamos Gold (NYSE: AGI), B2Gold (NYSE: BTG), and Endeavour Mining (TSX: EDV, OTC: EDVMF) have outperformed (in varying degrees) both GDX (gold miner ETF with a heavy weighting in senior producers such as Barrick and Newmont) and GDXJ (junior gold miner ETF which holds both mid-tier producers and junior explorers) since last July.
The multi-year bear market which the gold mining sector experienced between 2011 and 2016 caused senior producers to reshape their strategy; instead of having numerous 50,000-250,000 ounce per year projects the largest gold mining companies have decided to simplify and opted to have fewer, larger projects. This new strategy has opened up opportunities for investors who are able to acquire projects that have suddenly become 'non-core' for some of the world's major gold producers.
As senior gold producers do their best to focus their production profiles and become leaner they have begun to divest assets which don't turn the needle much for them. A recent example of this comes from Goldcorp's sale of the Los Filos Mine in Mexico to newly created Leagold Mining (OTC:HTXFF) (TSX-V:LMC); Los Filos produced 231,000 ounces of gold in 2016 at an all-in sustaining cost of $878/ounce Au and it is scheduled to produce an additional 1.256 million ounces over the remaining 8 year mine life.
Leagold paid US$350 million for Los Filos in what is a 3-pronged investment by LMC:
Build a platform of sustainable gold production with upside potential to take advantage of a rising gold price. Create a currency for future acquisitions.
Reduce costs at Los Filos through operational efficiencies and improved focus (potentially below $800/oz AISC).
Develop the rich adjacent Bermejal Underground deposit to further expand the mine life and reduce costs. Bermejal Underground (BU) has Measured and Indicated Mineral Resources totaling 4.7 Mt at 6.65 g/t containing 1.012 Moz gold and Inferred Mineral Resources of 4.2 Mt at 5.05 g/t containing 0.678 Moz. A January 2017 PEA indicated an AISC at Bermejal underground of less than $450/oz which tremendously helps the overall cost profile at Los Filos once BU moves into production: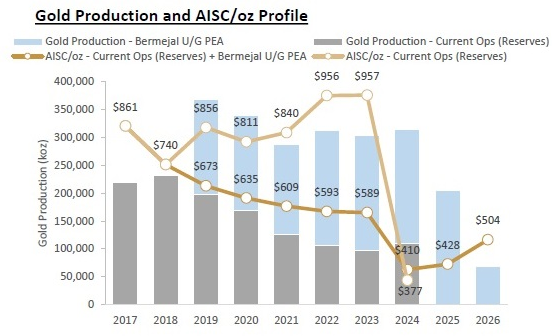 Source: Leagold
Leagold's focus on acquisitions, optimizations and advancing its pipeline mimics the strategy of Endeavour Mining, a West Africa focused mid-tier gold producer built by Leagold CEO Neil Woodyer. Woodyer was awarded CEO of the Year by Mining Journal in 2016 for his efforts building Endeavour. In a recent interview with Kitco.com, Woodyer said Leagold has better opportunities in Latin America, and is starting with a much more significant asset base at Los Filos than Endeavour had.
Here's the Leagold management team: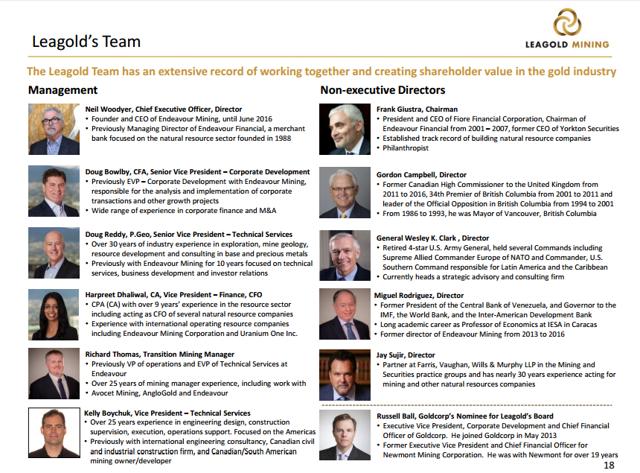 Source: Leagold
While most gold miners delivered shareholders huge losses during the brutal bear market years of 2013, 2014, and 2015 in the gold mining sector, EDV shares managed to hold up very well and then proceeded to rally more than 300% from late-2015 through the summer of 2016 as the gold price rebounded roughly 25%:
EDV.TO (May 2013-Present)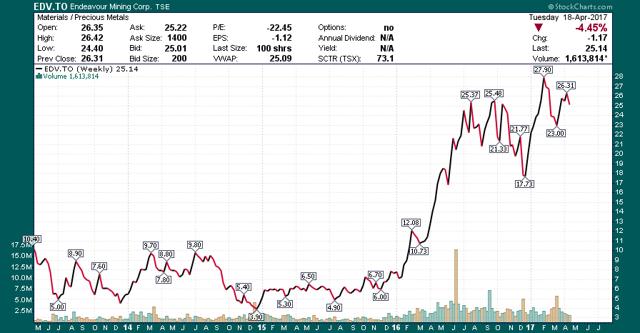 This is the kind of performance that gold mining investors are looking for when they invest their hard earned dollars in the sector as opposed to buying physical gold. The stunning performance in EDV shares was the product of shrewd cost containment, additional new discoveries, and accretive M&A activity which transformed EDV from the junior producer it was in 2010 to the powerful mid-tier producer it is now.
Leagold CEO Neil Woodyer was at the helm of Endeavour during its transformative years and left the company in June 2016 after EDV shares had risen ~450% from their 2014 low. Now he is committed to turning Leagold into not only the next Endeavour, but an even larger Latin American gold producer.
After its shares only recently began trading again (last week), following a three month halt in order to consummate the Los Filos acquisition, Leagold remains an off the radar story. It is situations like this which offer investors an opportunity to take advantage of a potential upward revaluation as the story becomes more widely followed and the current undervaluation is appreciated. After the recent financing to close the Los Filos Mine acquisition Leagold has a market cap of roughly C$425 million which, judging by its peers, does not give the company full credit for planned production at Los Filos:

Northern neighbor Torex Gold (TSX:TXG, OTC: TORXF) currently trades at more than 2x the price/NAV of LMC.
Using what I view as conservative assumptions ($1250/oz Au and a stable $800 AISC) and not even factoring in a rising gold price environment generates a net present value (NYSE:NPV) of nearly US$500 million for planned production at Los Filos (NPV5% was US$334M using a $1200/oz Au price):

Source: Author's own model
US$496 million translates to ~C$660 million at a $1.33 USD/CAD exchange rate which means that LMC shares could have 50% upside from current levels just to reach fair value for the existing production schedule at Los Filos.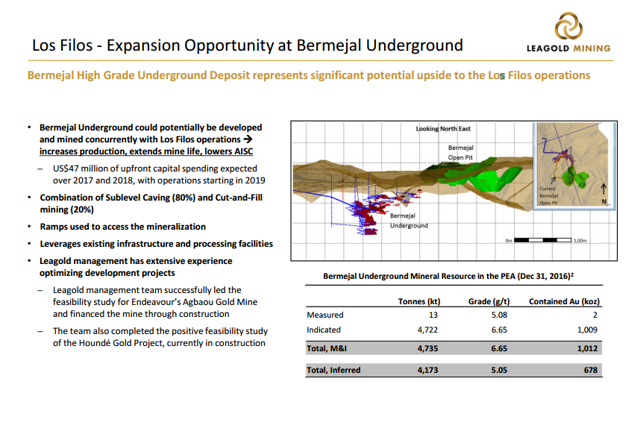 Source: Leagold
But the best part is that there's more. Bermejal Underground is where the real juice is for Leagold. A second deposit was identified near the Bermejal open pit mine with a Measured and Indicated resource of more than 1,000,000 ounces Au grading 6.65 grams/tonne plus Inferred resource of 678,000 ounces grading 5.05 grams/tonne.
Given that Leagold expects it will cost them less than US$50 million to bring BU into production in 2019 and there is ample opportunity for exploration success at Bermejal, there is a lot of upside available to Leagold at BU. A rising gold price would be the icing on the cake for LMC shareholders who stand to win in three different ways:
Investing alongside an experienced management team with a proven track record of building a successful mid-tier gold producer (Endeavour Mining) and one of the most successful mining investors of the last couple of decades, Frank Giustra. Buying an undervalued asset with a team that is committed to cost containment and production optimization. As Leagold performs and gets its story out to a wider audience I see significant potential for an upward revaluation closer to peers such as Torex Gold; Analyst visits scheduled for May and new research analyst coverage will help Leagold access a wider audience of investors. Exploration success and additional accretive acquisitions. Leagold is committed to becoming a major gold producer and the plan is to accomplish that largely through acquisitions.
Do your own due diligence. As always it's your money and your responsibility.
Disclosure: I/we have no positions in any stocks mentioned, but may initiate a long position in LMC.V over the next 72 hours.
I wrote this article myself, and it expresses my own opinions. I am not receiving compensation for it (other than from Seeking Alpha). I have no business relationship with any company whose stock is mentioned in this article.