LINE Corporation (Line) (NASDAQ:LN) reported revenues of¥38.9 billion ($350 million), an increase of over 16 percent versus last year. Profit attributable to shareholders clocked in at¥1.4 billion ($13 million) versus a loss of -¥122 million. Diluted EPS were at ¥6.07 versus -¥0.63. On the surface, these results were solid as the company maintained its revenue growth level from the previous year, while profits greatly improved.
Despite this performance, the stock price closed down over 7.5 percent, with an intra-day low at nearly -12 percent. This makes two consecutive earnings reports where the company has witnessed strong selling pressure immediately following earnings results.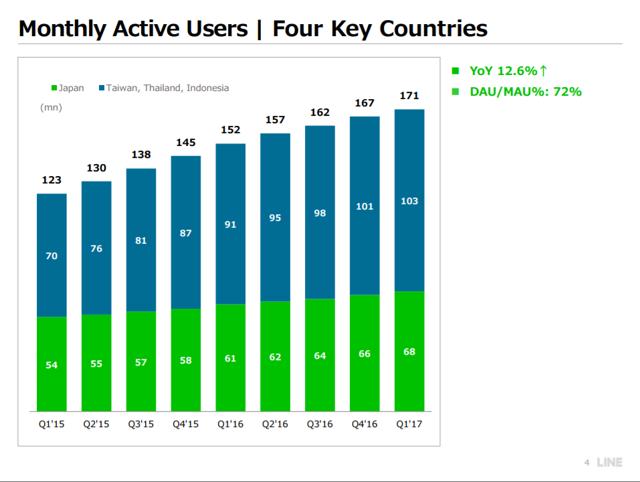 Source: Line Q1 2017 Earnings Results, April 26, 2017
The core driver of Line's positive revenues was the increasing growth in the company's monthly active users (MAUs) for its key countries. Results were up 12.5 percent versus last year with the daily active users (DAUs) as a percentage of MAUs at 72 percent. Early on after Line's IPO, there were concerns regarding the company's ability to grow its user base. Some were concerned whether Line would follow Twitter, Inc.'s (NYSE:TWTR) lackluster growth performance, so far this has not been the case.
Despite strong revenue growth, there was a noticeable decline in the company's content operating segment. As a quick refresher, Line has two primary operating segments, communication and content and advertising products and services. The former segment has been and is expected to continue to be the primary growth driver for the company.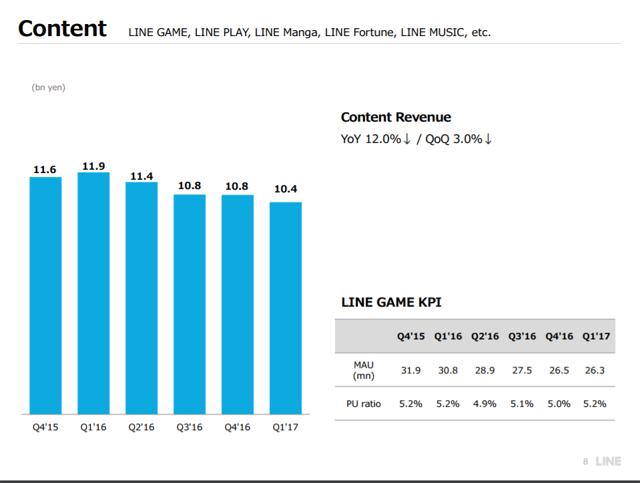 Source: Line Q1 2017 Earnings Results, April 26, 2017
Within the communication and content operating segment, there are three sub-segments including communication, content and others. Content has traditionally been the largest revenue generator, but has recently witnessed a sequential decline for the past few quarters. For March, performance was down over 11 percent from last year.
This has largely been impacted by the decline in MAUs and monthly paying users (MPUs) of Line games, which both were down 14.5 percent from last year. On the call, analysts questioned whether fatigue had become an issue, as well as what management had planned to counter this trend.
Source: Line Q1 2017 Earnings Results, April 26, 2017
Line has sought to improve the diversification of its content offerings for its users. Line News & Line Today MAU growth has increased substantially. Line News impressions March have increased substantially from the previous month with the addition of the News tab feature. While not a direct monetization service, it improves user stickiness and engagement for the overall Line platform, as well as contributes to Line advertising, the company's fastest growing revenue segment.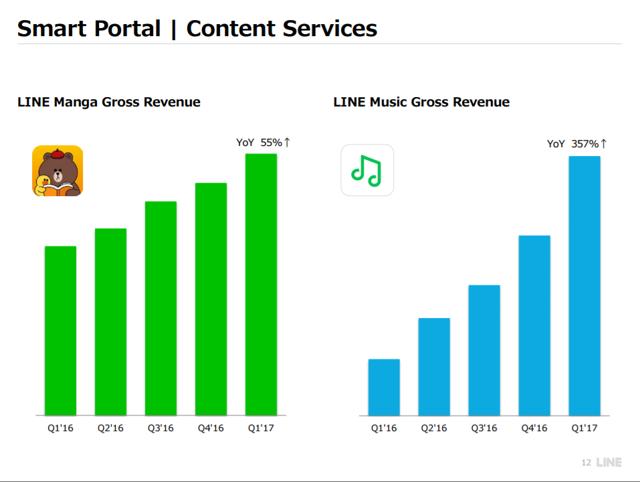 Source: Line Q1 2017 Earnings Results, April 26, 2017
Line has also witnessed strengthening performance for two of its other monetized services. The company offers users the ability to purchase and download comic book titles from Line Manga, and to subscribe to music via Line Music. Both have witnessed strong gross revenue performance from the previous year.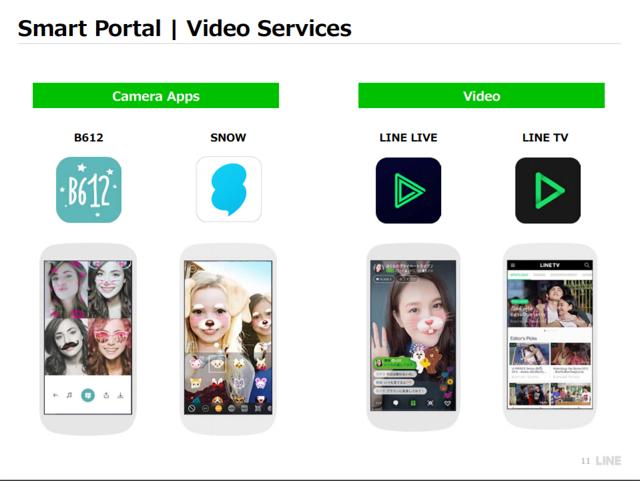 Source: Line Q1 2017 Earnings Results, April 26, 2017
Line's recent interest and partnership in Snow, along with B612 have the company set up to remain a leader in Asia for camera applications, ala Snap Inc. (NYSE:SNAP). As of December 2016, Snap had 161 million DAUs, with 75 percent in North America and Europe. With a market capitalization of $25 billion, Snap's DAUs are worth $155 a piece. Snow likely would not command such a value per user. But assuming the company has around 50 million DAUs (recent information suggests total users were at 100 million), and the company alone could be worth $3 to $4 billion. Line still may become the majority owner at some point.
The company's Line LIVE (a real-time streaming service) and Line TV (localized content videos from diversified channels) are both also growing services further diversifying a user's experience, driving stickiness and engagement with advertising opportunities.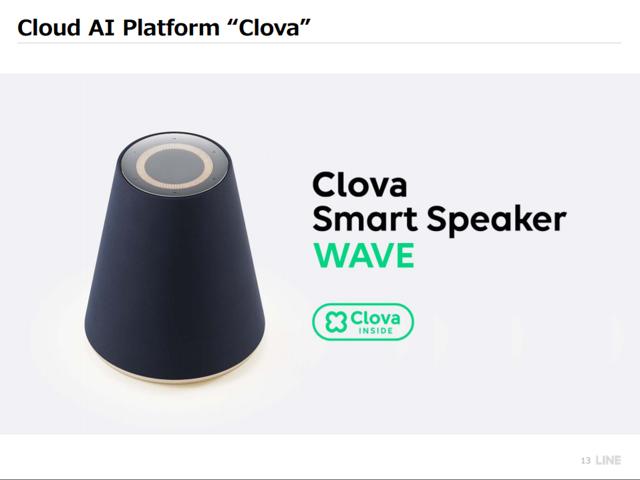 Source: Line Q1 2017 Earnings Results, April 26, 2017
The last product worth mentioning is the recently announced Clova. Clova stands for "Cloud Virtual Assistant," which is a new artificial intelligence (AI) platform being collaborated on by both Line and NAVER Corporation, Line's majority shareholder.
This is very similar to Amazon.com's (NASDAQ:AMZN) Echo. The product is expected to debut in Japan and Korea in early summer. Line is intently focused on AI with the goal of making Clova Asia's leading cloud AI platform. The platform will be founded on Line's chat-based technology, NAVER's search technology, Line and NAVER's array of services and content and big data accumulated from Line and NAVER's large user bases.
Source: vinclu, Inc. product page
Line will also be exploring collaborations with other companies including Sony Mobile Communications and TOMY Company, a toy manufacturer. Line also has announced that the company will be acquiring a majority stake in vinclu Inc. a company behind Gatebox, the IoT virtual home robot. This holographic home assistant is voice activated using sensors to interact with the device operator, while connecting to a range of devices in the home.
A review of these new products is merited as the March 2017 quarter witnessed a 22 percent increase in operating expenses, conversely reducing operating income by 26 percent. Management stated that expenses increased due to the active running of TV commercials and system development for Line Mobile. Marketing and authentication and other service operating expenses both increased by greater than 71 percent from last year.
These expenses now reflect 25 percent of operating expenses. Other increases included a 52.5 percent increase in depreciation and amortization, and a 42 percent increase in other operating expenses. Depreciation and amortization and other operating expenses were largely tied to the relocation of the headquarter offices and corresponding increase in rent payments.
Management has guided that operating expenses are expected to continue to increase following the expansion of services and marketing activities, as well as the investments into Clova. Essentially, Line is ramping up its investments and expenditures to further diversify its platforms and focus on cloud AI technologies with its core partner, NAVER Corporation.
As mentioned earlier, Line's advertising segment did witness increased revenue of 41 percent versus last year. This was led by an astounding 500 percent increase in performance advertisements from last year, now reflecting 30 percent of total advertising revenues. Messenger advertisements increased by seven percent, reflecting 54 percent of the total.
Upon review, it is not surprising that the company's stock price moved so much. Investors were obviously disappointed with the decline in operating margin from the previous year, despite the earnings beat which was driven by the loss last year from the discontinued operations related to the MixRadio business.
With operating expenses anticipated to continue rising, pressure will likely continue to weigh on Line's operating and profit margins. The market is going to focus more on top-line growth as these investments are expected to pay off.
Line's strongest growing segments are expected to remain robust, Line Games has remained flat the past three consecutive quarters. The company is focused on sustaining marginal growth for this segment as other services witness stronger performance.
Line has proven that the company can continue to grow its user base and advertising platforms. The company has added some uncertainty and more risk as it marches towards new endeavors like Clova. But it is becoming increasingly apparent that NAVER Corporation will remain a strong partner to support these efforts.
Line is focused on a path to building a core ecosystem through both its own, and NAVER Corporation's combined platforms. As stated, Snow as a separate entity may command more than half of Line's $7 billion market capitalization in the near term. Investors interested in Line need to exercise some patience for these undertakings to evolve and pan out. Investors also need to be prepared for further volatility based upon revenue and operating and profit margin uncertainties.
Disclosure: I am/we are long AMZN, LN.
I wrote this article myself, and it expresses my own opinions. I am not receiving compensation for it (other than from Seeking Alpha). I have no business relationship with any company whose stock is mentioned in this article.