Nearly two years ago, activist investor Starboard Value said that Macy's (NYSE:M) stock was $125 a share. Every since then, when shares were around $70 a share, the stock has fallen. I've argued before that Starboard's proposal for unlocking shareholder value – to separate the real estate from the core operations – does little to hedge the decline in sales and deterioration in the retail business.
Instead, selling the properties just to lease it back saddles Macy's with a fixed payment. A payment that's now less flexible and required if the retail sector continues to falter or if we see another economic downturn. Recall that Sears (NASDAQ:SHLD) has undergone a strategy similar to what Starboard recommended for Macy's – and things have not worked out so well.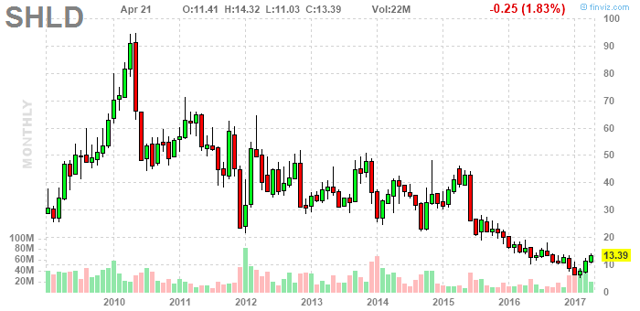 Starboard isn't in the long-term game.
Strabord has already exited its Macy's position. The company wasn't breaking the real estate fast enough, nor aggressively enough. Starboard, as an activist hedge fund, isn't interested in the long-term, either. So the inability to unlock value in the short-term has turned Starboard off. But this isn't all bad.
A buyout also failed. It was said that Hudson's Bay (HBC) approached Macy's but couldn't come to an agreement. This could be a positive, however. It gives Macy's, and relatively new CEO (since March of this year) Jeff Gennette a chance to figure out a viable turnaround strategy that doesn't involve simply trying to sell off real estate. Macy's has shut down some underperforming stores and sold off real estate.
The (turnaround?) path forward.
Macy's, and the new CEO, can now look beyond figuring out a real estate strategy and focus on operations – notably, a plan to reverse its two-year streak of negative same-store sales. Its most notable plan includes implementing a TJ Maxx (NYSE:TJX) style business model. Many of TJ Maxx, and its top competitor Ross Stores (NASDAQ:ROST), have off-mall locations. Macy's would be bringing a treasure hunt experience to the mall.
This involves accelerating its rollout of its own off-price brand, Macy's Backstage. Still, figuring out exactly what this business model looks like – or how it works – is another story. Backstage has become a staple in Macy's underperforming stores, but may work best as a standalone brand – think Nordstrom's (NYSE:JWN) Nordstrom Rack brand. Macy's has some 15 Backstage stores and hopes to add 30 more this year. Compare that to the some 215 Nordstrom Rack stores.
Macy's is trying to look past the Amazon (NASDAQ:AMZN) worry and focus on areas it can readily stop market share hemorrhaging. TJ Maxx and Ross stores have been stealing market share from department stores like Macy's every since the financial crisis, and their stock prices have reflected this.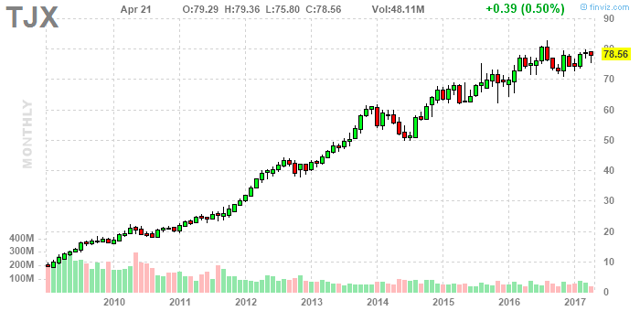 This, hopefully, will be an easy opportunity for Macy's to capture some of the off-price market share, where the majority of Macy's customers also shop at off-price chains. For now, Macy's is hoping that using the off-price model within its stores will give shoppers another reason to visit. However, I'm still not sold on this model, as it has the potential to cannibalize the higher margin, more expensive, products. Then there's its relatively new Last Act section for its clearance inventory. This and Backstage are easy ways to offer low-priced inventory without the need to open more stores.
With a 5.1% dividend yield, Macy's is offering the highest yield we've seen since the financial crisis. We've also never seen its payout ratio this high – clocking in at 75%. Buying Macy's for the dividend is a fool's game, however. Will they maintain that dividend? Maybe, but it's too risky. Instead, I'd settle for a dividend cut and an investment in a strategy that might actually turnaround sales growth. For investors looking for some exposure to the bombed out retail space, Macy's is a worthy candidate.
Trading at 6x EV/EBITDA, Macy's is at a hefty discount to the 11x that both TJX and Ross trade at. I am encouraged by the fact that Macy's can now focus on its core business without worrying about an activist or real estate monetization; yet, I'm still not sold on its 'new' business model of keeping the off-price business in-house. Instead, I think we need to see something more profound. Everything is a buy at the right price, but (after all) we've seen Macy's cheaper – previously trading for less than $5 a share and 4.5x EV/EBITDA during the financial crisis. Macy's is a wait-and-see story.
Disclosure: I/we have no positions in any stocks mentioned, and no plans to initiate any positions within the next 72 hours.
I wrote this article myself, and it expresses my own opinions. I am not receiving compensation for it (other than from Seeking Alpha). I have no business relationship with any company whose stock is mentioned in this article.