The following won't interest you if you don't want your investments to have anything to do with marijuana.
Don't Like Marijuana Stocks.
There are numerous reasons why many of us don't like to invest in marijuana stocks. Other than the obvious moral and legal concerns of using marijuana, the majority of the current 230-250 so called marijuana stocks are practically not investable. Out of the 238 current U.S. cannabis stock universe, 25 or 10% of the stocks have already been delisted. 75% of the stocks are trading at levels 80% below the first trade prices. More than 80% of the stocks are currently traded at less than $5 and 60% of them are less than $1.
It can be easily demonstrated that a portfolio of 238 (marijuana) stocks includes just one or two $0.01 stocks, the average daily portfolio return may easily blow up to 1000%. It is these falsely represented returns which have puffed up a marijuana bubble that is filled with shady people, scams, and misinformation. Obviously, there is a general distrust in the trading and legitimacy of marijuana stocks.
Marijuana-Like Stocks
That being said, the potential explosive growth in the cannabis industry is undeniable. In the U.S., total cannabis revenue grew from $50 billion in 2010 to over $100 billion in 2017. It is expected to exceed $150 billion by 2020. By 2026, the legal cannabis revenue will amount to $79 billion, 10 times the 2016 level. For the 14 most liquid marijuana stocks, an index, Cannabis 14, has produced a return over 300% since 2011. While one may not want to invest directly in marijuana stocks, the potential for their explosive returns may easily spill over to other market segments which are NOT involved with marijuana but deliver a similar path and magnitude of returns that are tradable and investable.
The real question is what could be some of the underlying economic forces which drive these common high returns.
1. Chill Factor
As more than 90% of cannabis use is recreational, its phenomenal growth in last 5 years may be attributable to the trending "stay home and chill" culture. The modern technology allows this generation to shift the way that free time is spent. Staying home during the weekend is now more common than going out. This is because staying home is both less costly and more convenient, two things that everyone desires.
In a typical stay-home weekend, after completing several long overdue home projects on the "honey-to-do" list (NYSE: HD) (NYSE: LOW), the "chill night" will start with picking up some Wingstop's (NYSE: WING) Lemon chicken wings and a 6-pack of Craft Brew's (NYSE: BREW) craft beer, watching a season of Netflix's (NASDAQ: NFLX) "Orange is the New Black," order some Domino's pizza (NYSE: DMP), iMessage (NASDAQ: AAPL) or Facebook Messenger (NASDAQ: FB) your friends, playing War Craft (NASDAQ: TTWO), ordering some makeup (NASDAQ: ULTA) online (NASDAQ: AMZN), and in those legalized states, smoke a joint or two (Cannabis 14) to conclude the night.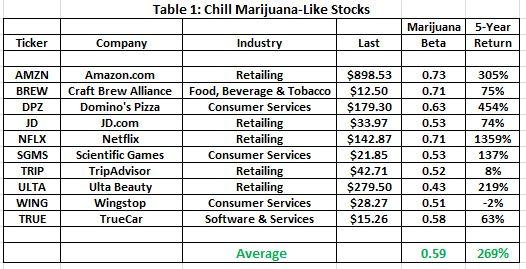 (Source: Bloomberg)
So we seek to identify "non-marijuana" stocks which benefit from the emergence of a "stay at home economy." In Table 1, 10 of such "chill stocks" have been identified. With an average "marijuana beta" close to 0.60, the returns of these stocks have been closely correlated with those of marijuana stocks, Cannabis 14. Since 2012, the chill marijuana-like stocks have produced a total return of 269%, albeit lower than Cannabis 14's 307%, but significantly higher than the S&P 500's 84%.
2. Recreational and Discretionary Marijuana Use
Recreational marijuana use represents the majority of the total marijuana use. Due to its discretionary nature, recreational marijuana use is closely related to the consumer discretionary income and highly cyclical. It stands to reason, therefore, cyclical stocks which are driven by positive consumer sentiment should closely follow a similar path of the marijuana stocks. This would include companies like Avis Budget Group (NYSE: CAR) and Spirit Airlines (NASDAQ: SAVE) in the Transportation Industry and ExOne (NASDAQ: XONE) and Energous Corp (NASDAQ: WATT) in the Capital Goods Industry. In Table 2, 12 cyclical non-marijuana stocks with an average marijuana beta around 0.70 have been identified. This segment of the stocks has produced a total return of 114%.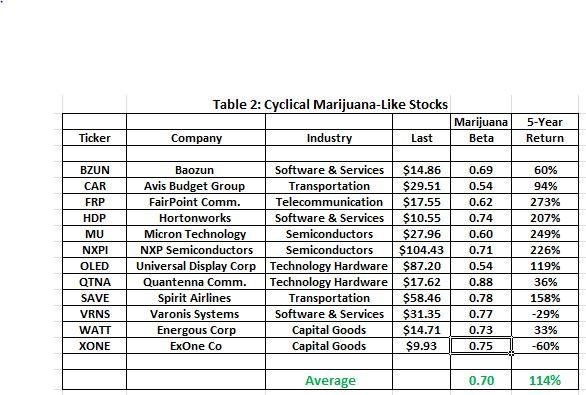 (Source: Bloomberg)
3. Alternative Pain Management
There is also a growing demand to move away from conventional methods of using prescription pills for pain management. Approximately one in five people suffers from chronic pain which is currently primarily treated through the use of prescription opioid medications. Opioids are considered effective but also pose risks of abuse and addiction. Healthcare industry and physicians are under increasing pressure to look for alternatives such as medicinal marijuana. In fact, in the U.S., there has been an almost 25% decrease in opioid overdose mortality in states that allow the use of medical cannabis As a result, the pace of legalization has been faster for medical cannabis use than recreational use. For pharmaceuticals industry, the speedy state legalization of medicinal cannabis use directly equates to exponential growth potential in cannabis revenue. Between 2000 and 2010, for every one state legalizing cannabis, the legal cannabis revenue has increased by nearly 50%. Between 2020 and 2026, it is forecasted that revenue will increase by 24% for an additional legalized state.
Without any current revenue exposed to cannabis, companies like Obalon Therapeutics (NASDAQ: OBLN), Novocure (NASDAQ: NVCR), and K2M Group Holdings (NASDAQ: KTWO) manufacturer medical devices and health care equipment which are crucial for invasive surgical solutions, such as spine surgeons to treat spinal pathologies. Their products are highly dependent on effective pain management. For pharmaceuticals companies like Ardelyx (NASDAQ: ARDX), Eagle Pharmaceuticals (NASDAQ: EGRX) and Horizon Pharma (NASDAQ: HZNP) which develop drugs for pain management, nausea and vomiting, HIV/AIDS, and neurological problems, they are also affected by the development of medicinal cannabis. In Table 3, 14 pharma stocks have been identified to have been closely correlated with an index of marijuana stocks, Cannabis 14. With an average 0.86 cannabis beta, these 14 non-marijuana healthcare stocks have produced an average total return of 89% for the last 5 years.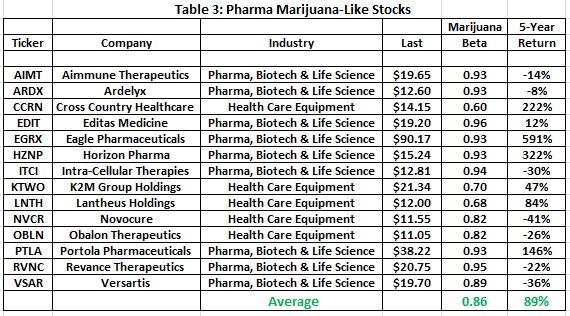 (Source: Bloomberg)
All in all, between 2010 and 2017, the 36 marijuana-like stocks have produced an average of 190% total return (Figure 1), compared to marijuana stocks' 307%, while both significantly outperformed the S&P 500's 84%.
If you are in doubt, for whatever the reasons, whether to invest in marijuana stocks, you are not necessarily excluded to participate the similar high non-marijuana stock returns which have been driven by the same underlying economic forces. For a complete list of marijuana-like stocks, click here.
Disclosure: I/we have no positions in any stocks mentioned, and no plans to initiate any positions within the next 72 hours.
I wrote this article myself, and it expresses my own opinions. I am not receiving compensation for it. I have no business relationship with any company whose stock is mentioned in this article.