When evaluating an investment, I advocate seeking a well-managed company with a sound balance sheet, strong franchise that earns its profits in cash, and is shareholder-friendly.
Nucor Corp. (NYSE:NUE), North America's largest and efficient steelmaker, ticks all the boxes.
Since the last cyclical peak, Nucor management invested over $7 billion to vertically integrate the business. No longer simply a low-cost, flexible, electric arc mini-mill steel company, Nucor is now segmented into 3 operating units: Mills, Products, and Raw Materials.
Through the downturn, Nucor had the financial muscle to invest in the future; a result of owning the best balance sheet in the business. It's the only domestic steel company with an A- credit rating. Debt-to-equity is 32%. the company continues to enjoy plenty of liquidity.
1Q 2017 Results: A Home Run
In previous quarters, Nucor management shared cautiously optimistic remarks. In the most recent report, senior leadership projected a demonstrably more upbeat outlook.
In brief, 1Q results were excellent. A few highlights:
quarterly revenue approached $5 billion, a YoY 30% uplift
gross margin ballooned to 15.8% versus 9.3% a year earlier
mill rates improved to 89% (80% to 85% is considered strong)
Average Selling Prices for steel increased 21% versus a year ago
steel volumes shipped to outside customers improved 7% and 13% compared to 1Q 2016 and 4Q 2016, respectively
As-reported EPS was $1.11 versus $0.26 a year ago. This was the highest quarterly EPS since 2008 cyclical peak.
Parsing the report, I adjusted earnings for one-off, non-core accounting items. I pegged operating EPS to be $1.13 as compared to $0.22 in 1Q 2016.
As-reported YoY operating cash flow fell: net $237 million versus $551 million. However, an understanding of the business dynamics helps explain the difference.
Nucor's business, similar to other Materials and Industrial sector companies, includes a self-leveling mechanism. During leaner times, working capital (including inventory) is worked down. This tends to "generate" cash flow, even when earnings remain depressed. On the other hand, as the economic cycle turns, more cash flow is consumed by higher working capital requirements; notably inventory build. Profit goes up and cash flow pauses temporarily.
This is precisely what happened to Nucor.
On a per-share basis, the company reported $0.74 operating cash flow in 1Q 2017. If we eliminate working capital movements, the figure rises smartly to $1.82. Indeed, Nucor earns its profits in cash.
Just during the first quarter 2017, Nucor net inventory increased ~$600 million.
Forward Guidance: The Real Story
Nucor management offers relatively conservative guidance. Yet looking ahead to 2Q 2017, the team provided a markedly more optimistic forecast. On the 1Q earnings conference call, CFO Jim Frias offered these comments:
Earnings in the second quarter 2017 are expected to increase compared to the first quarter. This further supports our previously expressed view that full year 2017 profitability could significantly exceed the level achieved for 2016. In the second quarter, our sheet mills should experience further gains in price realizations as a portion of their contract sales are priced on a lagging quarterly basis. We expect our plate mills to benefit from recent trade actions that provide a more level playing field. Our fabricated construction products order books indicate that the nonresidential construction markets have regained momentum in 2017. That, along with seasonal trends, will benefit the second quarter performance of our steel products segment.

We're also encouraged by the emergence of improving demand in other end-use markets, including energy and heavy equipment. With stronger demand for iron units, our raw materials business should be solidly profitable over the balance of this year. We also expect intercompany profit eliminations to have a smaller impact on earnings in the second quarter. We're confident that Nucor's significant competitive advantages, highly adaptable business model and proven strategies will allow our team to continue to deliver profitable long term growth and attractive returns to Nucor's shareholders.
Management hasn't provided such a positive forecast in years.
Catalysts
A good investment thesis includes catalysts. I contend Nucor enjoys several potential catalysts; each with an ability to propel shares higher. These include:
Continued Improvement in the Non-Residential Construction Markets. After several fits and starts, non-res construction appears to have turned the corner. Previous up-cycles have shown to be durable, multi-year affairs. The cycle looks to be underway excluding Federal infrastructure spending. If the U.S. Congress approves an infrastructure package in 2018, it's gravy.
Ongoing Relief from Illegally-Dumped Steel Imports. Even when confronted with evidence, the previous Administration was slow to act when nations dumped low-cost, government-subsidized steel into U.S. markets. This appears to be changing. Nucor management does not ask for protectionist tariffs. They simply want free trade to mean fair trade. Post-Great Recession, foreign nations enjoyed gaming the system at U.S. steelmakers' expense. Recently, a number of trade-related cases have supported the domestic steel industry. Foreign steel imports are declining, albeit slowly. Figures indicate about 25% of our steel is now imported, down from around a third one year ago.
Tubular Products are Booming. Nucor management used the industry downturn to vertically integrate the business. The strategy included purchasing two operating companies: Independence Tube and Southland Tube; now combined under the header Nucor Tubular Products. The newly-acquired businesses are doing well. The construction and energy industries utilize these products.
On the conference call, management added the sheet, bar and plate businesses are likewise on the uptake.
Nucor's Louisiana DRI Facility Has Hit Stride. In 2011, the company initiated the construction of a world-class DRI (Direct Reduced Iron) manufacturing and processing facility in Louisiana. Post-construction, the greenfield plant encountered several setbacks. These included an explosion and storage dome collapse (no injuries), and miscellaneous startup equipment failures. It appears these matters are now resolved. Management reported the Raw Materials business unit is expected to enjoy strong profitability through the remainder of 2017; something the company hasn't experienced in recent years.
Corporate Tax Relief Could Be a Significant Tailwind. Talk in Congress calling for corporate tax rate changes are likely to impact Nucor. The 1Q 2017 tax rate was 32.4%. In 2016, Nucor's rate was ~31%. Any reduction will send cash to the bottom line.
The company May Offer Investors a "Special Dividend:" Nucor is a Dividend Aristocrat, one of a small percentage of listed companies that have increased dividends for at least 25 years. NUE has upped the payout for 43 consecutive years.
During the last industry up-cycle, the company augmented the regular dividend with several special dividends. A repeat could signal another powerful catalyst.
The following exchange between a Street analyst and Jim Frias addressed the point:
Timna Tanners

In the past, you've said that when Nucor achieves over $1 of earnings per share, that would be when you'd start to think about factoring in a special dividend. Nucor's dividend has been rising every year, but by pretty small increments. So I'm just wondering if you had any thoughts about how you'd recommend to the board to proceed on the dividend or any thoughts that they've had on that.

James Frias

That's a good question, Timna. And we think about the dividend not on a quarterly basis, but on an annual basis. So let's see how the rest of 2017 plays out and we'll think more about whether it's appropriate to increase the dividend or do something with other dividends or do other things to return cash to shareholders by the end of the year.
While Mr. Frias was appropriately non-committal, he did not dismiss the issue. In 1Q 2017, Nucor earned more than $1 per share. Management expects 2Q to be even better; therefore indicating at least a second quarter beating the benchmark.
For years, Nucor management has demonstrated transparency, and engaged investors in shareholder-friendly manner. I expect no less going forward.
The current dividend yield is over 2.5%.
Valuation
Currently, shares are bid ~$60. Despite a six-month, 24% run-up, I do not find the stock to be overvalued. I may add if the shares "come in," on a general market pullback.
Looking At The Fundamentals
A price-and-cash flow FAST graphs suggests a one-year $67 to $70 price target is reasonable. Accepting current estimates and a conservative, 10x P/CF multiple confirm it.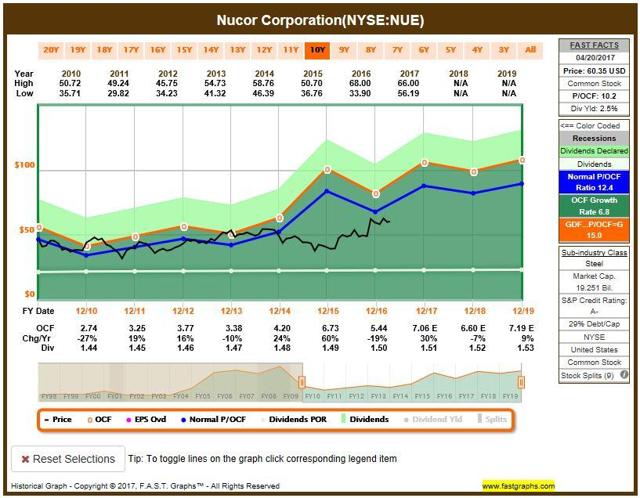 I also evaluate NUE shares via a Price/Sales analysis. This strips out some of the earnings and cash flow accounting "noise." For reference, another FAST graph provides historical P/S data.

We find at peak-cycle, one could premise P/S to be marginally greater than 1x. Premising the company will generate 2017 sales totaling ~$20 billion, we again arrive at a one-year price target between $67 and $70.
During the last cycle peak, NUE stock topped out a bit over $75 on nearly $24 billion sales.
If the current steel upswing persists, the current enterprise holds the potential to eclipse the marker.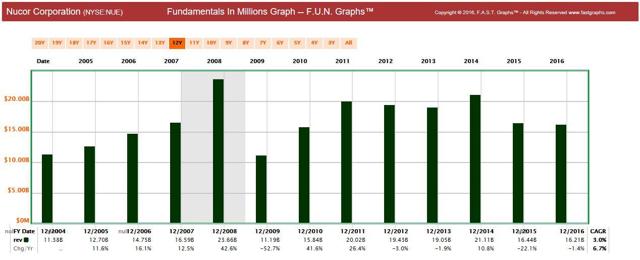 A Peek At The Charts
As evidenced by the 6-month daily chart below, shares moved up strongly after the election. I believe the stock is now consolidating these gains. The MACD and Money Flow index look to be beginning to turning up. This month, NUE bounced off the 200-MA.
The March and April price uptrends were initiated on good volume.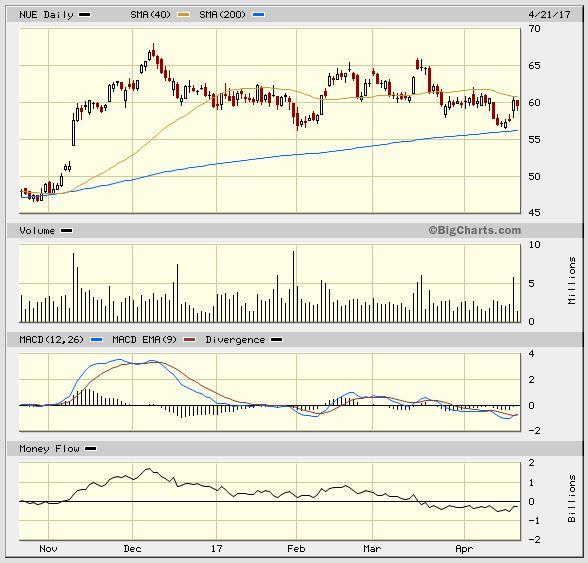 A 3-year weekly chart offers additional perspective.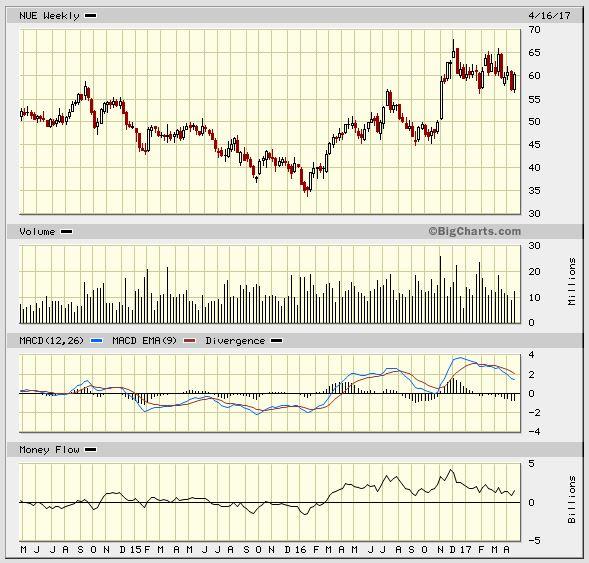 Some chartists may see a flag formation; the staff beginning in November 2016. The flag boundaries run between $53 and $65. A breakout above $65 could signal the next move up.
The MACD remains in a downtrend; however, the Money Flow index turned up and has remained positive for over a year.
Summary
Nucor is a remarkably well-run company with a rich history. Operating within the highly cyclical steel industry, management has used the post-recession downturn to build an even stronger and more durable enterprise. Nucor has become a vertically-integrated steel company.
The non-union workforce has never experienced layoffs and enjoys corporate profit-sharing. Management creates and demands a "team first" culture.
Shareholders enjoy no-nonsense investment reports, a focus upon results, clear strategic direction, transparent management communications, and dividend increases for the past 43 consecutive years.
On the most recent conference call, CEO John Ferriola repeated Nucor's five company drivers; certainly a worthwhile place for investors to begin a more thorough due diligence exercise:
One, strengthen our position as a low-cost producer;

Two, achieve market leadership positions in every product line in our portfolio;

Three, move up the value chain by expanding our capabilities to produce higher-quality, higher-margin products;

Four, expand and leverage our downstream channels to market to increase our steel mills' baseload volume for sustained results;

and Five, achieve commercial excellence to complement our traditional operational strength.
Please do your own careful due diligence before making any investment decision. This article is not a recommendation to buy or sell any stock. Good luck with all your 2017 investments.
Disclosure: I am/we are long NUE.
I wrote this article myself, and it expresses my own opinions. I am not receiving compensation for it (other than from Seeking Alpha). I have no business relationship with any company whose stock is mentioned in this article.