California is an interesting state, both unfriendly to the car and dependant on it, constantly pushing for higher MPG, lower emissions, and to remove classic cars from the roads, many automotive enthusiasts from California have sought refuge in states like Nevada, Arizona, and Texas. But today I was reminded why California is such a great place for automotive enthusiasts on a short business trip to the San Diego area to visit clients. After visiting my last shop in El Cajone I started to make my way home on Historic Highway 80, the main freeways clogged with traffic in the late afternoon, I decided to take an alternate route home. Historic Route 80 eventually works it way around to the Highway 79 north. Highway 79 is mostly a winding two lane highway, that takes you through the Cleavland National Forest, the reservations of many Native California tribes, and about million miles from the congestion and crowds that are most peoples vision of Southern California.
(Photo Mission Santa Yasbel Asistencia)
Heading North 79 merges for a short time with Highway 78 at the cross roads in Santa Ysabel 78 will take you to Julian a small mountain community known for their apple pies, and tourist attracting antique stores. Santa Ysabel Asistencia the mission for which the town is named is along on the right hand side of the highway, it was established as a outpost of the San Diego Mission in 1818 and the current chapel was built in 1924. Santa Yasbel is also a nice place to stop and grab a bit to eat and one of the cafes along the highway. Along the way you will also discover a NHRA drag strip and a Motorcross track tucked in among the Oak Trees and Farms.
(Photo Highway 79)
Leaving Santa Yasbel and the road is fairly straight, passing Highway 76 that takes you past Lake Henshaw and on to Pala Casino and Resort. A little further up the road you come to San Felipe Rd, if you have time and you like history you can visit Warner's Ranch that was once a stop on the Butterfield Stage Route, there is little there, so I recommend pushing on north on the 79. About 20 miles or so will take you to the Oak Grove Butterfield Stage Station, about 20 miles to the northwest, is the only surviving building from the stage line, and is also a National Historic Landmark. (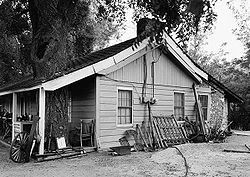 (Photo of Butterfield Stage Stop) In Warner Springs there is a small resort community with golf, a few restaurants and one of the only gas stations along the whole route. There is also a airport that specializes in glider rides and you can many times see a number of gliders floating lazily above the valley as you descend into Warner Springs. Oak Grove is about 18 miles along the route after leaving Warner Springs so if you have a need to visit the Stage Station now is your chance… I stopped to stretch and take some photos. From there the road follows the hills and is headed more west then north, towards the city of Temecula. The first signs of urban sprawl are the mini storage and track homes. It is a good place to stop and get fuel, food, and if you chicken out you can jump back on the 15 freeway and save over an two hours on the trip. Downtown Temecula is like going back in time to the old west, only with trendy shops, yuppies, and bikers everywhere. Now the I-15 is overlapped a major portion of the 79, but if you follow Old Town Front Rd north, that will turn into Jefferson Ave, from there turn Left on to Kalmia St, and then Right onto Washington Ave. Washington then turns into Palomar St and takes you through the city of Wildomar and on to Historic Lake Elsinore by sticking to the Right and on to Mission Trail.
It is hard to believe that Lake Elsinore was once the play place of Hollywood's elite stars. If you follow the lake around the street will change name several times, but just keep as close to the lake as you can until you come to Highway 74. At this point I had to get back on the I-15, however, if you are in the mood for an adventure, you can always turn Left and take the 74 (Ortega Highway) and end up at the Pacific Ocean in Dania Point. Ortega is a epic road and takes you through some amazing mountains and hills. The best part about Ortega is it drops you off on Highway 1 the Pacific Coast Highway. Turn Left San Diego and Mexico, Right Monterey and San Francisco. If only I had some vacation time, I would love to keep on driving around California's best roads.


Source by Michael Satterfield