Overview
China Rapid Finance (Pending:XRF), a Shanghai, China-based peer-to-peer (P2P) lender, has announced its terms for its upcoming IPO.
The company plans to raise $105 million through the offer of 10 million shares priced between $9.50 and $11.50 per share. Assuming the company prices at the midpoint of its price range, it would have a market cap value of $602 million and trade at a price/sales multiple of 10.5x.
We first previewed the deal on our IPO Insights Platform.
Company Overview
China Rapid Finance was founded in 2001 as a consumer lending marketplace geared toward China's emerging middle class. The company's target demographic is well-educated, employed mobile users who are between the ages of 18 and 29 and living in urban cities. This emerging middle class mobile active (EMMA) demographic often have difficulty getting loans from banks as they lack credit history. The EMMA demographic is estimated to include more than 500 million people.
The company markets itself as the first company to partner with major Internet platforms in China in order to recognize, choose and contact creditworthy EMMAs using a number of data channels. Using these channels, the company can acquire customers at a lower cost than other comparable online P2P lenders.
The core of the company's platform is its technology for predictive selecting and automated deciding, which ultimately streamline the selection and loan application processes for potential borrowers. In turn, investors benefit from better risk-adjusted returns. According to the company, it has served more than 1.4 million borrowers and assisted with the facilitation of more than 10 million loans as of December 31, 2016.
China Rapid Finance offers consumption loans and lifestyle loans. Consumption loans have terms between two weeks and three months, and range for RMB500 to RMB6,000 (approximately $72-$865 USD). Lifestyle loans have terms of between three months and three years, and principal amounts between RMB6,000 to RMB100,000 (approximately (approximately $865-$14,400).
Prior to its IPO, China Rapid Finance completed four rounds of financing, raising the equivalent of $173M. The company is backed by Northwater Capital, DLB Capital, China United SME Guarantee Corporation and QED Investors as well as Broadline Capital, which headed China Rapid Finance's $21 million Series B financing.
(S-1/A)
Market
In China, P2P lenders continue to attract a growing middle class that is searching for more attractive financial returns than what is currently offered by the state banks. Mobile P2P payments are expected to increase to $174 billion by the end of 2019 as it becomes easier, and potentially cheaper, for consumers to receive loans.
Despite tremendous growth in the industry, and predictions for further growth, the industry has also been plagued with liquidation, problematic technology platforms, and local corruption issues. Last year, China's authorities uncovered the country's largest ever Ponzi scheme by lender, Ezubao. Over 900,000 people were affected and the company defrauded ~$7.6 billion. To address these issues, the Chinese government has increased regulation, with the objective of raising the standard of the industry as a whole. One of China Rapid Finance's competitors Lufax postponed its IPO scheduled for 2016 as a result of these changing regulations.
Financial Summary
Revenue was $56.1M and $55.8M in 2015 and 2016, respectively. The company continued to spend heavily. Servicing expenses increased, which were the result of an increase in the number of servicing personnel, as well as general and administrative expenses, which were the result of increased spending on information technology, data analytics and customer service personnel.
During 2015, the company incurred loan losses of $3.4 million that were due to the launch of a consumption loan business on a test basis. In 2016, provision for loan losses decreased to $0 as it did not participate in the consumption loan business.
Net losses were $30M and $33.4M in 2015 and 2016, respectively. As of December 31, 2016, the company had cash and cash equivalents of $25M and an accumulated deficit of $62M.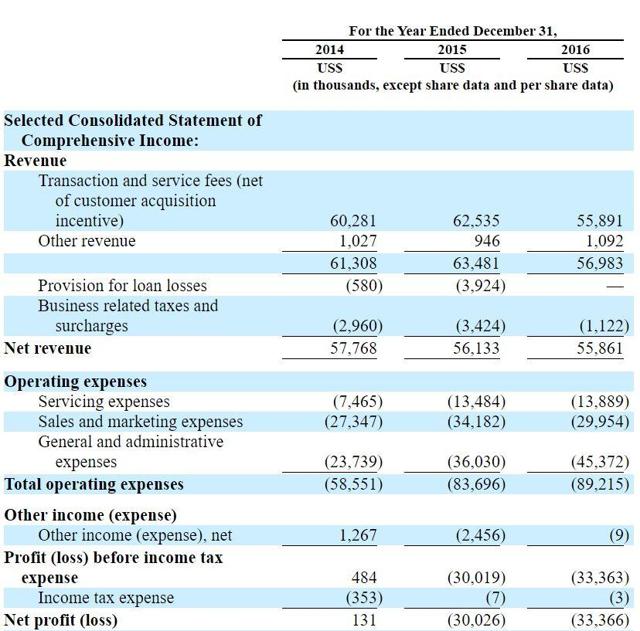 (S-1/A)
Management
Dr. Zhegyu (Zane) Wang founded China Rapid Finance and now serves as CEO. Previously he served as head of analytics at Sears Credit (1995-2000), where he oversaw the creation of a credit data warehouse. Wang received his Ph.D. in Statistics from the University of Illinois, and his master of science degree from the University of Illinois at Chicago.
Junqing (Kerry) Shen has served as CFO since joining the company in 2013. Prior to joining, Shen was the founder and CEO of Neuventure Financial Advisors Ltd., an audit and consulting firm (2002 to 2013), where he provided financial due diligence services to private equity and venture capital firms. In this role, Shen audited Fortune 500 companies, including General Electric (NYSE:GE), PepsiCo (NYSE:PEP) and Honeywell (NYSE:HON). Shen graduated from Shanghai International Studies University, where he received a bachelor's degree.
Conclusion: Consider Caution
Issues in the P2P lending space in China has left the standing companies stronger. Strong growth in this lending space shows no sign of slowing. China Rapid Finance is led by an experienced management team, has strong backing, and supports a large, underserved part of the China demographic.
We are excited about this IPO but recommend no more than a modest allocation for investors who are comfortable with risk.
Don Dion's IPO Insights provides up-to-date information and analysis on the major IPOs each week, along with additional opportunities to invest and short these stocks at their quiet period and lockup period expirations, respectively. Consider following us at the link above. We will continue our PRO offerings on Seeking Alpha alongside our more exclusive research.
Disclosure: I/we have no positions in any stocks mentioned, but may initiate a long position in XRF over the next 72 hours.
I wrote this article myself, and it expresses my own opinions. I am not receiving compensation for it (other than from Seeking Alpha). I have no business relationship with any company whose stock is mentioned in this article.