Pandora's box is an artifact in Greek mythology, taken from the myth of Pandora's creation in Hesiod's Works and Days. The "box" was actually a large jar given to Pandora which contained all the evils of the world. Pandora opened the jar and all the evils flew out, leaving only "Hope" inside once she had closed it again.
Pandora's Box No1
First of all, you are probably familiar with the $814.9 million arbitration dispute BlackBerry (NASDAQ:BBRY) recently won against Qualcomm (NASDAQ:QCOM). At the heart of the dispute was that BBRY prepaid royalties for a specific number of devices from 2010 to 2015. I am assuming that BBRY sold less devices at the time, and as such (rightfully so in my opinion) asked for a refund, because it did not sell the devices it thought it would sell.
QCOM on the other hand argued that all sales were final, even if BBRY did not sell the quota it had in mind. The arbitration court decided in BBRY's favor, and QCOM has to give BBRY a refund.
My first observation is, there might be other many companies like BBRY which might also have overpaid but did not ask for a refund, or decided it was not worth taking QCOM to court.
However now that BBRY won such a big arbitration award, it might just open the appetite of many other companies that thought taking QCOM to court would have been a waste of time and money.
Please note that even several years ago BBRY was a small player in the device space. So if a small player could get $815 million from QCOM, imagine what a bigger player in the smartphone space might demand from QCOM if the same issues arises.
Pandora's Box No2
BlackBerry's award is very different from the $1 billion AAPL is requesting from QCOM. In APPL's case, the dispute stems from a rebate scheme that QCOM had agreed to with APPL.
I am sure AAPL has the terms on paper and QCOM will eventually fork up this rebate no matter what.
However AAPL also is claiming QCOM has been overcharging it for IP licensing for a very long time. It is this specific charge that might change QCOM's business model in the end.
AAPL is claiming QCOM is receiving money for patents it has nothing to do with. And while one can debate if QCOM's IP should be licensed on FRAN terms or not, the fact that QCOM is charging everyone twice for the same thing is something QCOM cannot dispute.
Apple pays Qualcomm once to license its patents and pays again to purchase QCOM's chips. No other supplier does this, for component suppliers bundle their intellectual property license fee with the sale of their chips. And this is exactly what the FTC is charging QCOM with (among other violations)
Apple's lawsuit against QCOM charges it pays "at least five times more in payments than all the other cellular patent licensors we have agreements with combined."
Apple has said "For many years Qualcomm has unfairly insisted on charging royalties for technologies they have nothing to do with. The more Apple innovates with unique features such as Touch ID, advanced displays, and cameras, to name just a few, the more money Qualcomm collects for no reason and the more expensive it becomes for Apple to fund these innovations."
APPL's claim is backed by the $975 million QCOM paid to China for anti-competitive practices in 2015, and the $873 million fine in South Korea for the same reason in December 2016. Then in January this year, QCOM was charged with anti-competitive practices in the US by the Federal Trade Commission.
While I am no judge, jury or executioner, I think AAPL will persuade a jury to agree to its complain.
Pandora's Box No3
QCOM in November of 2016 agreed to purchase NXP Semiconductors (NASDAQ:NXPI) for $47 billion. While QCOM has most of the cash, at the same time it also will use debt. So while it is a cash rich company today, it will become a company with a lot less cash and debt.
The problem however is not the fact that it is using debt, but what might happen if QCOM loses the FTC complaint against it. The reason is that it will be forced to change its business model. How so? Because a very big portion of QCOM's revenue and most of its net profit comes from licensing.
If the company loses the battle against the FTC, it will be forced to change the way it operates, and that might mean a lot less licensing revenue in the future. And if that happens, I am not sure how well the NXP acquisition might work, or how its balance sheet will end up.
Will Qualcomm's Pandora's Box jeopardize its valuation?
The answer is yes, however it's very difficult to calculate the fallout. Macquarie Capital analyst Srini Pajjuri estimates that Apple royalties account for about 12% of Qualcomm's total revenue and as much as 30% of its per-share earnings.
And while AAPL can't get a divorce from QCOM overnight, the mere fact that AAPL also is using Intel (NASDAQ:INTC) modems in its iPhone phone is enough for the market to guess that a divorce will eventually happen.
In fact, the market already has discounted a lot of carnage for QCOM. Not only is QCOM the worse performer among chip stocks this year, it is also the cheapest on a forward P/E basis: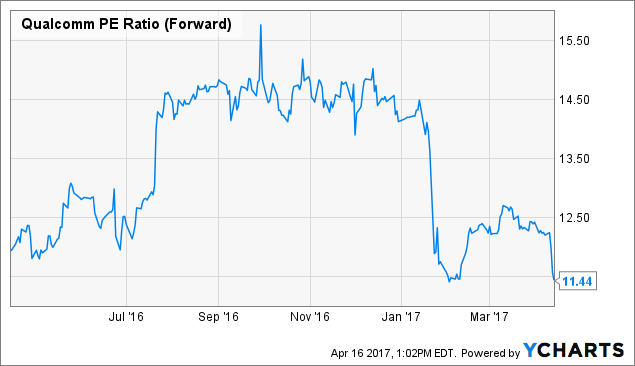 QCOM PE Ratio (Forward) data by YCharts
So the market is telling us that the fallout for QCOM will not be small.
However, even if QCOM loses 100% of AAPL's business, it's not the end of the world for the company. While such a customer will not be easily replaced, nevertheless life will go on, and I think over time QCOM's other bushiness will grow.
However, it's one thing to lose a very big customer like AAPL, and it's another to be forced to change the way you work and change your business model. Because if QCOM loses in court against the FTC that's exactly what will happen, and the company can probably say goodbye to most of its licensing revenue
Bottom line
Anyway one looks at it, Pandora's box for QCOM is wide open. All the evils that could possibly affect QCOM are out in the open.
While the BBRY and AAPL incidents are manageable, the situation is still very fluid for the market to come to some conclusion as per the FTC outcome.
Disclosure: I/we have no positions in any stocks mentioned, and no plans to initiate any positions within the next 72 hours.
I wrote this article myself, and it expresses my own opinions. I am not receiving compensation for it (other than from Seeking Alpha). I have no business relationship with any company whose stock is mentioned in this article.