Image Credit: Benzinga
REIT investors love their dividends. Realty Income (NYSE: O) is also known as The Monthly Dividend Company. Monthly dividends can be appealing to investors looking to augment their income. However, at the end of the day, quarterly distributions will work for most folks.
Most serious income and dividend growth investors also look at the quality of the dividend. This includes the ability to reliably generate and grow FFO/AFFO growth per share to support a well-covered and growing dividend. This is another area where Realty Income has an exceptional story to tell.
According to the company, monthly dividends are supported by cash flow from over 4,900 real estate properties owned under long-term lease agreements with regional and national commercial tenants. Realty Income has declared 562 consecutive common stock monthly dividends throughout its 48-year operating history and increased the dividend over 90 times since becoming a public listing in 1994.
Elegant Business Model
The freestanding, single-tenant, net-lease business model is easy to understand. In addition to monthly rent, tenants also pay taxes, insurance, utilities, and almost all building maintenance. This is a simple business model with significant operating leverage. It is easy to scale and requires very little maintenance capex by the landlord.
Realty Income is an S&P 500 company and the largest player in the net-lease REIT sector with its $16.6 billion market cap. It has the largest investment grade balance sheet, the lowest WACC (weighted-average cost of capital), and is one of the few REITs able to issue 30-year unsecured senior debt.
This helps to de-risk the business by match funding of property and portfolio acquisitions which can have initial lease terms of 10-20 years. Additionally, since net-lease REITs are spread lenders, Realty Income can still make a decent spread while purchasing high-quality portfolios which typically trade at lower cap rates.
REITs by law must pay out at least 90% of taxable income as dividends to shareholders. Therefore, for net-lease REITs to continue to grow, they must regularly access debt and equity capital markets. Retained cash flow after dividends and property dispositions can be additional sources of funds, but real growth means expanding the balance sheet.
Tale Of The Tape – Realty Income
Many income-focused and retired investors already own Realty Income shares in their portfolios as a core holding.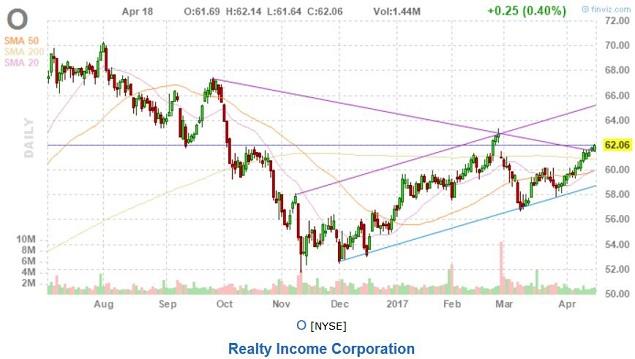 During the past 52 weeks, The Monthly Dividend Company has traded in a range of $51.80-70.37 per share. The $70 handle occurred at the end of last summer when high-quality US REIT valuations had gotten frothy across the board.
So, is it an appropriate time to add or initiate a new position in Realty Income?
F.A.S.T. Graph – Valuation Analysis
It's time to use the F.A.S.T. Graphs tool to check under the hood. The black line denotes price. It is a visual comparison relative to the blue line, which is "normal" P/FFO for the selected number of years. The red line corresponds to the dividend yield on the far right of the chart.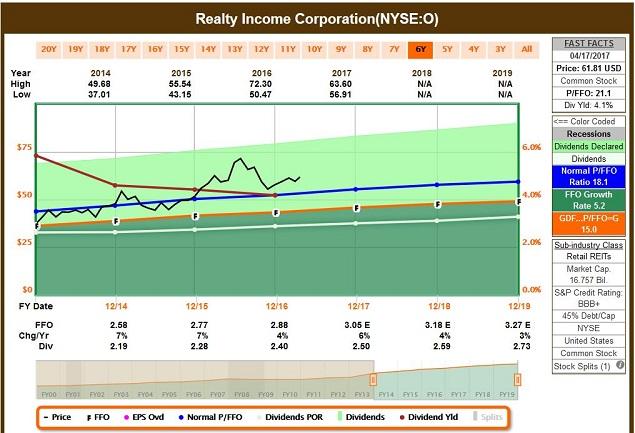 Irrational exuberance caused a spike up to ~25x FFO per share last summer, as can be seen on the chart. Realty Income shares are currently trading at 21.1x FFO and yield 4.1%. The 10-year Treasury interest rate has just dipped down to 2.18% as of this writing. However, the expectation is still that we are in a gradually rising rate environment.
Realty Income's growth rate of ~5% FFO per share going forward is reasonable for a REIT with a $16.6 billion market cap. However, 21.1x P/FFO looks a bit steep. The current valuation reflects the BBB+ balance sheet and management's dividend track record.
It is also trading at an implied cap rate of 5.1%, which represents 130% of NAV, according to a recent research note by Mizuho's Haendel St. Juste.
STORE Capital – Faster Growth
CEO Chris Volk has built a franchise based upon sale-leaseback deals to small and medium business.
I had previously written:
"STORE happens to be an acronym for Single Tenant Operational Real Estate. It is also a descriptive play on words to emphasize that this net lease REIT is looking to finance real estate that generates cash flow at the store level."


"This focus excludes owning R&D facilities, call centers, corporate headquarters and other non-income producing real estate assets."
Notably, Gander Mountain, one of STOR's largest tenants, recently filed for bankruptcy.
This has put STOR shares into the penalty box, compared with many of the higher-quality net-lease peers, including National Retail Properties (NYSE: NNN) and Agree Realty Corp. (NYSE: ADC).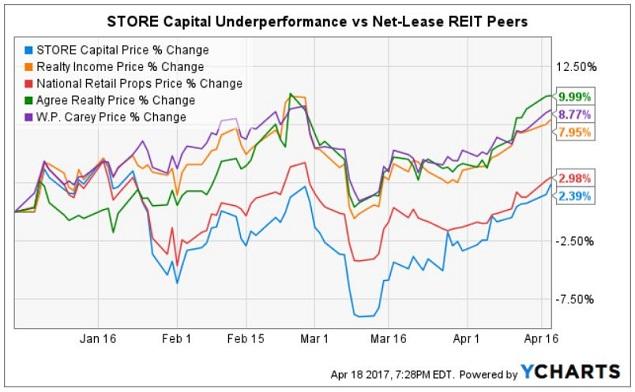 Tale Of The Tape – Catching A Bid
Recently, STOR shares have caught a bid now that the Gander Mountain news headlines have been digested.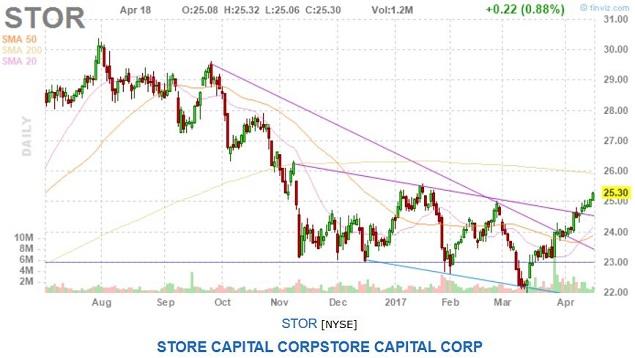 During the past 52 weeks, shares have traded in a range of $22.00-30.39 and currently yield an attractive 4.6%. The analyst consensus 12-month price objective is $28.29 per share.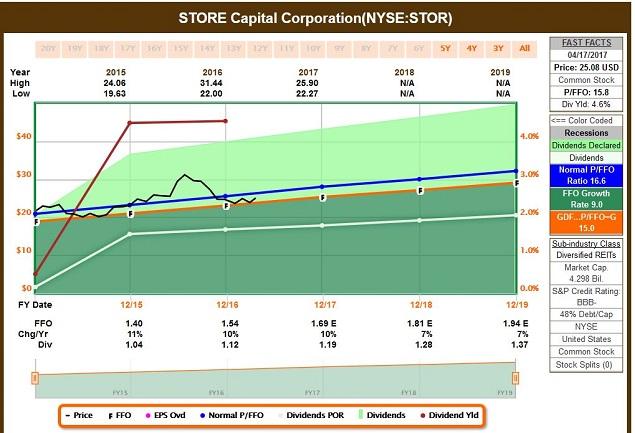 STOR shares are trading at 15.8x FFO per share, below the blue line on the F.A.S.T. Graph, which indicates its "normal" multiple. STORE Capital has a BBB- investment grade rating and is forecast to grow its FFO per share in the high single digits, 9% according to F.A.S.T. Graphs. The portfolio's implied cap rate of 6.5% is close to NAV. Shares trade at just a ~105% premium to NAV, according to St. Juste.
Dividend growth investors are looking at 4.6% current yield and a dividend growth rate which is almost 2x faster than that of stalwart Realty Income.
Investor Takeaway
A sizable percentage of SA readers who follow my work already own blue-chip Realty Income as a core portfolio holding at various yield on cost percentages, (mostly higher than ~4%).
Realty Income is investor comfort food. However, some writers have had indigestion, and have recently suggested trimming, selling or shorting O shares. The time for that would have been this past summer, when shares were frothy, not now. Longer-term investors like Brad Thomas have a Hold on Realty Income shares at current levels.
I think the better choice for putting new money to work today for investors who are looking for that sweet spot of current income, with an eye toward dividend growth, would be STORE Capital.
Bonus Coverage
W.P. Carey (NYSE: WPC) is another option for investors who are willing to trade-off slower dividend growth going forward for immediate income from a dependable net-lease REIT.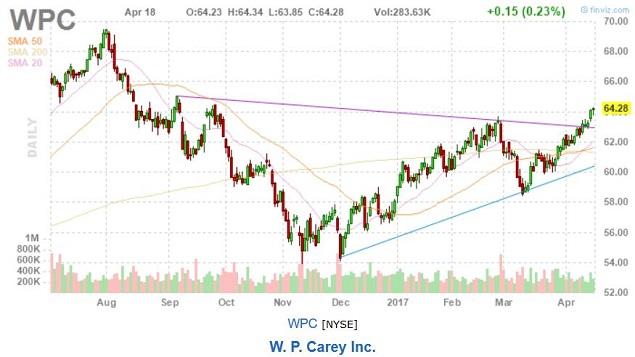 During the past 52 weeks, WPC shares have traded in a range of $53.96-69.48. They currently yield an attractive ~6.2% yield. This puts them into the high-yield, slow dividend growth camp.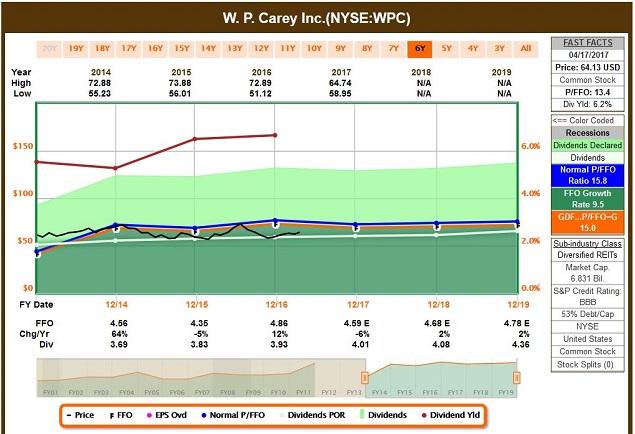 WPC is trading about 2.5 turns lower than its historical average. The main reasons for being in penalty box are Mr. Market's distaste for the slow-growing managed non-traded CPA REITs, plus a bit more complexity from about a third of its portfolio being UK/EU net-lease assets.
However, the slow dividend growth could be a sleeper. If you look at the F.A.S.T. Graph, in 2014 there was a huge pop in FFO per share. This was because W.P. Carey bought one of its non-traded CPA REITs in a deal that was accretive to shareholders. WPC underwrote and managed those assets, so it is the natural buyer for a managed non-traded CPA net-lease REIT.
W.P. Carey currently manages two non-traded CPA REITs which own net-lease assets. So, at some point in the future, it could become déjà vu all over again. Essentially, shareholders are being paid an attractive current yield while they wait for that potential payday to come. Just don't expect any large dividend bumps in the meantime.
I recently launched my REITs 4 Alpha: High-Yield | DGI | Technology Seeking Alpha Marketplace Premium subscription service. I welcome any feedback and would be happy to answer questions from readers who may be interested. Feel free to share them with me by writing an SA Inbox message.
I relentlessly hunt for diamonds in the rough and rising stars, in addition to closely following data centers, covering REIT blue-chips and breaking news. Please consider following me as a Seeking Alpha author if you would like to be notified when my future articles are published.
Disclosure: I am/we are long STOR, ADC.
I wrote this article myself, and it expresses my own opinions. I am not receiving compensation for it (other than from Seeking Alpha). I have no business relationship with any company whose stock is mentioned in this article.
Additional disclosure: A member of my household in a retirement account owns STOR, ADC.