Anyone who has been following me for a while now probably remembers all the love/hate opinions I have written about Bank of America (NYSE:BAC) in the past (here is my very first article from 2011, a pretty good call I would say). Well surprise, surprise, the stock has caught my attention once again. The recent earnings report was nothing less than stellar, and the fundamentals are too enticing to ignore any longer, even for a dividend growth investor for retirement.
The highlights basically tell the entire story for the quarter: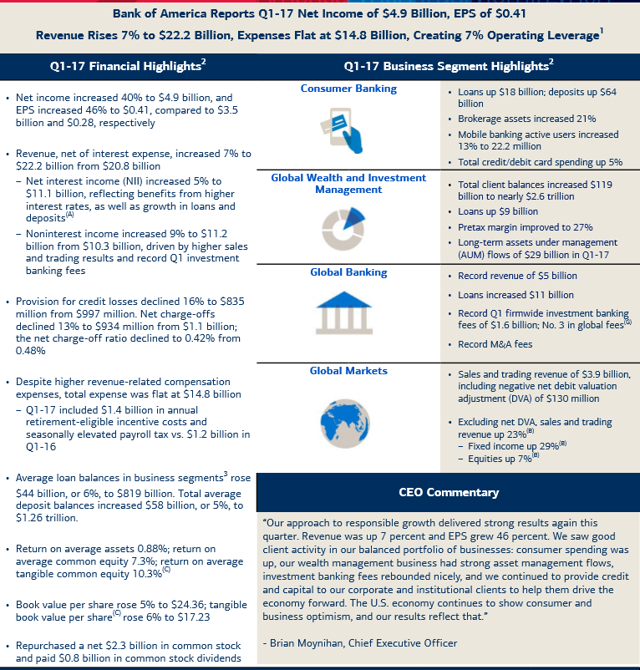 This bank is basically hitting on all cylinders!
I have been accurate about BAC in the past, and based upon the fundamentals, as well as the opportunity for growth, I believe the stock is positioned very well for a strong move up over the next 12-18 months. While I hate to predict a price, I will take a stab at $31-33 based upon its book value to share price, cash flow increases, the likelihood of significant dividend increases, the increasing interest rate climate making lending more profitable, and the easing of banking regulations by the administration. To me this bodes well for both short- and long-term investors as well as momentum traders.
I rate this stock as a buy.
First Let's Look At The Fundamentals
From Fidelity Investments: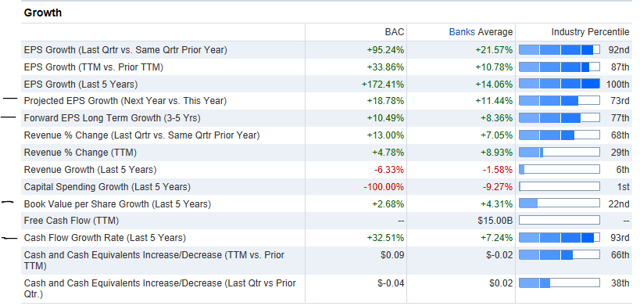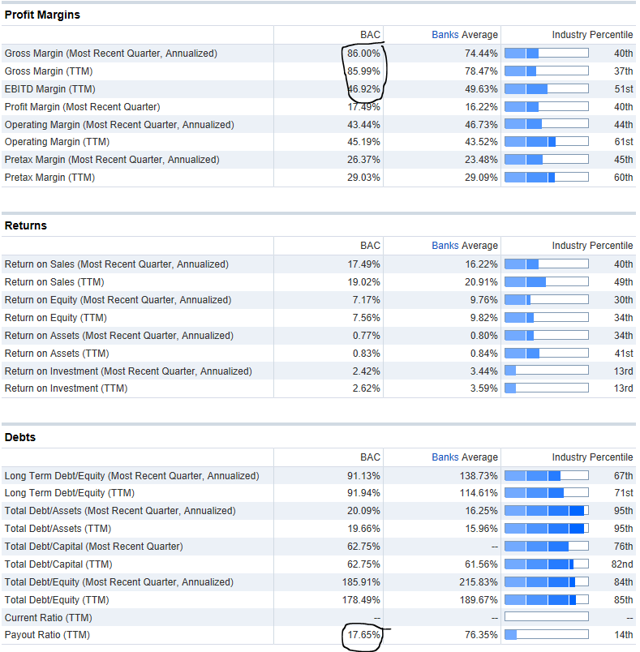 The numbers that jump out to me are the following:
Payout ratio
Profitability and margins
Growth projected this year
Growth projected for the next five years
Significant cash flow increases
To me, these are all hints to not only capital appreciation, but also of dividend reliability and significant increase potential.
What About The Dividend?
Obviously, dividend growth investors will focus on this metric, so let's take a quick look: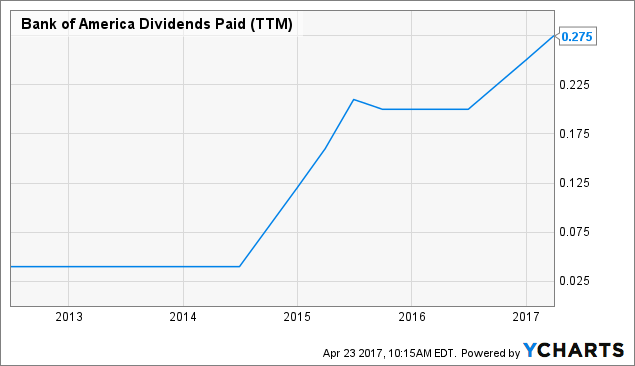 BAC Dividends Paid ((TTM)) data by YCharts
Since reinstating the dividend about four years ago or so, the company has been "allowed" to increase its dividend nearly 10-fold as you can see. At the same time, the payout ratio is just 18%, leaving plenty of room for dividends to be increased well into the future. I am not saying that this will be a dividend aristocrat, but for dividend growth at an undervalued share price, we could have a winner!
Does BAC Fit Into The Team Alpha Retirement Portfolio?
Keep in mind what this model portfolio's goal is: Increase dividend income with reliable dividend growth stocks, mainly dividend aristocrats. Since the anchors of this portfolio are clearly dividend aristocrats, I believe there is room for another financial stock, particularly a big bank that is showing solid performance yet is undervalued!
The model portfolio now currently consists of the following stocks: Exxon (NYSE:XOM), Johnson & Johnson (NYSE:JNJ), AT&T (NYSE:T), Procter & Gamble (NYSE:PG), Coca-Cola (NYSE:KO), Realty Income (NYSE:O), Main St. Capital (NYSE:MAIN), Microsoft (NASDAQ:MSFT), Con Edison (NYSE:ED), Altria (NYSE:MO), Ohio Valley Banc (NASDAQ:OVBC), Apollo Global Management (NYSE:APO), and Apple (NASDAQ:AAPL).
We just added Apple for the same reason and are licking our chops for more AT&T. My thinking here is that perhaps I should wait on adding more shares of T since it has a full allocation, and adding 500 shares of BAC would still leave the portfolio with about $20,000 in cash. Here is the latest chart:

It might make sense for capital growth and some dividend income with growth potential there.
The Elephant In The Room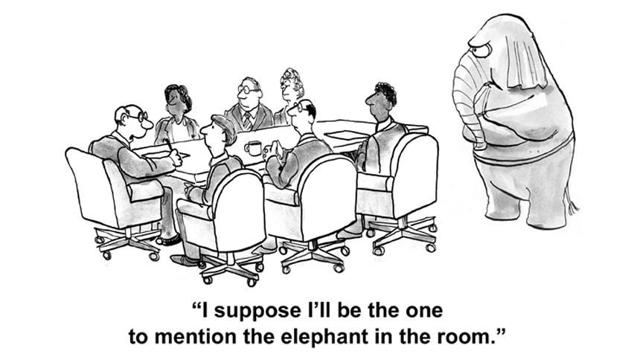 Nothing is risk free, and obviously, the share price of BAC has risen quite nicely already, and it does face the Warren Buffett "factor" of 700 million warrants that can be exercised at any time for common shares at a "Buffett" only price of $7.14 per share – wow! Now, according to original reports, Buffett won't exercise the warrants until the last minute in September 2021, a solid four years from now. That being said, according to this article that MIGHT change:
In the past, Berkshire (NYSE:BRK.A) (NYSE:BRK.B) has said it would probably only exercise the warrants just before they expired, in September 2021. But now, Mr. Buffett says he would consider doing it if Bank of America raises its dividend, and would exchange its Bank of America preferred shares to fund the transaction. Right now, the bank pays a 30-cent-per-share dividend annually, but if it hits 44 cents, it would make the swap, he writes.

Why 44 cents? He doesn't spell it out here, but that works out to just over $300 million in annual dividend proceeds. The preferred stock Berkshire now owns pays a chunky 6% annual dividend that also works out to $300 million a year. The preferreds have little downside, so long as Bank of America stays solvent, but they have no upside either. Mr. Buffett is saying he'd rather enjoy the upside on the common stock, about as clear a buy signal as you'll get from the famed stockpicker.
So what does this mean to me? Well, IF BAC increases its dividend by about 50% as soon as this year, then Buffett just might do what he says, since the dividend would pay him what his preferred shares do now (6% or $300 million annually). That could translate into outstanding share dilution of about 5-7%, or about $1.50 per share at today's price. That's not good, but will BAC pop the dividend by 50% overnight? I do not think so, and I still believe that we have four solid years before Buffett exercises his warrants.
By that time, interest rates should be much higher, bank lending will be more profitable, and BAC's share price could be well over $30-35/share (if the projections above even come close)! At THAT point, since I would be adding at a price today of about $24ish/share, a $7-12/share increase in value AND increases in its dividend over the next four years, I will take my chances on the share dilution and its effect on the share price. Actually it doesn't take a genius to figure out that the share price went down after a stellar earnings season due in part to the "Buffett issue."
The Bottom Line
I have not made a decision on whether or not to open a position in the model portfolio, TARP, yet. I do happen to own shares in one of my personal portfolios, and I am considering adding some shares to that as well.
I would like to know what YOU folks think about my thesis, and what YOU might consider doing!
Not To Bore You, But …
Knowledge is power, and many folks shy away from the investing world because that very world makes it more confusing each and every day in an effort to sell you something: stock picks, technical strategies, books, videos, subscriptions with "secret ideas," gadgets, and even snake oil.
My promise to you is that my work here will remain free to all of my followers, with the hope of giving to you some of the things that took years for me to learn myself. That being said, let me reach out to you with my usual ending:
**One final note: The only favor I ask is that you click the "Follow" button so I can grow my Seeking Alpha friendships. That is my personal blessing in doing this, and how I can offer my experiences to as many regular folks as possible, who might not otherwise receive it.
Disclaimer: The opinions and the strategies of the author are not intended to ever be a recommendation to buy or sell a security. The strategy the author uses has worked for him and it is for you to decide if it could benefit your financial future. Please remember to do your own research and know your risk tolerance. The long positions held are based upon what the model portfolio holds and I personally could have held all of the stocks noted at one time or another.
Disclosure: I am/we are long AAPL, APO, ED, JNJ, KO, MAIN, MO, MSFT, O, OVBC, PG, T, XOM.
I wrote this article myself, and it expresses my own opinions. I am not receiving compensation for it (other than from Seeking Alpha). I have no business relationship with any company whose stock is mentioned in this article.
Additional disclosure: The portfolio is for educational purposes only, and not an actual portfolio. The long positions are based on the model portfolio.