Introduction:
This is an update to a previous article I wrote outlining concerns I had with the outlook for C.H. Robinson Worldwide Inc. (NASDAQ:CHRW). To briefly recap that article, I argued that there was a high degree of correlation between the rates of change in Diesel Fuel Costs, and the rate of decline in CHRW's Transportation Margin. With Diesel prices up, I argued that we should see more pressure on CHRW's margin, which were close to their all-time highs.
I also argued that Electronic Logging Devices [ELDs], were likely to be implemented by the end of 2017, and that this new regulation could reduce the industry fleet size which would push costs up for CHRW. This could be a second headwind later in the year to CHRW's margin profile. Given that outlook, I argued that the stock's valuation looked expensive, and fair value was likely lower; hence my short sale investment.
The Q4 report, shortly after the article's publication, largely confirmed my thesis view regarding Diesel costs and Transportation Margin pressure. Q4's Transportation Margin came in at 17.2%, down (1.8%) from the previous year, and down (.4%) sequentially. Initially, the stock traded down off of the report for a few days, despite the EPS beating the Street estimate by .02c a share. A slightly lower tax rate than expected, boosted the EPS figure by .02c in Q4. The market seemed to see through it.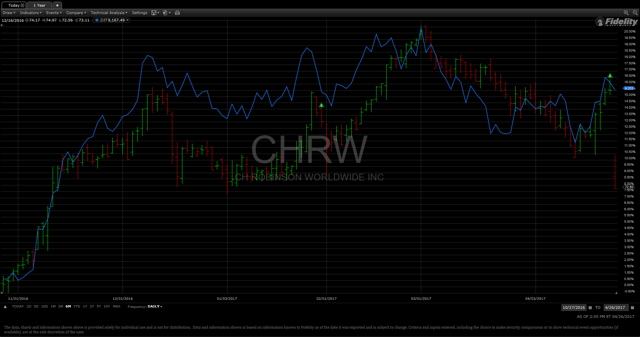 Source: Fidelity Active Trader Pro, 6-month chart CHRW, DJT in Blue.
Then CHRW's stock turned around and marched up nearly every day until reaching its 52-week high. In retrospect, I think the move higher was less about company fundamentals, and more about the big move in the Transportation sector overall. In fact, until Q1's report, CHRW's stock has been closely following the path of the Dow Jones Transportation Average Index [DJT]. Clearly, the market is taking the Q1 '17 report differently. Time will tell if that's an aberration, but let's review why this is happening.
Q1 '17 Report:
CHRW reported .86c for Q1 '17 EPS, but there were two one-time items that boosted the number by .10c by my calculation. Let's take a look at the Q1 Income Statement model.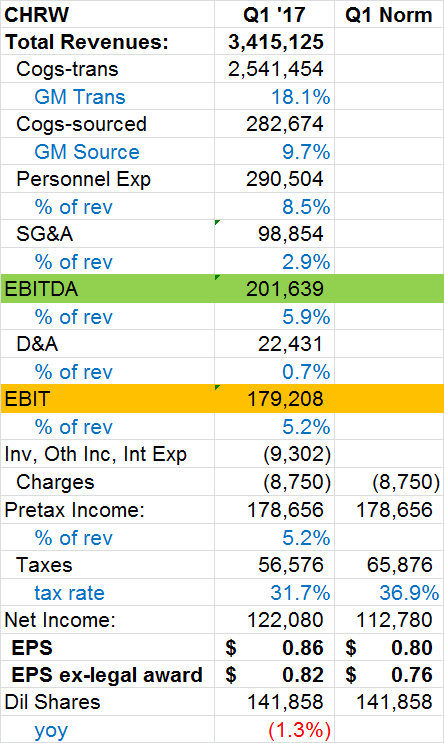 Source: sec.gov, 10-Qs, 10-Ks, 8-Ks.
The first item is an 8.75 million collection of a legal claim. A footnote on page 3 of their presentation for Q1 earnings says that the claim collection came out of the SG&A line. Why this isn't separated as the one-time item that it is, and instead used to reduce the SG&A line, is a question only management can answer. The truth is they have wide latitude to determine these issues. At least they highlighted the collection in their press release, and footnoted which line item it reduced in their presentation.
International Business Machines (NYSE:IBM), used to pull this gimmick all the time by selling entire business units, and they wouldn't mention it until a footnote in their 10-K. Still, I obviously don't agree with this accounting method. The effect on EPS of the award using the 31.7% reported tax rate, was an increase of .04c to EPS.
The second item is the reduced tax rate from guidance. On their Q4 conference call, management was asked a question specifically concerning the tax rate going forward. Andrew Clarke, CFO, replied with the following:
We expect our tax rate to be between 36.5% and low 37%, which reflects the investments, the selection and election of APB 23, as well as the fact that there is a growing percentage of our net income that's generated outside of the United States.
Instead, Q1 '17 came in substantially below that guidance. Here's management's discussion of it on the conference call:
The tax rate was lower as a result of the tax benefit related to the adoption of ASU 2016-09 in the quarter. The effect of adoption of the accounting standards update was to lower our effective taxes paid by $9.3 million.

The first quarter will have the largest impact to the tax rate as a result of the way our compensation timing works. For the remaining quarters in 2017, we expect a tax rate between 36% and 37%. This rate will fluctuate based on the value of the shares, as well as a percentage of pre-tax profits generated outside the United States.
As the table above depicts, the tax benefit added to EPS by .06c in the quarter. Thus, in total, if we used the normalized tax rate, and removed the one-time legal award collection from the quarter, then we get a .76c EPS figure for Q1 '17. Therefore, I view Q1 as a (.05c) miss versus the Street estimate of .81c, instead of the .05c beat that the release suggests.
Thesis Trends: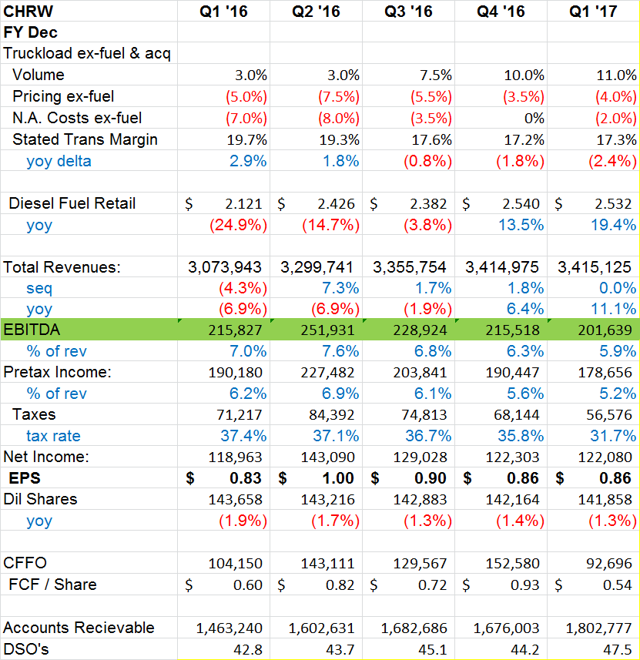 Source: sec.gov, 10-Qs, 10-Ks, 8-Ks.
The Q1 report continued to confirm the primary thesis that increased Diesel Fuel costs would continue to curtail the year-over-year delta on the Transportation Margin. While the absolute figure rose slightly from 17.2% to 17.3%, Q1 normally sees a larger sequential bump up in margins. Hence, the yoy delta figure declined by a greater amount.
The pricing ex-fuel line also showed a pick-up in the rate of decline in Q1. This despite a greater rise in volume rates and overall revenues. It was my suspicion in the last article that perhaps fuel costs also played an impact here beyond the stated effect. Nothing reported this quarter causes me to change my suspicion yet.
The decline in Transportation Margin has a large effect on the overall income statement. Earnings Before Interest Taxes Depreciation and Amortization [EBITDA], declined both on the margin rate and on an absolute basis year over year. The margin rate went from 7.0% down to 5.9%, and total EBITDA declined from 215.8 mil down to 201.6 mil. Note that my Q1 '17 EBITDA figure excludes the benefit from the legal award collection.
If you're still not convinced that CHRW's financial condition has deteriorated over last year, then I'll point to the Free Cash Flow per Share [FCF] calculation for the quarters. That too showed a decline from .60c to .56c this quarter.
The last item on the chart above shows the level of Accounts Receivable on the balance sheet, and the commensurate number of Days of Sales Outstanding [DSO]. As you can see, DSOs tacked on almost 5 days year over year. Management noted this on the call, and explained the increase this way:
The largest driver in the decrease in cash flow from operations during the quarter was the increase in accounts receivable. This occurrence is normal during periods of accelerating top line growth as well as increases in the cost of fuel.

Andrew C. Clarke, CFO.
That's a perfectly reasonable sounding explanation, except that the DSO calculation should factor that issue into account since the calculation uses the current quarter's revenue. Subsequently, I don't have a good example in my model that shows such a large DSO increase at the same time as increased volume and fuel costs. In fact, it's the highest DSO figure on my model. That's by no means conclusive.
My model doesn't go back that far. I also don't have a specific explanation for it. History has taught me to pay attention to these details though, as rising DSOs can suggest a more aggressive management behavior pulling in last minute business to try and make Street estimates. It's something to watch going forward.
Change of Tone Regarding ELD?:
The second primary branch of my thesis from the last article, regarded the impending implementation of Electronic Logging Devices [ELD]. This doesn't go into effect until the end of 2017, but theoretically, fleet size may begin to be impacted as implementation draws closer. The concern is that smaller operators will either sell out, or shut down, rather than pay the capital cost of implementing ELD. Here's how management answered the issue back in Q3 '16:
Timothy D. Gagnon – C.H. Robinson Worldwide, Inc.

Thanks, Andy. To John with a quick question on regulation. Are there any other pending regulations you think could cause a disruption to trucking capacity? If so, can you please give your thoughts on them.

John P. Wiehoff – C.H. Robinson Worldwide, Inc.

Short answer is no. Andy kind of lined out the discussion around ELD's and why we don't think that will be disruptive from our standpoint. In our industry presentations we talk a lot about the last six years or seven years and the escalation of regulation around safety and emissions type themes, hours of service, CSA and different things that have added cost and have added some price inflection to various periods in the truckload portion of it. We've lived through most of those. ELD is just kind of the big one that everyone's talking about right now and we don't expect a lot for that. So, short answer is no.

(Source: Q3 '16 Conference Call, 10/26/2016) Emphasis added.
Fast forward to the Q4 '16 conference call, and the tone and statements are fairly similar. However, there seems to be a slight alteration. Before they said they didn't expect any impact to industry capacity, but below they shift a bit by saying they'll let the experts speak about capacity. In general, they still stick with their 'We've been through this before, and we'll deal with it again' basic response which is fair enough. Although this time on the Q4 call, they admit that there will probably be some productivity issues initially.
Timothy Gagnon

Thanks, John. To Andy, broadly speaking industry expectations are for ELDs to reduce into three [ph] capacity by 5% to 7%. Can you talk through your expectations for industry capacity especially in the second half of 17 and how you view the potential impact from ELDs on your business?

Andrew Clarke

Yeah, we have been getting this question pretty consistently since the regulation came out and as far as what we have seen it and we have talked about in my prepared remarks how many carriers we signed up during the quarter which is pretty consistent. We have been signing up new carriers, a lot of new carriers and those carriers are running a lot of loads for us throughout all the second half of 15 into 16 and we expect that to continue quite frankly through 2017. I let the experts speak about what's going to happen through industry capacity, we do know that there will be some productivity issues that will come up and going back to all of my statements around the value that we bring. We allow our customers to access capacity in the marketplace and we are going to continue to do that. We don't expect anything to happen materially either in first half or even in the second half of 2017 because the rule regulation does not take effect until the end of middle of December, the end of all way 2017. So it is probably more of a 2018 issue but we are going to continue to talk to our carriers, we are going to continue to inform our customers of the potential impacts that may or may not take place and have discussions around how we are going to help them, keep their supply chains up and running effective and efficient.

(Source: Q4 '16 Conference Call, 01/29/2017) Emphasis added.
Now, on the Q1 conference call, management's discussion on ELD ratcheted up significantly. It was mentioned a number of times during the call, and while the overall 'Been There, Done That' message stays similar, the importance of ELD has shifted from "we don't expect a lot," to "top of mind." Not only that, but management states, matter-of-factly, that ELD will have an impact on the marketplace this time. They'll still manage through it, but the tone has shifted from 'not an issue with no impact', to 'it will have an impact but we'll manage through it.'
Timothy D. Gagnon – C.H. Robinson Worldwide, Inc.

Thanks, John. To Andy, an ELD question. Has there been ELD discussions between Robinson and shippers or carriers? Do you expect the mandate to impact your carrier base? If so, what steps are you taking to be prepared for potential truck capacity tightening?

Andrew C. Clarke – C.H. Robinson Worldwide, Inc.

Yeah. This has been a topic that's not only top of mind for investors, but as you would imagine, top of mind for our customers and top of mind for our carriers. So we're having conversations every day with each of those respective parties. And it's difficult to categorize them in any one way, shape or form. So on the one hand, we talk to our customers and say that ELDs will have an impact to the overall marketplace, whether it be the actual availability of capacity or the productivity of that capacity.

And yet, when we have those conversations, it seems like that the pricing environment continues to be challenged, because as I mentioned previously, routing guides are operating very effectively. And the desire to say lock-in or do something in advance of December is – it's just been very challenging in those conversations with customers despite the fact that we, they and everybody else know that it's coming.

We have conversations with the carriers as well. And the good news, if you think about the bifurcation of the marketplace, whether it be small carriers, whom we contract with, or large carriers which we also contract with, we believe that it's a marketplace, and marketplaces ultimately adjust and adapt to what occurs. We believe that we are well positioned. We talk to our smaller carriers, and we have smaller carriers. In fact, we have single owner/operators that we recently had a conversation with that are ELD compliant today, and believe that they can continue to be compliant and productive and profitable despite the fact that they are running an ELD.

And so, while there will be a disruption of some sort, that has yet to be (51:31), because we're still adding capacity in the marketplace right now, and we believe we will continue to do that. And when you have an effective and efficient marketplace, when there's dislocations and disruptions, people like C.H. Robinson are very effective in helping our customers secure that capacity. Whether we continue to do it in the small marketplace, which we will, or also access and tap the larger truck marketplace.

(Source: Q1 '17 Conference Call, 04/26/2017) Emphasis added.
To summarize, we don't know what the impact will be yet for CHRW in regards to ELD implementation. However, many within the industry are of the opinion that it will force a reduction in the size of the fleet industry to some degree. Previously, management had seemed to disagree with that view, but steadily, it appears they're coming around to accept this as likely. Historically, a reduced fleet size should drive costs higher that CHRW has to pay to contract with shippers.
The company is already getting squeezed a bit on Transportation Margins from fuel costs. I don't think we'll see the impact of ELD on CHRW's margins until we get further into the second half of this year, but considering the change in tone from management, I believe the likelihood of further margin pressure from this source is growing.
New Competitive Threats from Amazon & Uber:
For the second quarter in a row, management was asked about new potential competition from Amazon.Com (NASDAQ:AMZN), and Uber Technologies Inc. (Private:UBER). On the Q1 call, the CFO gave a fairly lengthy response, but there are a few items worth noting:
Timothy D. Gagnon – C.H. Robinson Worldwide, Inc.

Thanks, John. Next question to Andy. Why was Coyote's aggressive pursuit of market share such a challenge for you when they were growing rapidly in 2012 and 2013? Why don't you expect Uber and Amazon to push into the freight brokerage markets to post a similar challenge for your business?

Andrew C. Clarke – C.H. Robinson Worldwide, Inc.

Well, I'm glad you asked that question in the form that it was actually written, and I'll address the Coyote. But as it relates to – I don't think that's our perspective and opinion that Amazon and Uber won't have an impact to the marketplace. And I'll address that in a second…

… What we like about the – just from a macro perspective, thinking about the entrance of competitors, we think it validates the marketplace. We have for the longest time talked about the 3PL marketplace and the penetration of the overall for-hire truckload marketplace. And it started maybe a decade ago at the low-single digits and now it's 15%, 16%, 18% of the marketplace. We like the fact that when reputable competitors come in, it acknowledges the fact of what we do. It acknowledges the fact of what our people do, and we believe it's going to continue to drive up the acceptance and therefore the penetration rate of this brokerage and of the 3PL marketplace….

(Source: Q1 '17 Conference Call, 04/26/2017) Emphasis added, and partially edited.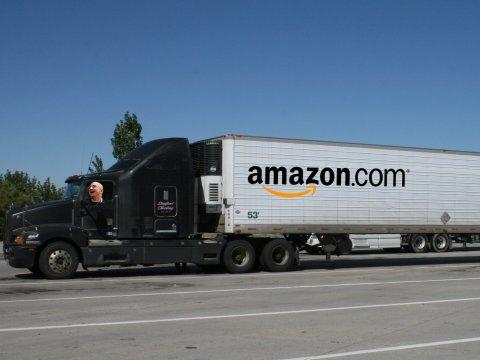 There's nothing wrong with what management says in response to these types of questions. It's what you should expect from any competitor. However, as I've said before, the two greatest margin-destroying forces in the world are China and AMZN. If companies like AMZN and Uber really enter in force, then CHRW's days of mid-teens margins are likely to be short lived going forward.
It's probably not fair that AMZN doesn't get held to the same degree of profitability requirements by the market as other non-tech industries, but that reprieve is what allows them to enter new businesses and take share with such ease. Reports have suggested that AMZN is going to launch this summer with an Uber-like app that would eliminate the third party logistics company like CHRW.
Conclusion: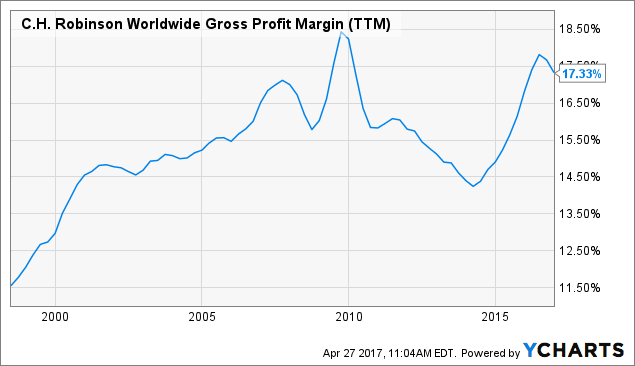 The Q1 report continued to confirm my two primary points of concern regarding the impact of higher fuel costs, and the potential impact from the implementation of ELD later this year. I would consider those both cyclical issues to challenge CHRW's margins in the near term. The risk of new competition from the likes of AMZN, however, takes more of the form of a potential secular headwind going forward. It wasn't that long ago that this industry worked with mid-to-high single-digit margins. The current mid-to-high teens margin levels may become a thing of the past if the reports on AMZN prove to be accurate.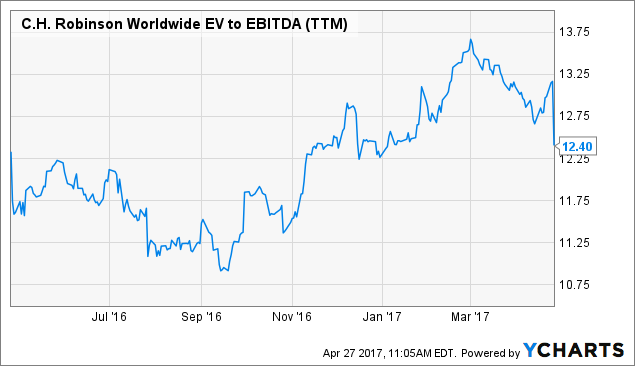 The overall outlook, therefore, seems to suggest continued pressure on margins for CHRW. It is my contention that with such an outlook, CHRW's stock shouldn't be trading towards the higher end of its valuation range. I suspect the multiple will compress significantly if the margin pressure does continue. Currently, I'm using a $60 target price for my position, based off of a 10.5x EV/EBITDA multiple by the end of the year. Good luck investing to all.
Disclosure: I am/we are short CHRW.
I wrote this article myself, and it expresses my own opinions. I am not receiving compensation for it (other than from Seeking Alpha). I have no business relationship with any company whose stock is mentioned in this article.