I seriously love this time of the earnings season – Facebook (FB) is days away from releasing its report and the "doom and gloom" articles make their way to the front page. I could have writer's block for the other 11 weeks of the quarter and suddenly formulate an article to counter something I read in the week prior to the company's earnings call.
This rebuttal episode is on a recent article discussing the rising risks in Facebook. What stuck out to me were two thoughts. First, the author had five charts containing Facebook's market cap, twice where it contained solely the market cap with no comparison. And second, the author used completely debunked references and methods to discredit Facebook – and barely the investment part of Facebook.
Let's run through both as this is plenty to keep an astute investor nose deep in homework.
Market Cap And Valuation

Referencing a market cap on its own serves little purpose – referencing it twice in this manner shows a misunderstanding. In fact, the last chart on market cap was unrelated and out of context. I sense some subliminal messaging trying to confuse investors about Facebook's size.
I do get the bearish side of showing Facebook's market cap: "Facebook is up and to the right in market cap and $400+ billion is just ridiculous."
Is it? How would you know? It's not being compared to anything meaningful.
So let's do a little exercise. First a chart (just like in the article in question) of the company's market cap: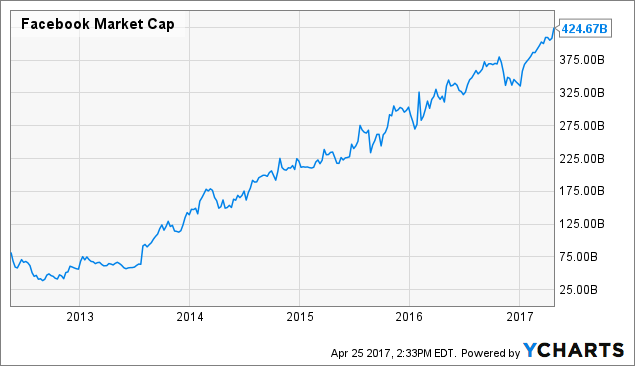 FB Market Cap data by YCharts
Now, let's add some context to this metric.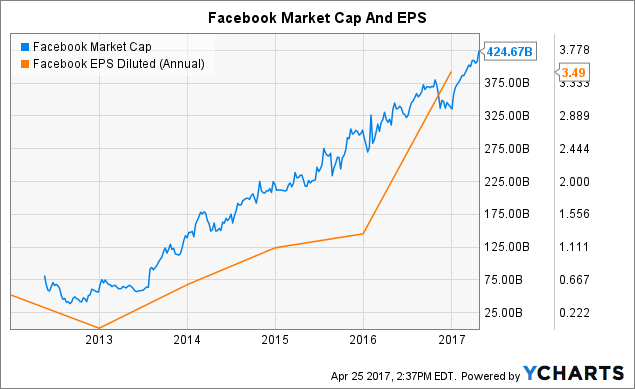 FB Market Cap data by YCharts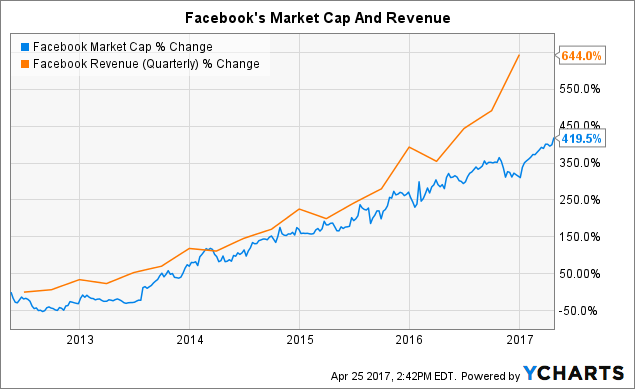 FB Market Cap data by YCharts
This adds a little light and forms a real comparison. Another light is the manipulation of data to prove whatever you want – and what I want is revenue and earnings. In both of these, Facebook is outpacing its market cap when it comes to revenue and earnings. Last time I checked this typically means a company is becoming more fairly valued (multiple compression) and is on a converging path where undervalued is the next stop.
However, charts are good and all but they don't really provide the entire picture of what you're investing in. What we need is more concrete numbers, which compare current price and market cap to expected earnings. After all, the market is forward-looking and we want to know if our investment today is going to be worth more in the future.
The first of this topic is a mistake I noticed in the comparison to 2018 numbers – which, on its own, is kind of ridiculous as investments will turn into another catalyst and completely change next year's estimates – as well as using a trailing P/E in the same paragraph.
Estimates for earnings in 2018 of $6.72 (via Marketsmith) suggest 24% growth over 2017. The P/E of 41 suggests a premium to the actual growth rate in earnings.
Let's just go with the $6.72 number for a minute. The forward P/E ratio comes out to 21.7. A premium? In today's market? Alphabet (GOOG)(GOOGL) trades with a forward P/E ratio of 22.3. Sure, Google isn't a social media company, but it is a technology company producing software and internet products in the same forest as Facebook.
The earnings number for 2018 also ignores the fact Facebook is going to be coming out of an investment year and the last time the company did its earnings grew 242%.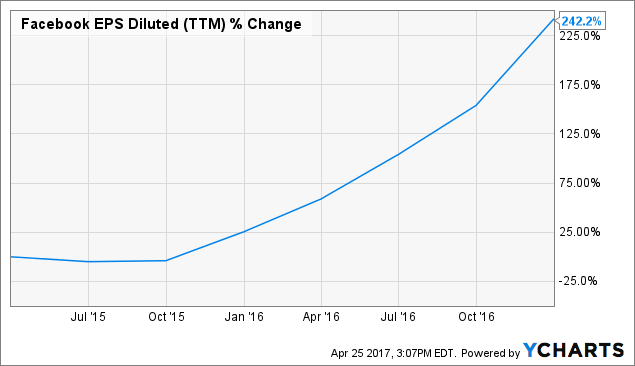 FB EPS Diluted (TTM) data by YCharts
You could expect only a fifth of this and still get 50% in earnings growth along with a forward P/E well below 20. This is a topic for another article, however. In a correct comparison of future earnings with future P/E, Facebook appears well undervalued and not a premium.
Cash Is King
Another sticking point brought up is the cash flow metric. In my unsubstantiated, off-the-cuff opinion, Facebook is a cash cow. But my desire is not to bring you unsubstantiated opinion. Instead, I want to analyze the numbers and give you my educated opinion.
Facebook has done a nice job increasing free cash flow since it has gone public. Anyone serious about investing knows free cash flow is a great indicator of how a company is spending its revenue and is a better number than earnings per share alone. Facebook doesn't disappoint on this front.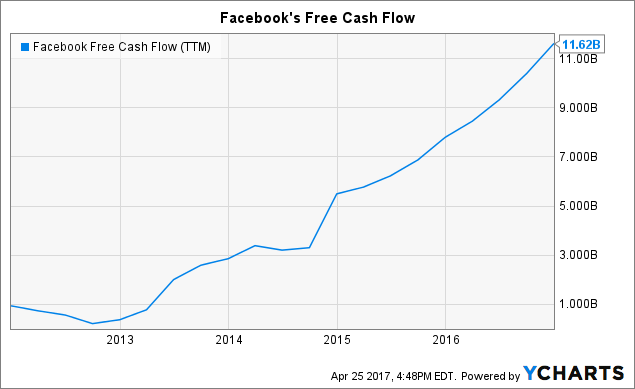 FB Free Cash Flow (TTM) data by YCharts
Facebook has increased free cash flow at a rate of 262% in just the last three years. Its market cap increase in that time period? 172%.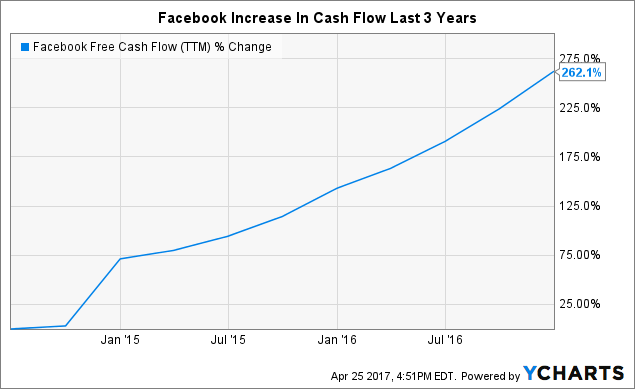 FB Free Cash Flow (TTM) data by YCharts
I understand the counterpoint to this: Price to free cash flow is near 35x, which in theory is high. However, we're talking about a company whose margins are higher than a company with inferior leverage or critical mass. Ad prices have the leverage of 1.86B people. There's no other company with an ability to leverage this number of users and reach. That aside, Facebook has the margins to back up this ratio. Why? Because its sales go way further than other software and technology companies.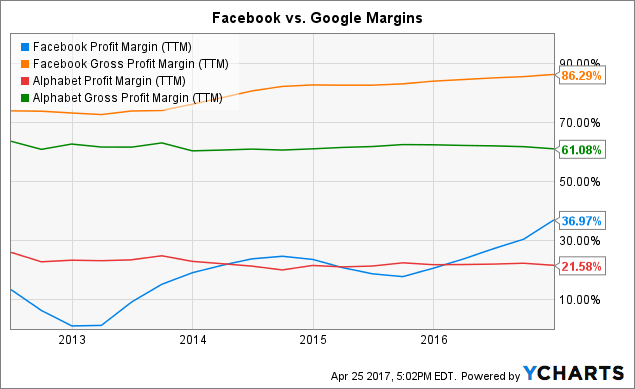 FB Profit Margin (TTM) data by YCharts
See the orange and blue line? Those are Facebook's and are above the green and red line which are Google's. Not only this but Google's margins are deteriorating while Facebook's are increasing. Facebook gets more of its sales to the bottom line. This is going to be Facebook's strength.
35x? Yeah, I'm OK with it.
Bad And Debunked Facebook Methodologies
The company needs to keep growing users and engagement to sustain this valuation. 14-15x sales is an incredible figure and assumes sustained growth and engagement.
This is what I call "The Twitter (TWTR) Syndrome." Since Twitter has struggled to grow earnings and even scratch a profit, the eyes have been on engagement and user growth ever since the company came public three and a half years ago. This is a fallacy when applied to Facebook, even ignoring the fact users continue to grow at 17% year over year and maintains a 66% daily user engagement (and is even slightly rising).
I'm not even going to bother with the 14-15x number because it is simply called "incredible" in a negative fashion with no comparison to similar companies – Snapchat (SNAP) anyone? The real problem is implying users and engagement are the driver of sales. They aren't the ones buying ads. Facebook does not make money from users but rather advertisers. Now, of course, the reason ads on Facebook are effective is due to the large audience.
If the audience were to decline, it means less eyes to see ads. This, of course, would weaken the demand for ads. However, if user numbers were to take this route, it would not immediately bring revenue and profits with it. The point is users don't drive profits directly, but they are an indicator of a possible future financial trend and should be looked into by investors. But it's simply not the story today.
Quoting A Known Short
Confirmation bias is something that can easily suck you into believing your words are right – even if they are off base – because someone else came to the same ultimate conclusion. To that end, quoting Andrew Left, who claimed Facebook is losing relevancy in June of last year, has not had a great track record on Facebook. He believed Snapchat would gain market share on Facebook. In one aspect, Facebook hasn't even blinked while Snapchat is under the microscope for slowing and even stalling user growth. To make matters worse, Snap claims it's competition that is eating away at its growth.
Funny, the story is the opposite of Left's, now 10 months later.
Am I worried? Hardly. Instagram has been a real powerhouse for Facebook and copying Snapchat's features has proven fruitful. When an app is four times as large as its competitor, it becomes a tail wind and adoption is much easier than the app with a quarter of the users. We're seeing this play out with added features on Instagram and other Facebook properties in its quest to outdo Snap. According to Snap it's working – against them.
How Users Feel
I'm only going to touch on this briefly because it's pretty much a useless point because all these studies on users and their feelings are a bunch of talk with agendas attached. Sure, I bet some users feel depressed or feel less than worthwhile at times, but guess what? That's life! Facebook hasn't changed teens, young adults, or middle age folk from their feelings, it's just an outlet for what you already have. This whole more addictive and reward center talk is absolutely nothing new. We all have this tendency and this ability in our brains to be addicted to something and be rewarded for something. Facebook is simply an outlet for all of this.
Let me be clear: Facebook isn't holding anyone against their will.
This means users are free to come and go as they please. But, as it turns out, users aren't leaving in droves, and in fact are continuing to join all of Facebook's properties. The more you say the inverse doesn't make it any more true. And in this day and age, the "right" study could find anything "unhealthy."
Rising Profits For Facebook And For You And I
Even as bearish talking points continue to come up, I continue to watch the company rake in profits and take its share price with it. The blip on the chart just after the election was nothing more than a solid opportunity to load up and increase your position. Those who did were greatly rewarded.
Not to mention, anyone thinking another correction in the stock won't be reversed by the serious trend line Facebook has created over the last several years is going to feel some pain on the short side.
Moral of the story is, you can repeat market caps over and over again but it means literally nothing until you compare it to something worthwhile. And the comparison shows sales and income are well inline – and in fact exceeding – the increase in market cap. Buy Facebook on large dips.
If you'd like to be made aware of my opinion and analysis in the future on Facebook and other tech companies, then I encourage you to follow me by clicking the "Follow" link at the top of this page next to my name.
Disclosure: I am/we are long FB.
I wrote this article myself, and it expresses my own opinions. I am not receiving compensation for it (other than from Seeking Alpha). I have no business relationship with any company whose stock is mentioned in this article.