Thesis:
For now money managers competing with the S&P 500 (NYSEARCA:SPY) have to own Facebook (NASDAQ:FB) shares due to the performance. That trend could reverse in the future once risks to the business model appear.
The medium term risks are significant: unhealthy product, no barriers to entry, competition, younger users looking elsewhere all loom as huge risks to the growth model and valuation. The hottest trend on social media is how to leave social media.
Risk: Unhealthy Product for User
Investors can make money in products that are unhealthy: cigarette companies, liquor companies, soda, burgers, on and on. The real issue is that we now live in an information age. And investors used to be protected by the lack of customer knowledge.
It should be startling to any investor in Facebook not only how quickly everyone in the world realized the product was linked to depression, but how fast the research supported it. In previous generations, this type of information would not have been known by the public for decades. And there is simply no way to ignore this medium-term Risk.
Linked to depression: Depression + Facebook = 94 Million Results on Google
Using Facebook actually makes you feel depressed, research says
"Exposure to the carefully curated images from others' lives leads to negative self-comparison, and the sheer quantity of social media interaction may detract from more meaningful real-life experiences," the report says.

Exploring Facebook Depression (via Psychology Today)

Facebook seems to be a perfect social tool for staying in contact with friends and family members without ever needing to leave the house. So why do so many Facebook users report feeling depressed and lonely?
Risk: Consumer's reaction to an unhealthy product.
As we will see with the current expensive valuation of Facebook shares, the expectation for investors is continued growth and expansion. The slightest change in consumer behavior or parents who might seek to curb social media use, is a known risk being ignored by shareholders. As we see from the soda industry, when consumers deem a product to be unhealthy, there are consequences for growth and valuation.
Without a diversified offering, Pepsi Brands and Coke would have suffered significant losses as soda consumption declines. Facebook is a pure play in social media.
Risk: Consumers begin to adjust their habits. Product viewed as less healthy. Parents react to research.
Soda Consumption Falls to 30-Year Low In The U.S.
… also reported that annual per capita consumption of carbonated soft drinks dropped to about 650 eight-ounce servings in 2015 – the lowest since 1985.

The industry has found itself out of favor as consumers seek beverage alternatives to soda that they deem healthier, notably juices and flavored waters. Those alternatives don't contain as many calories as soda, and also don't include ingredients like the sweetener aspartame, which has fallen out of favor in recent years.
Without a diversified offering, Pepsi Brands and Coke would have suffered significant losses. Facebook is a pure play in social media.
The changes in soda consumption happened over a long time period. However, we know about the effects of social media now. With a premium valuation, the shares need growth and engagement to sustain these levels.
Risks: Social media loses momentum
The hottest topic for discussion on social media is the best strategy to leave social media. Again, since the valuation of Facebook is predicated on continued growth in users and engagement, these are clear risks to the shares at this level.
Google Search Results:
Social media break: 98,000,000 results
Kylie Jenner: 33,000,000 results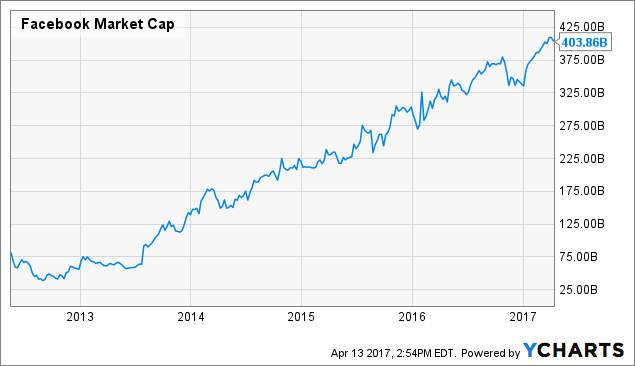 Risks: Competition, New Trends, and Innovation:
Instagram was a very good acquisition for Facebook. And copying Snapchat appears to be successful for now, although their user metrics are being questioned by some. Regardless, the issue for Facebook shareholders is if buying and cloning competitors will be enough in the future to stave off competitors, sustain growth, and justify current valuations.
Noted Investor Andrew Left, of Citron on competition:
the continued rise of Snapchat as well as the Pokemon Go craze as demonstrative of how "volatile and fragile" Facebook might be to new trends. "We all are addicted to our phones, that we know, but what it shows is that people will do different things with their phone if given a choice … the company lives and dies on engagement levels," he said.
Cloning and buying competitors
Instagram: Good and Bad
Facebook buys Instagram for $1B
Instagram was an excellent acquisition and at a very reasonable cost to Facebook. It was a great acquisition due to an unbelievable price: $1B. That's the good news, but also the bad news. Since Snapchat (NYSE:SNAP) has gone public, everyone in the space now realizes that Instagram left at least $49B on the table and more like $79B.
Next time: Facebook is not going to buy their next competitor at such a discounted price ever again in my opinion. Continuing to buy or clone competitors is a risky and difficult business strategy.
Cloning Snapchat:
"If you think Facebook has a monopoly on social media, just walk outside and go speak to anyone between the ages of 16 and 30 and you'll see Snapchat." Andrew Left, Citron
Facebook Now Has 4 Snapchat Clones
Innovation: I find it hard to believe any Facebook shareholder is relieved by the "cloning" of a competitor. This is a $400B company trading at 35X cashflow that has no barrier to entry in their markets. The valuation of the company relies on continued growth and engagement. Any new competitor that can't be bought or cloned could be a serious issue for Facebook.
Instagram Stories sees 200M daily users, surpassing Snapchat
Questionable metrics to advertisers:
Much of the criticism directed at Facebook was due to the misreporting of metrics related to likes, shares, and views on video content. With the digital advertising industry branded as having a 'murky supply chain' by P&G's chief brand officer, there is a current backlash against a number of media suppliers and their methods of reporting.
You Pay A Very High Price In The Stock Market For A Cheery Consensus – Warren Buffett
Wall Street focused on the short-term quarter and not medium or long-term risks:
Even after the large run this year, analysts are still bullish on the shares and are looking for more gains. Price target consensus $161.28 (Earnings May 3)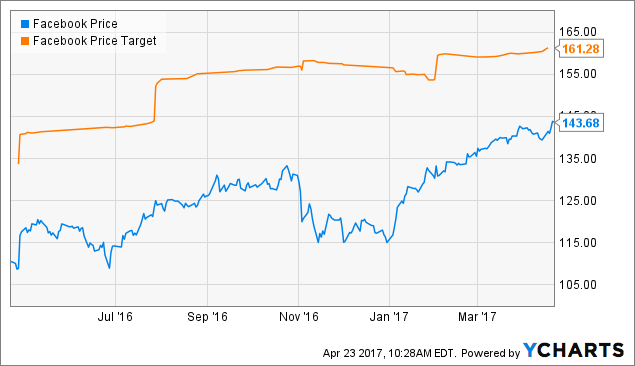 'As sweet as Cookie Layer Crunch' – analysts are incredibly bullish on Facebook post-earnings
Deutsche Bank: "Results as sweet as cookie layer crunch"
Stifel: "The best is yet to come"
Citi: "4Q16 results were ahead of even the most bullish expectations"
Goldman Sachs: "More beats to come in 2017"
Pacific Crest: "Significant room for growth in excess of current estimates over the next several years."
Raymond James: "We reiterate our strong buy rating"
Groupthink:
What's amazing about Facebook is the amount of group-think involved, thinking that they can just evolve, evolve, evolve, without any hurdles in the way," Left said in an interview with Bloomberg TV. "I just think that expectations and investor expectations are a little bit outpaced the realities of what they're going to face in the next 12 to 24 months." Andrew Left, Citron
Risk: Growth and Younger users
"Facebook is for old people"
3 Reasons Young People Think Facebook Is Lame
Facebook no longer discusses teen user rates.
Bloomberg notes that Facebook first warned investors a year ago that teens weren't as active on the social network as they had been in the past. The company stopped discussing usage rates among teens on its earning calls after 2013's numbers, alarming investors. Even as Facebook and its investors try to overlook the decline, with rising advertising revenues a welcome distraction, The Verge reports that young Americans are not only crucial to the company's advertising success but serve as an indicator of its future popularity.
Facebook Losing Teen Audience. Now Its Just Old People Socializing
Facebook isn't the only social network apparently turning off young users. Twitter is also experiencing a notable decline in its demographic of 18- to 34-year-olds.

Results reveal two competing social network tools, Snapchat and Instagram, are enjoying "explosive growth" and likely at the expense of Facebook and Twitter. (NYSE:TWTR)
Again, since the real Facebook customer is advertisers, losing a younger user is problematic, since they are most sought after by advertisers.
Premium valuation:
The issue for investors is whether the price to growth and price to sales are in line with a company facing medium term and long-term threats and competition.
Again, we see the large move in the shares since the election, and compare the market cap to revenue and income.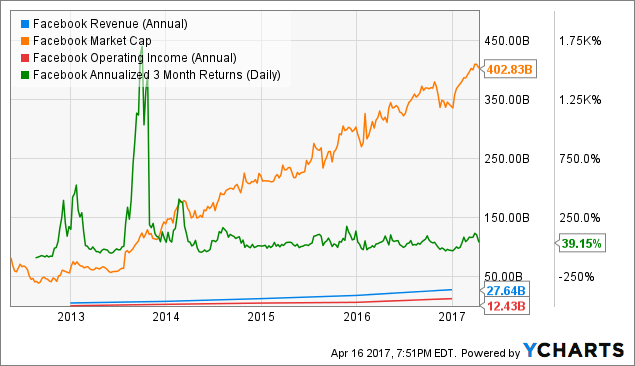 Valuation:
The company needs to keep growing users and engagement to sustain this valuation. 14-15x sales is an incredible figure and assumes sustained growth and engagement.
Estimates for earnings in 2018 of $6.72 (via Marketsmith), suggest 24% growth over 2017. The p/e of 41 suggests a premium to the actual growth rate in earnings.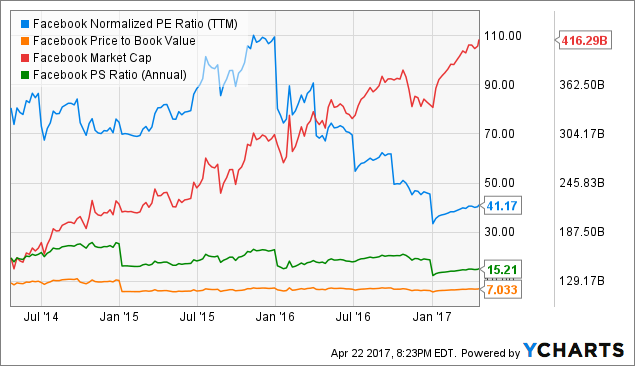 FB Normalized PE Ratio (NYSE:TTM) data by YCharts
Cash Flow:
As a value investor, it's hard to imagine paying 35X cash flow for any investment. And this valuation assumes that none of these risk factors will impact earnings in the future.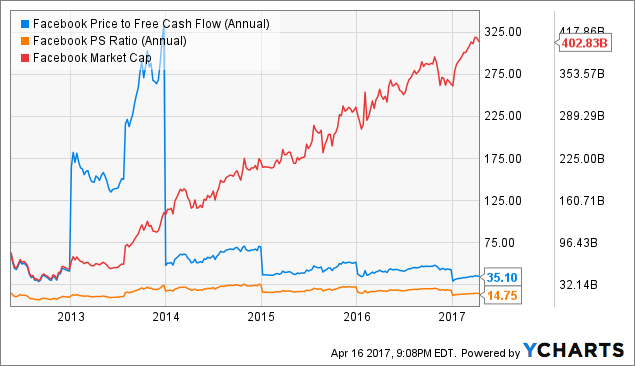 FB Price to Free Cash Flow (Annual) data by YCharts
Institutional Demand: Technical Buying
Institutions feel pressure to own Facebook:
Money managers that index to the S&P 500 are under pressure to own the shares, since they are such a large component in the index.
the top five S&P 500 stocks by market capitalization represent 12 to 13 percent of the index's overall weight, and all of them – technology-related stocks – are trading in positive territory year to date.

Five companies have become the pillars of the stock market in 2017, and their names shouldn't sound unfamiliar, either. Apple, Alphabet, Microsoft, Amazon and Facebook are carrying a load of weight on their shoulders.
Due to market cap weightings in the index, Facebook has a larger influence on the index than JP Morgan (NYSE:JPM) or Bershire Hathaway (NYSE:BRK.A)
Institutional demand has helped the shares but also pushed the valuation to extreme levels. If trends reversed, and Facebook lagged the indexes, money managers would feel less pressure to own the shares relative to the index.
As we will see later on, Facebook shares have been rising on weaker volume, a trend that shows less enthusiasm for the shares as valuations become stretched.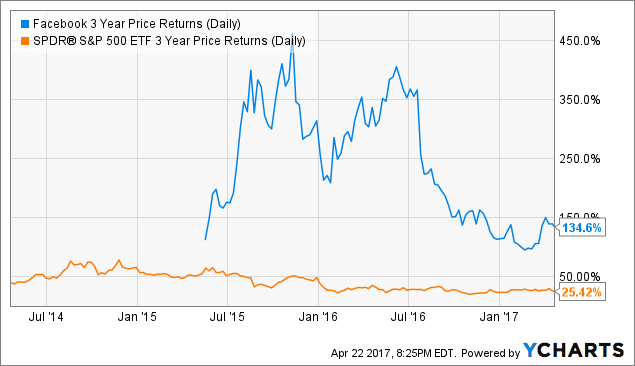 FB 3 Year Price Returns (Daily) data by YCharts
Medium-Term Risk: More users start to dislike Facebook:
Targeted Ads, privacy issues, and manipulation of users.
Survey: Facebook scores low in customer satisfaction
End Users of Facebook don't like the company due to issues with Targeted Ads and Privacy Issues.
Some Americans still love to hate Facebook and other social media services.

That's according to an annual survey from the American Customer Satisfaction Index (ACSI) released Tuesday.

Social media companies are the fourth-lowest scoring with consumers after Internet service providers, subscription television companies and airlines. The industry has a score of 71 on a 100 point scale.

Facebook and LinkedIn ranked the lowest of the seven companies surveyed. Twitter didn't fare much better.
Manipulation of end-user:
Brain Hacking: A recent 60 Minutes piece caused a stir by suggesting social media companies were working on algorithms to make their product more additive for the end user (and especially kids).
The silicon engineer suggested that social media on a phone was similar to a slot machine. And users would be rewarded with likes, share etc…
Tristan Harris: And it's not because anyone is evil or has bad intentions. It's because the game is getting attention at all costs. And the problem is it becomes this race to the bottom of the brainstem, where if I go lower on the brainstem to get you, you know, using my product, I win. But it doesn't end up in the world we want to live in. We don't end up feeling good about how we're using all this stuff.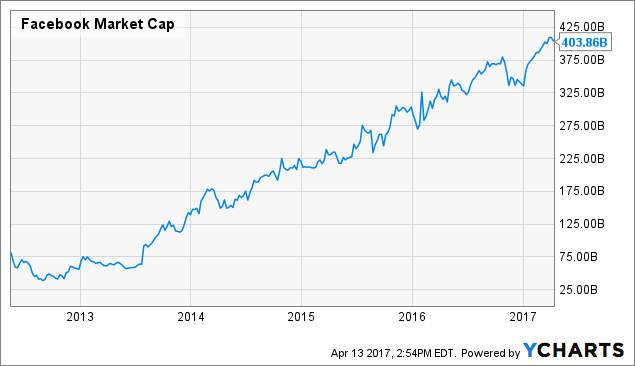 FB Market Cap data by YCharts
Technical Overview:
The shares have had a large run since the election. What's interesting is that the shares have had this large move on declining volume. This confirms that institutions feel they need to own the shares to keep up with the averages, but the real demand is waning.
However, due to technical buying, the best strategy is to wait for the shares to break the 50-day trend line on heavy volume.
Strategy:
The intense institutional demand makes shorting the shares unattractive until a break in the uptrend occurs. Once that occurs, the best strategy would be either selling a vertical call spread or a put spread on the downside. The risk/ reward until then is unfavorable due to institutional support for the shares.
The best strategy for the short term is to wait for a change in sentiment and a break of the 50 day moving average on large volume.
Conclusion:
Optimism by Wall Street ignores looming risks to Facebook shares: an unhealthy product, no barriers to entry, competition, younger users looking elsewhere all loom as huge risks to the growth model and valuation.
Follow me for more ideas and analysis
Disclosure: I/we have no positions in any stocks mentioned, and no plans to initiate any positions within the next 72 hours.
I wrote this article myself, and it expresses my own opinions. I am not receiving compensation for it (other than from Seeking Alpha). I have no business relationship with any company whose stock is mentioned in this article.