Written by Bob Ciura for Sure Dividend on April 27th, 2017.
When it comes to retirement income planning, the conventional wisdom could be letting retirees down.
A widely-used tool for retirement planning is the 4% rule. The 4% rule tells you how much you can withdraw in the first year of retirement-while adjusting future withdrawals based on inflation-so that your retirement accounts will last 30 years.
According to a June 2016 study by investment giant Vanguard, Americans aged 55-64 had an average 401(k) balance of $177,805.
Using the Vanguard average, the 4% rule would call for the average American to withdraw $7,112 from their retirement account, in the first year of retirement.
The problem is that, even with Social Security, this may not be enough income for many retirees.
Plus, there is a risk of running out of money using the 4% rule. The biggest reason this could happen is because life expectancies are rising. It is not uncommon today for retirement to last much longer than 30 years.
This article will discuss why investors might want to rethink the 4% retirement rule, and consider investing in 4% dividend stocks for retirement income.
4%+ Yielding Stocks Versus The 4% Rule
Owning stocks carries risks, as the stock market can be volatile at times. But, if investors stick to the 4% retirement rule, there is also a risk of running out of money.
Investors may be better off investing in dividend stocks to generate retirement income, if they are willing to shift some resources from lower-yielding investment products.
Dividend stocks can provide a far higher yield than government bonds and bank products like CDs. And, high-quality dividend stocks raise their dividends each year, which helps investors protect their purchasing power from inflation, and set up a growing income stream that can last in perpetuity.
The below 10 stocks provide an investor with a diversified portfolio across sectors and asset classes.
And, it would allow investors to generate more than 4% annual income, with the high likelihood of dividend income growing each year.
Telecoms: AT&T (NYSE:T) and Verizon Communications (NYSE:VZ)
AT&T and Verizon are the two largest carriers in the U.S., and they both have long histories of uninterrupted dividends.
AT&T is a member of the vaunted Dividend Aristocrats, which are stocks in the S&P 500 with 25+ consecutive years of dividend increases.
Click here for the full list of Dividend Aristocrats.
It has increased its dividend for 33 years in a row, which means it is a stock investors can count on for reliable dividends.
Verizon is a Dividend Achiever, meaning it is one of 265 stocks with 10+ years of consecutive dividend increases.
You can see the full Dividend Achievers List here.
AT&T and Verizon each have current dividend yields near 5%.
Interest rates have risen lately, but are still low by historical standards. The safest investments around-U.S. Treasury bonds-are equally unattractive. The current yield on the 10-Year U.S. Treasury bond is just 2.3%.
AT&T and Verizon are worthy of consideration by retirees, because they can generate far more income than Treasuries or bank CDs.
Moreover, their dividend payments are sustainable, because they generate high levels of free cash flow.
Both companies are industry giants: AT&T had revenue of $168.3 billion in 2016. The company generated free cash flow of $16.9 billion for the year, representing a 6.8% increase from the prior year.
AT&T's free cash exceeded its dividend payments last year, by more than 30%. This leaves plenty of room for future dividend increases, especially given that the company should continue to grow earnings.
AT&T's revenue increased 12% last year, driven by its $49 billion takeover of satellite TV provider DirecTV.
Future growth is likely, as AT&T has an even more aggressive acquisition in the pipeline-the $109 billion pending deal for Time Warner (NYSE:TWX).
Source: AT&T Acquisition Presentation, page 6
The combination of AT&T and Time Warner would create a diversified conglomerate in the telecom and media industries, with 133 million nationwide mobile customers, along with another 25 million nationwide video customers.
Meanwhile, Verizon generated $126 billion of revenue in 2016, along with $5.6 billion of free cash flow for the year.
Verizon's strong financial performance is led by its flagship Verizon Wireless segment.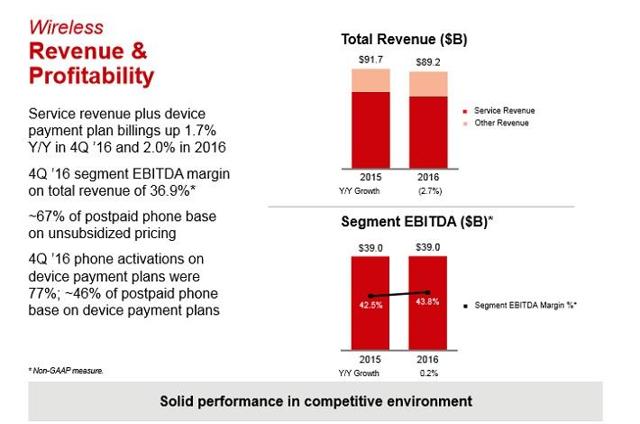 Source: 4Q 2016 Presentation, page 6
Verizon's dividend sustainability is boosted by free cash flow, as well as a strong credit rating.
The company receives a credit rating of 'BBB+' from Standard & Poor's, with a stable outlook. Furthermore, Verizon ended last year with a net-debt-to-adjusted EBIDTA ratio of 2.4, which is a healthy level.
Verizon's future growth catalysts include 5G rollout and the Internet of Things, or IoT.
The company launched successful 5G trials last year, and is arguably in the best position to capitalize on 5G, because of its network quality. The company invested $17 billion in its network last year alone.
Separately, IoT revenue increased 21% in the fourth quarter of 2016, and another 17% in the first quarter of 2017.
To see how AT&T's and Verizon's dividends stack up against each other, click here.
Utilities: Duke Energy (NYSE:DUK) and Southern Company (NYSE:SO)
No retirement plan built on dividend stocks would be complete without utility stocks.
Utilities are widely known as the most dependable dividend stocks in the market, and for good reason. Their business models are highly profitable, and virtually guaranteed, thanks to the simple fact that everyone needs to keep the lights on.
Consumers will continue needing electricity and gas service, even when the U.S. economy enters recession.
And, utilities with large regulated operations-including Duke and Southern-are granted regular rate hike approvals. Along with economic growth and population growth, this keeps earnings growing each year.
With such steady earnings growth, utilities can pass along the bulk of their earnings to investors, through hefty dividend yields.
Duke serves more than 7 million electric customers, spread across six U.S. states.
It has paid a dividend to shareholders for over 90 years. Going forward, continued dividend growth is likely.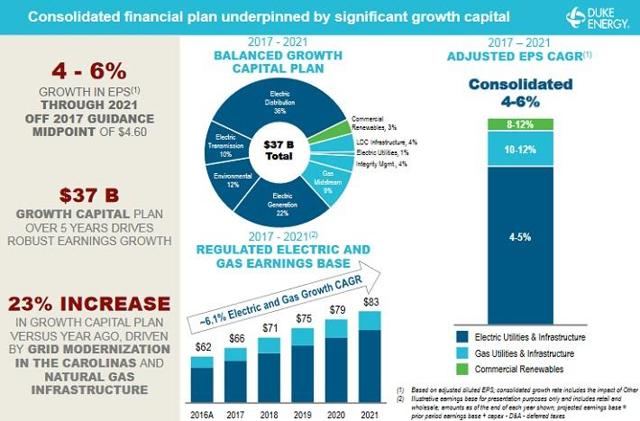 Source: 4Q Presentation, page 14
The company expects customer additions and cost savings to produce 4%-6% annual earnings growth through 2021.
Its earnings-per-share, adjusted for non-recurring financial items, increased 3% in 2016, and growth is expected to accelerate over the next several years.
Duke's future growth will be focused on regulated markets. It has gone 'all-in' on regulated utility operations, through both internal and external investment.
For example, Duke invested $25 billion of infrastructure improvements in the past decade. It also acquired Progress Energy for $32 billion.
This is a positive step for the consistency of Duke's earnings and dividends. The reason is because regulated utilities are more stable than market-based operations.
Duke aims for 100% of future earnings to come from regulated operations moving forward.
In addition, Duke is in strong financial condition. It gets a credit rating of 'A-' from Standard & Poor's.
Southern is also a strong dividend pick for retirement income.
Southern has 46,000 megawatts of generating capacity, which it uses to serve 9 million electric and gas customers across nine U.S. states.
Nearly half of Southern's generation is fueled by natural gas. Southern is well-positioned to benefit from the boom in domestic natural gas production.
In 2016, the company grew revenue by 14%. Increasing expenses caused earnings-per-share to decline 1% for the year, but on an adjusted basis, earnings-per-share were flat.
The company had adjusted earnings-per-share of $2.89 last year.
On April 17th, Southern hiked its dividend by 3%. It has come through with dividend increases for 16 years in a row, since 2002.
The company should be able to continue increasing its dividend each year, as the company expects 5% annual earnings growth over the long term.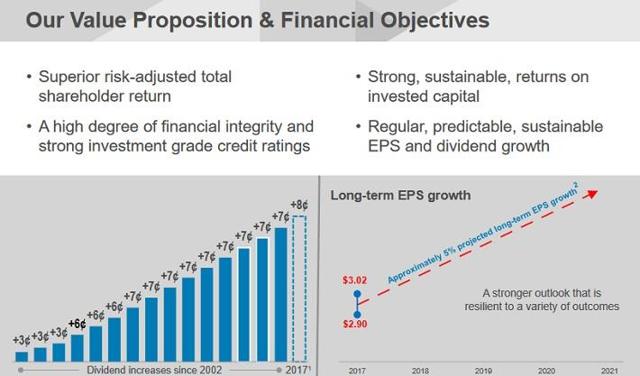 Source: 4Q Presentation, page 12
And, Southern has maintained or increased its quarterly dividend since 1948-a stretch of nearly 70 years.
Based on adjusted earnings-per-share, Southern had a payout ratio of 80% in 2016. This is a tight payout ratio, but still gives the company room to pass along modest dividend hikes each year going forward.
Duke Energy and Southern have current dividend yields of 4.2% and 4.6%, respectively. And, they are both members of the Dividend Achievers list.
To see how Southern has outperformed one of its competitors in the utility sector by more than 80 percentage points over the past 10 years, click here.
Oil and Gas: Chevron (NYSE:CVX), Valero Energy (NYSE:VLO), and Magellan Midstream Partners (NYSE:MMP)
The energy sector is a good source of dividend stocks for retirees, since global demand for energy continues to rise.
And, thanks to the drop in oil and gas prices over the past three years, falling share prices have resulted in elevated dividend yields across the industry.
For example, Chevron is one of the largest oil and gas companies in the world, and it has a 4% dividend yield. It has increased its dividend for 29 years in a row.
Low oil prices have weighed on Chevron's exploration and production-or upstream-business, which posted a $2.5 billion net loss in 2016.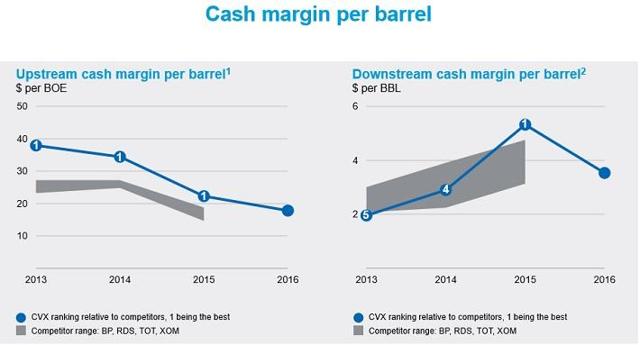 Source: 2017 Analyst Meeting, page 5
The reason why Chevron was still able to continue increasing its dividend through the downturn, is largely because of its integrated structure. Chevron is an integrated oil and gas company, which means it has a downstream refining business, in addition to upstream.
Refining benefited from the sharp decline in commodity prices, because it widened margins by lowering costs. For example, Chevron's downstream segment turned in a profit of $3.43 billion in 2016.
Chevron swung to a $497 million loss last year, as low oil and gas prices took a steep toll. But, the company is in a much better position now. Oil prices are gradually recovering, and have risen significantly off the 2016 low. Chevron's U.S. upstream business cut its net loss in half in 2016.
Plus, Chevron is much more efficient. The company cut capital and operating expenses by $14 billion last year. This will help Chevron balance its cash flow position in 2017.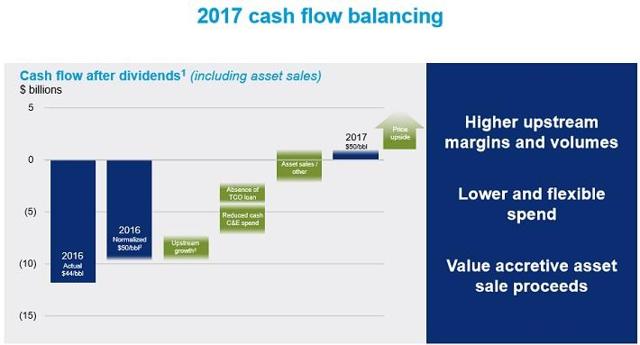 Source: 2017 Analyst Meeting, page 8
And, the company will grow production going forward, which will help it leverage a continued recovery in oil and gas prices.
In 2016, Chevron added approximately 900 million barrels of net oil-equivalent proved reserves This represented roughly 95% of net production. Worldwide production was 2.67 million barrels per day last year.
Chevron's recovery has been rocky, but the company continues to generate enough cash flow to pay its dividend.
Speaking of refiners, Valero Energy is one of the best.
Its assets are spread across the U.S., with a concentration in the Gulf Coast and Mid-Continent.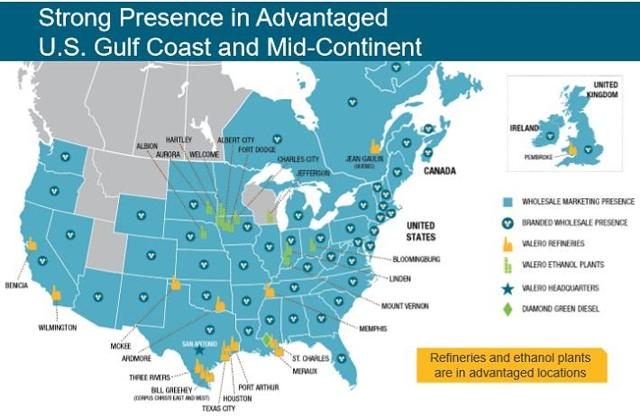 Source: April 2017 Investor Presentation, page 4
More than 55% of Valero's refining capacity is located in the U.S. Gulf Coast. Valero has high-quality assets. Utilization was above 95% over the past year.
Going forward, one of the main growth catalysts for Valero will be international shipments. Exports are set to ramp up over the next several years.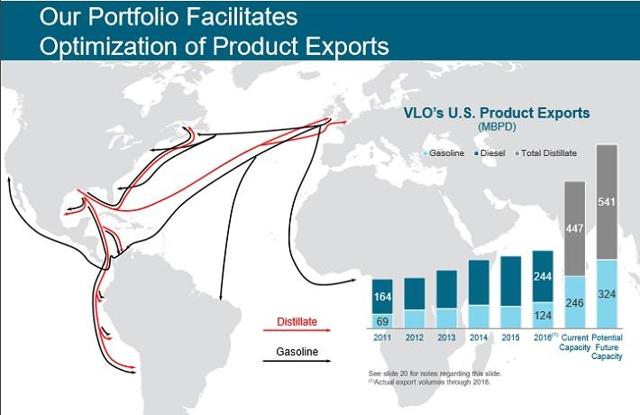 Source: April 2017 Investor Presentation, page 10
Valero invested $2 billion in growth and sustaining capital expenditures last year. Spending is expected to rise to $2.7 billion in 2017. Its investments are geared toward maintaining its asset base and expanding its capacity.
The company generates high levels of cash flow. Valero had a 9% return on invested capital last year, which was a challenging year for the industry. It also has a strong balance sheet, with a net-debt-to-EBITDA ratio of 0.7.
Valero's high-quality assets generate significant cash flow, which allows the company to return cash to shareholders. Last year, Valero returned $2.4 billion to shareholders in dividends and share repurchases.
In 2017, Valero increased its dividend by 17%. The stock has a current yield of 4.3%. Valero's 2017 earnings-per-share of $4.94 are more than enough to cover its forward annual dividend of $2.80 per share. Valero stock trades for a price-to-earnings ratio of 10.
While Chevron and Valero encompass the upstream and downstream segment, investors should also consider the midstream energy operators for dividend stocks.
Magellan Midstream Partners is an MLP, which complicates things a bit. Investors are known as partners, and as such file a K-1 form each year. There are unique considerations for investing in MLPs.
But, the trade-off is investors can receive very high levels of income from quality MLPs like Magellan. It has a current yield of 4.6%, and a long history of increasing payouts.
Magellan recently raised its distribution to $0.8725 per unit, up 9% from the first-quarter payout last year. The company has now come through with 60 distribution hikes since it went public in 2001.
Magellan has more than 11,000 miles of pipeline. Its refined products segment has 53 terminals.
Its business is to transport and store petroleum products. It operates a huge network of midstream oil and gas assets, including pipelines and terminals.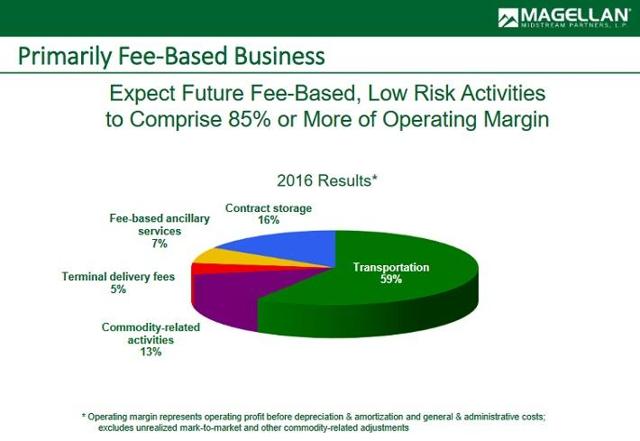 Source: Evercore ISI Energy Summit Presentation, page 7
Magellan operates predominantly fee-based assets. Only 13% of its cash flow is derived from activities that are based on commodity prices.
This stability helped Magellan navigate the recent oil and gas downturn remarkably well. It set company records for both quarterly and annual distributable cash flow. For the year, distributable cash flow increased 0.5%, to a record $947.5 million.
Magellan generated distributable cash flow of 1.25 times the amount needed to pay distributions in 2016.
Future growth will be fueled by new projects. Last year, the company utilized a record $736 million in capital expenditures for organic growth projects. In 2017, the company expects net income per unit to increase 6.5%.
The company intends to raise its distribution by 8% in 2017 and 2018, while maintaining a distribution coverage ratio of 1.1-1.2 for 2018. Magellan's distribution appears to be secure, because it has a strong balance sheet relative to the MLP industry. Magellan has an investment-grade credit rating of 'BBB+', as well as a debt-to-EBIDTA ratio below 4.0.
As a result, Magellan is an attractive option for investors interested in high yields and high income growth.
Healthcare: AbbVie (ABBV)
The healthcare industry is an attractive sector for investors interested in dividend stocks. Large-cap healthcare companies such as pharmaceutical giant AbbVie have high-quality earnings and sport generous dividend yields.
AbbVie has a current dividend yield of 4%, which is one of the highest in the U.S. Big Pharma industry. It was spun off by Abbott Laboratories (NYSE:ABT) in 2012. AbbVie is a Dividend Aristocrat.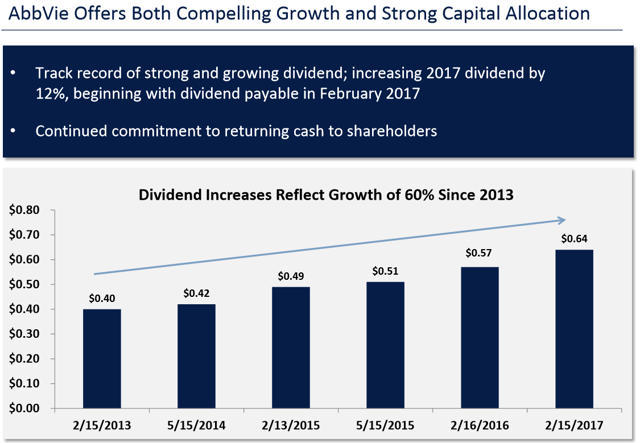 Source: 2017 JP Morgan Healthcare Conference, page 14
AbbVie is ranked very highly using Sure Dividend's 8 Rules of Dividend Investing, which systematically ranks the top dividend stocks.
That is because AbbVie has a combination of nearly every quality investors would want-it has strong brands, growth potential, a high dividend yield, and a modest stock valuation. AbbVie stock trades for a price-to-earnings ratio of 13.6.
In 2016, AbbVie's earnings-per-share increased 12%. The company continues to see excellent results for its flagship multi-purpose medication Humira. Revenue from Humira product sales increased 16% last year, to $16.08 billion.
While Humira is now off patent-a major concern since it alone represented more than half of AbbVie's revenue last year-AbbVie still expects to grow earnings moving forward.
By 2020, the company projects Humira will be an $18 billion drug, by revenue. And, it is looking forward to growth from new therapies.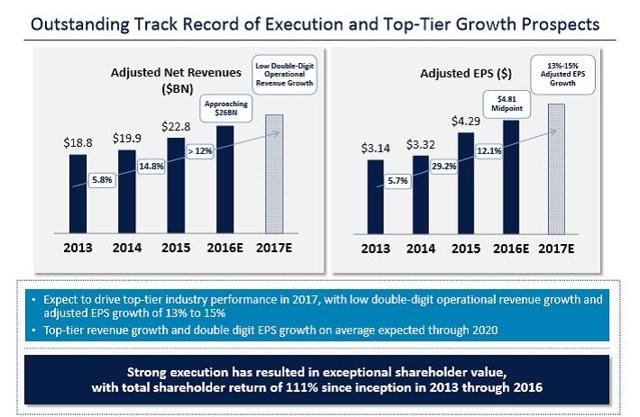 Source: 2017 JP Morgan Healthcare Conference, page 4
AbbVie has a collection of late-stage new drugs, which are expected to grow substantially going forward. Its product pipeline is expected to generate $25 billion-$30 billion in annual sales by the end of the decade. For example, Imbruvica is now a nearly $2 billion drug by annual revenue.
AbbVie generates a lot of cash flow, which it uses to invest in growth, and also reward shareholders with cash returns. In addition to its high dividend yield and dividend growth, AbbVie increased its 2017 share repurchase program by $5 billion.
Real Estate: Realty Income (O)
Income investors may want to consider dedicating a portion of their portfolios to real estate. Real Estate Investment Trusts-or REITs-give investors the opportunity to earn high dividend yields from real estate, without having to purchase physical property.
Realty Income is one of the best-in-class REITs. It has a very long history of uninterrupted dividends. And, it pays its dividend monthly, which helps investors compound their wealth at an even faster rate than quarterly payouts.
Realty Income owns more than 4,900 properties, which are predominantly in the retail industry.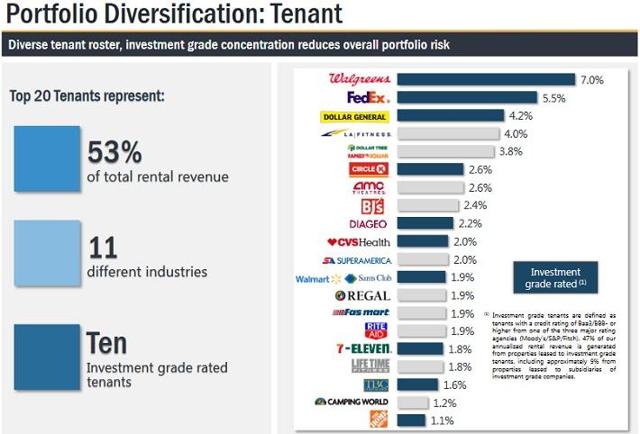 Source: 4Q Investor Presentation, page 14
The company has a high-quality tenant portfolio. And, Realty Income has the ability to raise rents over time. During 2016, rents on 4,045 properties under lease increased 1.2%, to $889 million.
This provides steady cash flow and consistent growth. Realty Income's adjusted funds from operation (FFO) increased 5% last year. Realty Income had FFO-per-share of $2.88.
Continued growth is likely, thanks to Realty Income's investments in property acquisitions. The company invested $1.86 billion last year, in 505 new properties, as well as properties under development or expansion.
With a strong portfolio and growth, Realty Income rewards investors with a rock-solid dividend.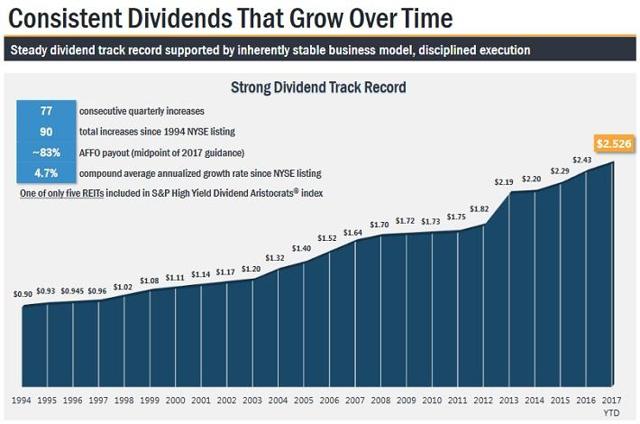 Source: 4Q Investor Presentation, page 38
Its current annualized dividend is $2.532 per share. This comes out to a 4.3% dividend yield, based on its share price.
Plus, Realty Income is an excellent stock pick for dividend growth. It has paid 562 consecutive monthly dividends. And, it has raised its dividend 91 times since its went public in 1994.
The company is off to a good start to 2017. First-quarter adjusted FFO-per-share increased 8.6% year over year.
Retail: Target (TGT)
Target stock is also attractive for a retirement portfolio, because it has a 4.4% dividend yield, and a long history of dividend growth.
Target has raised its dividend payout for 45 consecutive years. This means it is a Dividend Aristocrat. And, in five years, Target could become part of an even more exclusive club-the Dividend Kings, a group of just 19 stocks with 50+ consecutive years of dividend increases.
You can see the entire list of Dividend Kings here.
Target had a good year overall, in 2016.
In GAAP terms, earnings-per-share declined 13% for the year. However, the bulk of the decline was due to a loss on an early retirement of debt.
Excluding this, Target's adjusted earnings-per-share actually increased 7%, to $5.01.
Target's current annualized dividend is $2.40, which represents a payout ratio of less than 50% in terms of 2016 adjusted earnings-per-share.
The company expects a more challenging year in 2017, as it makes additional investments in its core strategic initiative. But, it should still be able to raise its dividend again, thanks to its low payout ratio.
And, the investments Target is making, should help the company over the long term.
Target will be spending more aggressively to better compete on price, build its small-store count, and expand its digital platform.
Target's small-store expansion will help the company enter areas where it had little presence before, such as big cities and college campuses.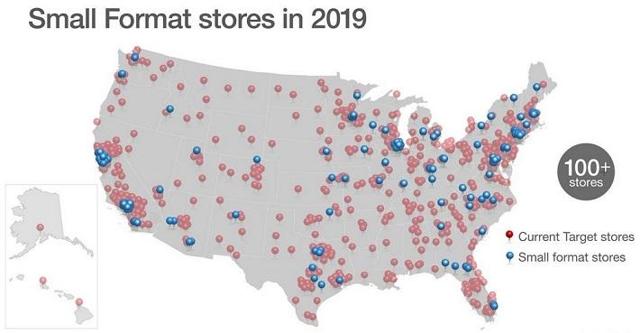 Source: 4Q Presentation, page 77
By 2019, Target envisions having more than 100 such stores in operation across the U.S.
Separately, Target's fourth quarter comparable digital-channel sales increased 34% year over year.
To be sure, these investments will weigh on the company's bottom line this year-Target expects adjusted earnings-per-share of $3.80-$4.20 in 2017. At the midpoint, adjusted earnings-per-share are projected to decline 20% in 2017.
On the other hand, these are all necessary actions to keep up with the changes taking place in the retail industry. Target, along with other brick-and-mortar retailers, is struggling against the rise of e-commerce competitors such as Amazon.com (NASDAQ:AMZN).
Target is in a turnaround period, but it has been through similar times before, and kept paying its dividend throughout. Target's next quarterly dividend will be its 199th in a row, since October 1967 when it first became publicly-owned.
Disclosure: I am/we are long ABBV, TGT, ABT.
I wrote this article myself, and it expresses my own opinions. I am not receiving compensation for it (other than from Seeking Alpha). I have no business relationship with any company whose stock is mentioned in this article.