"The stock market is filled with individuals who know the price of everything, but the value of nothing." – Phillip Fisher
Intro:
The Search for Value Portfolio (referred to as the YMBCi portfolio in previous articles) is a small-cap value portfolio which typically carries a healthy dose of pass-through securities: BDCs, MLPs, mREITs, REITs, and CEFs. As such, the portfolio's dividend yield is usually fairly substantial. In it I do exactly what the name implies, search for fundamental value.
Frequently these are equities which I identify as being out of favor, misunderstood, or simply underfollowed. Sometimes, however, they are equities which have plummeted due to bad news. In this latter case, trying to catch these falling knives, I also sometimes get cut. Thus, surviving the occasional cut requires an allocation strategy and buying controls. Both are an intrinsic part of the portfolio without which I do not think the investor would succeed. In addition, the research and analysis involved require a fairly substantial amount of effort, and more frequent trading than many generally prefer (a typical hold is measured in months rather than years). Search for Value is not a buy and hold approach, and it is not for everyone.
It does, however, represent how I have historically managed the majority of my individual, small-cap, self-directed assets (I also hold large cap and foreign index funds in other accounts). The 2015 annual review article introduces the Search for Value Portfolio (called YMBCi back then) and contains more information regarding risk and the downdraft experienced by pass-through securities during that year.
It is assumed the reader is already familiar with the inherent risk involved with small-cap, high-yield, securities. These equities are probably only appropriate for the portion of your portfolio you assign to risky opportunities.
I attempt to disclose all trades same day in the comment section of each quarter's review article. This allows any reader who follows me to use them as an initial source of ideas in real time, performing their own additional research, and potentially opening or closing positions as they deem appropriate. It also allows for immediate feedback on these positions which I greatly appreciate. These trade announcements typically start with the phrase "trade disclosure" followed by a short blurb on reasoning.
Returns:
Q1 2017 started off very well for the Search for Value portfolio, then tanked towards the end of the quarter:
The shipping holdings in Search for Value did very well January. Spot rates appeared strong (they usually do in winter) and popular authors here on Seeking Alpha had positive things to say.
Unfortunately, those shipping names eventually settled back with TK calls, up over 100% at mid-quarter, eventually expiring worthless in March. Likewise, some out of the money, short term, "lottery ticket like", SPH puts expired worthless in March when the weather unexpectedly went the wrong way just before expiration. And last but not least, I got WACked in March by the falling knife Walter Investment Management (WAC, still hold). Overall, March is a month I would like to forget.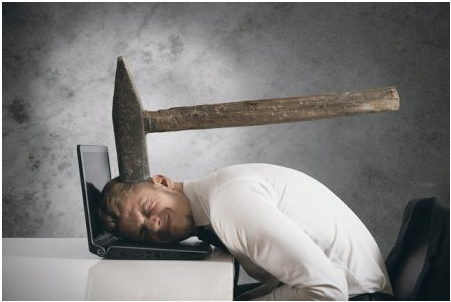 (Side note, next time the author purchases options in the Search for Value portfolio please do him a favor by emailing the picture above)
However, the last sharp dip you see in the portfolio which only lasts a day or two at the end of March, appears to be reporting error. Having to do with a delay in the crediting of cash proceeds by Etrade, rather than actual returns.
While March was a bad month, for the entire quarter the Search for Value portfolio had a pretty decent return, achieving an 8.3% total return vs. 2.1% for the Russell 2000.
Since inception on Seeking Alpha (1/1/2016) the Search for Value portfolio is up 150.6%. This compares to a 122% for the Russell 2000, and 115.6% for the S&P 500, for the same time period. While encouraging so far, 5 quarters is too short a period of time to draw any conclusions, and I caution that past results are not necessarily indicative of future returns.
Portfolio Holdings:
During Q1 Search for Value portfolio holdings changed as follows: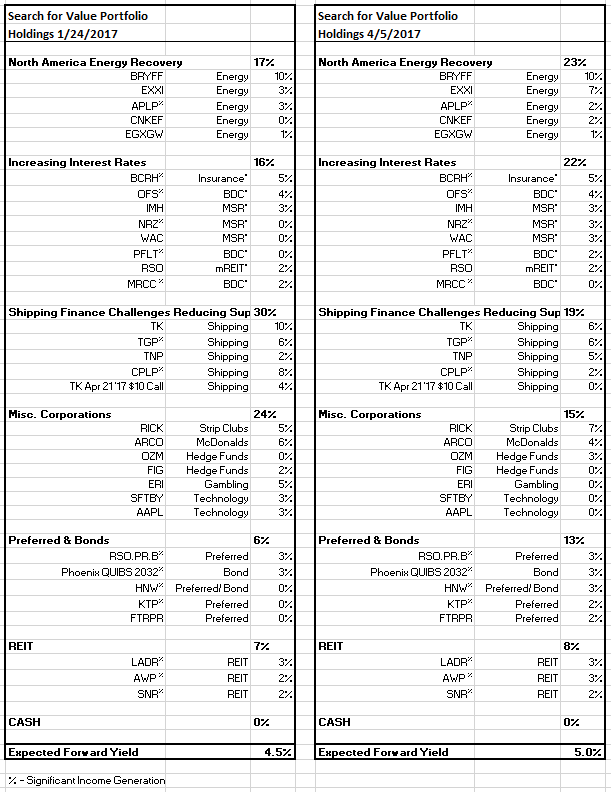 Adds and Buys:
EXXI: Underpriced and underfollowed
OTC:CNKEF: Craft spin-off transformational, undervalued to peers
NRZ: Stock issuance created opportune time to buy
WAC: Management purposely sandbagging MSR valuation?
PFLT: Stock issuance created opportune time to buy; still not cheap but attractive relative to other BDCs
HNW: Diversification at a reasonable price
KTP (JCP preferred): underlying is B- paper with an 11% yield
FTRPR: Could benefit from potential dividend cut at FTR; converts to stock with strong FCF yield
Sells and Reductions:
Switches:
Changes to how holdings are displayed:
In the chart above, I have tried to group the holdings according to major theme and show both current and previous holdings. This is an attempt to more clearly show the strategy and note changes in the portfolio for the reader. Pleases let me know if it is helpful. I have also added the superscript % to denote those holdings which throw off significant amounts of income (usually pass-through securities). These particular securities might also be useful for those who focus more on the income stream, or who prefer a strategy of buy and hold, adding on weakness (BHAOW) strategy. While BHAOW is not the strategy the Search for Value portfolio follows, it is a perfectly valid one more suitable for many people who have less time to spend on investment research.
Macro / Over-weight Themes:
The first three groupings – North American Energy, Benefit from Increasing Interest Rates, and Shipping – are purposely overweighted themes in the portfolio which I will develop a little further below. The other holdings are more about portfolio diversification or specific situations, items which I may cover in a future article.
North American Energy Recovery:
The North American Energy sector is something I have been following for years. It is currently overweighted, with 23% allocation of the entire portfolio.
Back in 2014, I wrote this article arguing that the House of Saud's main motivation at the time was more power-based than economic, concluding:
So, when we investors consider how long oil prices are likely to stay at current levels, we should not just think about monetary influences. In this case, the maintenance of political power by the House of Saud is at least as big a driver. How low oil prices can go and for how long is still as dependent on the geopolitics of the Middle East as the boardrooms of the Mid West."
I would like to point out this was before the phrase "lower for longer" became popular oil sector lexicon. Later, I identified three indications of when this particular price war might be "at the end of the beginning" including:
A significant number of bankruptcies in the sector.
OPEC members falling in line and potentially new members (Russia) joining or aligning with it.
The House of Saud making significant investments in fracking and alternative energy.
And in a September 2016 comment in that article, I declared I felt these conditions had largely been met. Thus, the sector became conducive to long investment again. This in turn led to a December 2016 blog post where I revealed the positions I had previously taken because of this view, an attempt to benefit from a predicted North American Energy recovery. Search for Value still holds some of those positions today:
What these companies all have in common is they benefit from the recent revival of North American energy. None, however, can be considered low risk. Readers need to make sure they use these articles only as a starting point, following them up with further due diligence, and making their own decision about whether they are appropriate for them. (If possible, please reveal the reasons behind those decisions in the comment section below.)
Increasing Interest Rates:
The next group or theme I would like to discuss is companies which benefit from increasing interest rates. While trying not to get mired in political controversy, my thesis here was the new administration was a positive for US business, the economy, and therefore indirectly for interest rate increases. I am not a Pollyanna; back in mid-2015 I argued in, "Thoughts On Whether The Fed Will Raise Rates This Year, And A Better Alternative," that a potential interest rate increase then was likely "one and done."But things have now changed, and as they do, so too should our portfolios. Therefore, 22% of the Search for Value portfolio is now allocated to various businesses which benefit from interest rate increases.
Blue Capital Reinsurance Holdings (NYSE:BCRH) was written about in, "Why I Am Buying Blue Capital Reinsurance And Selling HCI Group." It benefits from higher rates because,"BCRH is fully cash collateralized. Its assets are held 100% in cash and short-term treasury bills." Thus, as short-term interest rates go up, so too does the income it earns on its sizeable float.
OFS Capital Corporation (NASDAQ:OFS) also benefits from rising rates. In "A Comparison Of 6 Top Tier BDCs: OFS, ARCC, HTGC, TCPC, GBDC, GSBD," I explain this is because while 66% of the loans it makes are floating, 100% of the money borrowed is fixed. Thus, when rates go up, the spread OFS earns between these two will widen even more significantly than most BDCs. However, almost all BDCs do benefit from increasing rates, so Search for Value also holds Pennant Park Floating Rate Capital. Additionally, holding Resource Capital Corp. (NYSE:RSO), while a mREIT focused on commercial mortgage lending, also lends to, and thus earns its income from, others at floating rates.
New Residential Investment Corp., Impac Mortgage Holdings, Inc. (NYSEMKT:IMH), and Walter Investment Management Corp. all hold Mortgage Servicing Rights*, MSRs, which benefit from increasing rates. The latter two also have origination arms which are harmed by increasing rates, and are much more controversial than perennial SA favorite NRZ, but they are cheaper too.
*When interest rates increase so to do mortgage rates. This makes people less likely to refinance and thus they tend to keep their existing mortgages longer. MSRs receive a small portion of the income from these mortgage payments, typically 27 – 30 basis points. In return they collect the checks, and disburse funds to the appropriate parties – the mortgage owner, insurance providers, etc. They also handle servicing issues such as a refinance or foreclosure should they come up (NRZ doesn't actually service loans but instead holds excess MSRs which are serviced by others). When rates rise, not only do these payments, the MSR income stream, go on for a longer period of time, but usually there is less likelihood, effort, and cost associated with refinances and foreclosures. For now, understand, small increases in how long people are likely to hold their loans can result in huge changes in MSR valuation.
Shipping:
Shipping is a very cyclical business. Historically, ship owners tend to order new ships when lease rates are high and they are flush with cash. However, it can take three or more years between when a ship is ordered and when it actually finishes getting built and hits the water. Thus, by the time the ship is actually trading, the market may have changed significantly. This, and the fact that a ship can last 20 or more years, frequently produces chronic swings in market supply and demand. Swings that make the industry in general quite volatile and risky, but that also can provide significant opportunity.
Ships ordered when there was much more demand, before the Great Recession, are still on the water. This, and a slow recovery worldwide has led to oversupply and lower lease rates in some types of shipping. This oversupply, coupled with unwillingness on the part of banks to throw good money after bad by funding even more new ships, in turn led to a distinct lack of orders.
As the cycle progresses, this in turn should mean there will be much lower than normal new ships coming online starting in the latter half of this year. Simultaneously, new regulations, Ballast Water treatment and Bunker fuel Sulphur limits, will be raising costs and encouraging scrapping. Come 2018 and 2019, I predict there will not be enough supply in various shipping categories to meet demand and so the boom cycle will repeat. We shall see if I am correct.
19% of the Search for Value portfolio is currently invested in shipping names: Capital Product Partners, Teekay, Teekay LNG Partners L.P. (NYSE:TGP), and Tsakos Energy Navigation Limited. I would not be surprised if that overall allocation increases over the next 12 months, while also moving more towards companies which lease their ships out at short-term spot rates. In May 2016 I wrote an article, "Red Sky At Night – 180% Upside For Shipping Company Capital Product Partners." However, there have been significant unfavorable changes in this name since then, not the least of which is an ATM (at-the-market stock offering) which effectively puts an artificial cap on the stock price. For those interested in more up to date analysis of the sector, I recommend Value Investors Edge.
Conclusion:
North American energy companies, companies which benefit from increasing interest rates, and shipping companies continue to be overweighted in the Search for Value portfolio. This is because I think the forward prospects are solid for these sectors, and certain specific names remain cheap relative to those prospects.
Readers can look in the comments section of past YMBC(i) articles for notification of and brief reasoning behind each position (including names not covered above). As long as there is interest, I plan to continue this practice in the future. I will note each purchase or sale from the portfolio in the comment section of that quarter's article with the heading "Trade disclosure" followed by a brief synopsis. Occasionally, I also provide some notable new information on a position in that comment section.
Remember buy low, sell high, starts by buying low priced, out of favor, equities. If everyone likes it, it is probably neither cheap nor a value.
As always, I look forward to and encourage your comments and criticisms. If you find this article interesting, and would like to get updates as well as notification of, and some limited reasoning behind, the trades, please consider clicking the "Follow" button above.
Disclosure: I am/we are long THE POSITIONS MENTIONED IN THE ARTICLE.
I wrote this article myself, and it expresses my own opinions. I am not receiving compensation for it (other than from Seeking Alpha). I have no business relationship with any company whose stock is mentioned in this article.
Additional disclosure: This portfolio contains a number of small and micro cap positions that may only be suitable for the speculative portion of one's portfolio. I do not know you: your goals, risk tolerance, or particular situation. Therefore, I can not recommend this portfolio or for that matter any investment to you. Do your own due diligence.
Editor's Note: This article covers one or more stocks trading at less than $1 per share and/or with less than a $100 million market cap. Please be aware of the risks associated with these stocks.