Introduction
A successful trading idea does not always have to be immensely complex. On the contrary, an easy-to-understand business model oftentimes makes the analysis more reliable and diminishes the number of moving parts involved. While it is true that market timing requires a more sophisticated investment thesis and planning, medium- and long-term trades often benefit if the related asset lacks excess complexity.
Referring to the thought above, one of the positive aspects of the stock analyzed here comes from the fact that the underlying business is relatively easy to understand.
The business
As a broadcast company, Saga Communications, Inc. (NYSEMKT:SGA) is engaged in the business of operating a portfolio of radio and television stations and a state radio network. Through development and frequent acquisitions, Saga has accumulated a total of 67 FM and 32 AM radio stations, 4 television stations and 4 low power television stations in 26 markets. Its key strategy is concentrated in operating and developing leading TV and radio stations in medium-sized markets ranked between 20 and 200 on market revenue basis.
From the latest annual 10-K: "The radio stations that we own and/or operate employ a variety of programming formats, including Classic Hits, Adult Contemporary, Classic Rock, News/Talk and Country. We regularly perform extensive market research, including music evaluations, focus groups and strategic vulnerability studies. Our stations also employ audience promotions to further develop and secure a loyal following."
Provided below is an exhibit summarizing the process behind SGA's advertising revenue generation.
Source: made by the author using the data from the company's filings.
Radio segment
With 83 percent of the total net operating revenues coming from the radio broadcasting segment in 2016, it is reasonable to say that the TV segment – with only a 21 percent share in consolidated operating income – is of significantly lower importance to the company's bottom line. In the meantime, radio advertising revenues are generally based on short-term contract agreements with local advertisers (86% of gross radio segment revenues in 2016) which on average last for a maximum of two weeks.
An important aspect to consider is that the small and mid-size markets SGA is targeting are significantly less sensitive to advertising market frictions than the metropolitan markets are. While the downside is lower during economic downturns, metropolitan advertising markets obtain a larger share of the benefits associated with stronger economic growth. As advertisers aim to direct their larger-scale promotional offers towards markets with higher population and wealth levels, smaller and mid-size markets are not invited to the party. Takeaway? SGA's business model is to a certain extent opposing the potential bull thesis based on stronger U.S. economic growth in the coming years.
Summarizing the recent AM/FM radio industry trends, one should note that online radio services continue to pose a significant threat to the traditional radio business SGA operates in.
Nancy Vogt at Journalism.org wrote on June 15, 2016:
On the financial side, radio revenues continued to trend at cross currents in 2015, with traditional "spot" advertising (ads aired during radio broadcasts) in decline and digital revenue on the rise. But for all the gains in digital, spot advertising still accounts for three-quarters of all radio revenue. Digital (station website advertising) amounts to less than 10% […] AM/FM's revenue from "spot" advertising (ads aired during radio broadcasts, its main revenue source) declined 3% in 2015, while revenue from digital and off-air advertising both posted gains – 5% and 11% respectively. This revenue pattern largely mirrored that of 2014, when spot dollars were also down 3% for the year, but digital and off-air advertising had gains of 9% and 16% respectively. Still, digital and off-air ad revenues make up only about 18% of total advertising dollars in 2015."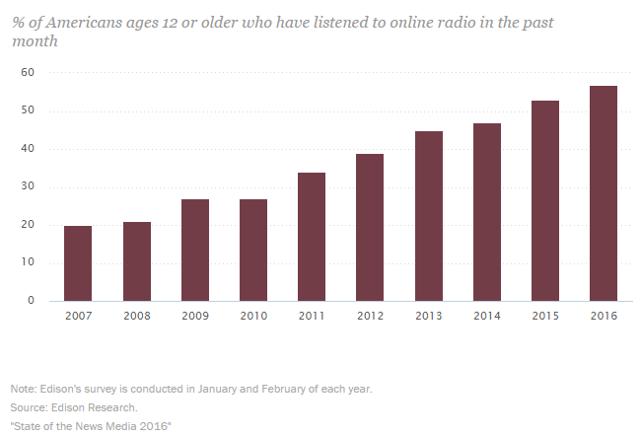 Source: Pew Research Center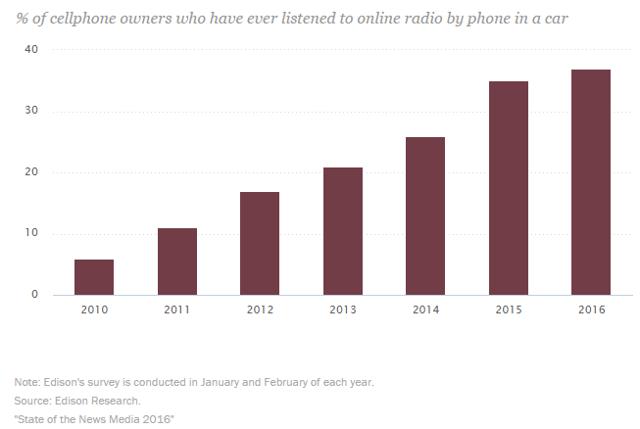 Source: Pew Research Center
Nonetheless, overall demand for audio services continues to grow as the key factors behind the use of radio services remain unchanged. Demand for music, podcasts and news and listening habits remain the main AM/FM radio demand drivers.
Source: MarketingCharts.com
In particular, a substantial rise in popularity is present in the podcast space. Although only a total of 49% U.S. respondents aged 12 and older was familiar with podcasts and a mere 2% of total audio content demand was related to podcasts in the Q4 2015 study performed by Edison Research, the segment continued to grow at a significant rate. A growing number of people choose online podcasts and download the content to obtain higher listening flexibility. However, monetising issues are likely to prevail as the key obstacle to podcast advertising revenue growth. On June 15, 2016, Nancy Vogt at Journalism.org wrote the following:
Just as the audience for podcasts is smaller than that of other media, the business of podcasting is too. In 2015, advertising spending on podcasts was estimated to be around $34 million dollars – a small drop in the bucket compared to most other major media sectors […] The main way a podcast's audience is generally measured is through downloads. Download data, however, is limited in that the statistics do not identify if the podcast downloaded was actually listened to, either in part or in its entirety, or how many different people may have listened to the podcast. The limitations of these download statistics have had downstream implications for advertisers."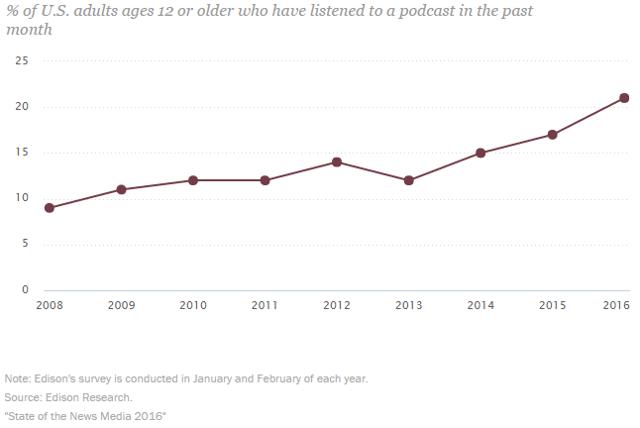 Source: Pew Research Center
On a more positive note, radio broadcasting niches SGA is targeting remain immensely popular among its key audiences, which are mainly comprised of individuals aged 25-54.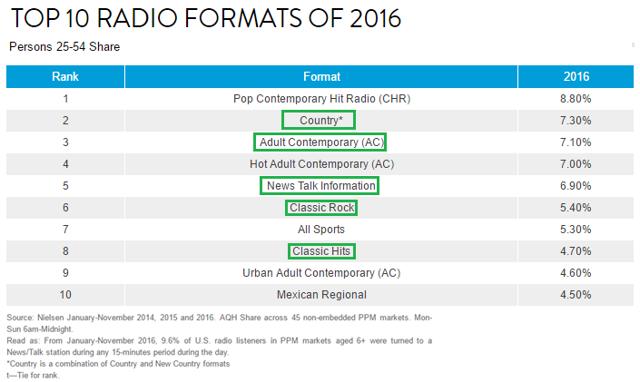 Source: RadioInfo.com
To conclude, shifting trends are likely to continue weighing on AM/FM radio demand going forward. Even though radio maintained an 18% share in the audience composition among different platforms (adults) in Nielsen's Q2 2016 study, smartphone and PC penetration – at 18% and 9%, respectively – is expected to grow in the coming years. Finally, future changes in the composition of radio broadcasting sources might bring material negative consequences for SGA's bottom line.
From the latest 10-K:
The radio and television broadcasting industries are also subject to competition from new media technologies, such as the delivery of audio programming by cable and satellite television systems, satellite radio systems, direct reception from satellites, and streaming of audio on the Internet. The FCC has and is considering ways to introduce new technologies to the broadcasting industry, including satellite and terrestrial delivery of digital audio broadcasting and the standardization of available technologies which significantly enhance the sound quality of AM broadcasters. We are unable to predict the effect such technologies may have on our broadcasting operations."
TV segment
It is not a secret that the ever-strengthening role of the Internet has been weighing on the television broadcasting industry for years. Although the recent U.S. viewership data is rather positive for stations targeting Americans aged 65 and older, it is evident that TV viewership is gradually decreasing among other age groups. In particular, the effect appears to be positively correlated with age, which only further emphasizes the role of Internet in younger people's lifestyle.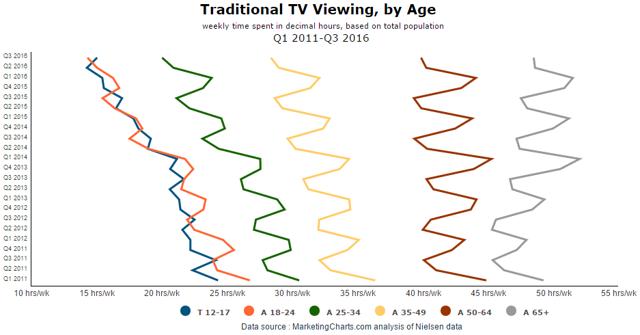 Source: MarketingCharts.com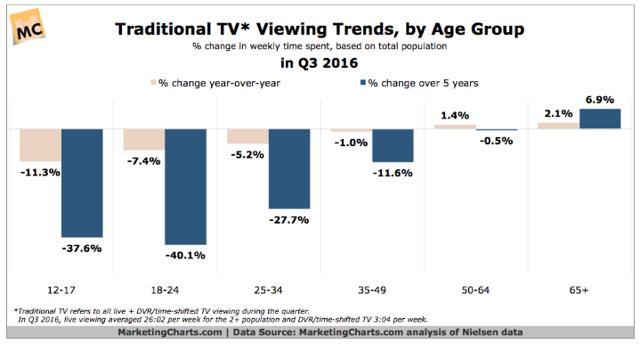 Source: MarketingCharts.com
With the TV segment responsible for 21% of consolidated operating income, SGA's TV operations are rather concentrated. Joplin (Missouri) accounted for a striking total of 16% SGA's consolidated operating income in 2016. Despite being the largest TV broadcasting market for the company, Joplin has been experiencing declining TV viewership levels lately.

Source: made by the author using the data from NewsCheckMedia LLC website. The exhibit demonstrates Joplin's DMA (designated market area) ranking in the U.S. television space.
Operating performance and fundamentals
There are 2 main factors one should highlight when analyzing the latest operating performance of Saga Communications: the recent debt reduction and the positive bottom line dynamics in 2016.
The company has significantly reduced its leverage lately. With improving operating cash flow generation (CAGR of 7.25% in 2014-2016) and low Capex levels, net change in cash grew from a mere $0.28 million in 2014 to over $5 million in 2016, leaving little-to-none concern in SGA's liquidity position and ability to maintain the quarterly dividend payout (currently at $0.30 per share).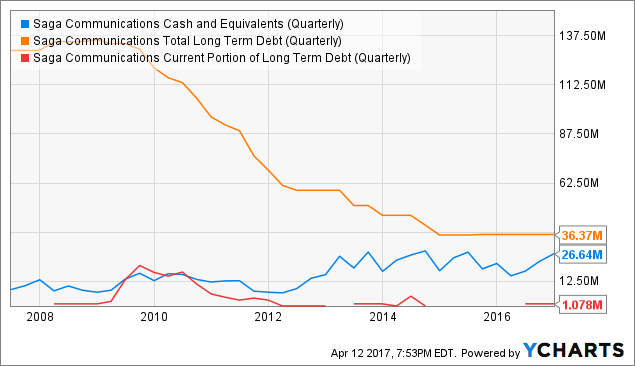 SGA Cash and Equivalents (Quarterly) data by YCharts
In the meantime, 2016 operating dynamics have been subject to a substantial increase in top and bottom line levels, accompanied by a parallel improvement in operating and net margins. A wise question one might ask is, "Why did the company perform that well if the industry dynamics are deteriorating, as described previously?"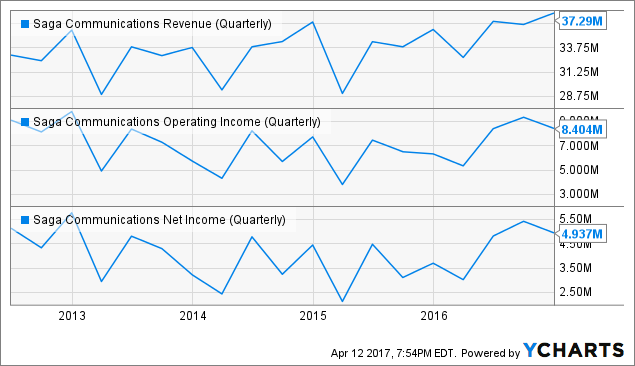 SGA Revenue (Quarterly) data by YCharts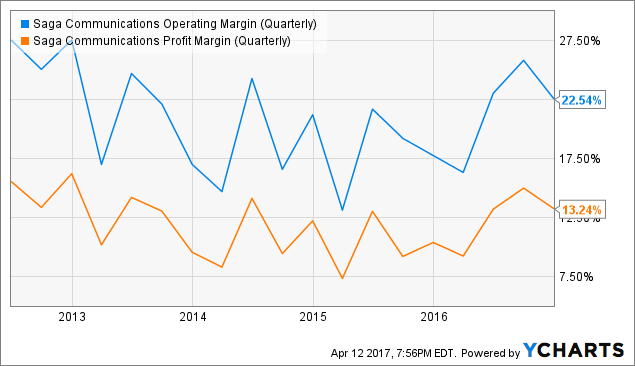 SGA Operating Margin (Quarterly) data by YCharts
The stock price has been doing a great job following the company's diluted EPS levels over the last 5 years. Although the metric has been in a significant downtrend in 2012-2015 (CAGR of -10.2%), profitability reversal – starting from early 2015 – has greatly contributed to the latest share price dynamics. The stock is trading near its 52-week high now.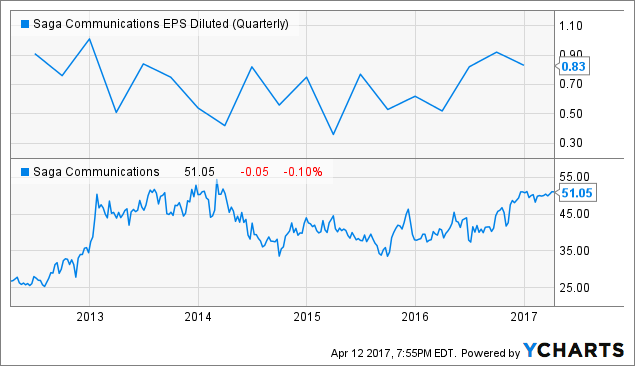 SGA EPS Diluted (Quarterly) data by YChart
However, although the 45% rally from the 2015 low might appear rather positive at a glance, the short-term nature of the recent bottom line catalysts isn't.
In comparison with 2015 figures, 2016 net income and consolidated revenue levels increased by $9.74 (+7.3%) and $4.77 (+35.6%) million, respectively. While the year-over-year bottom line increase of 35.6% might seem to be a game changer, it is too early to open champagne – there are 2 reasons for that.
Bearish catalyst 1:
Before celebrating the percentage numbers, one should note that the bottom line increase – when presented in percent – is substantially inflated given the relatively low net income levels in 2015. Secondly, the 2016 increase in net consolidated revenues was predominantly driven by a seasonal increase in gross political revenues of $5.263 million. With gross local revenues suffering a $1.696 million downturn over the same period, the sustainability of this bottom line uptick is highly questionable to say the least. Considering that 60% of the 2016 revenue increase is also attributed to stations the company did not operate for at least 12 months, the only viable option for SGA to maintain bottom line growth would be to put additional emphasis on inorganic growth in the coming quarters.
Whether the current uptrend in the stock price can be sustained or not, another crucial factor to consider is the concentration of ownership. Towerview LLC, SGA's largest institutional holder and insider (according to regulations), held almost 24% of the total number of common shares outstanding as of the latest insider filing. Unlike investors who bid the stock up over the course of 2016, it seems that the company's largest institutional holder wants out.
Bearish catalyst 2: largest institutional holder
According to the data from Nasdaq.com, a total of 29% of Towerview's $213 million portfolio was held in the shares of Saga Communications as of the end of 2016, making it the largest holding in a portfolio overweight consumer cyclicals (52.49%), financials (32.05%) and technology (11.24%) stocks. It is important to note that the investment company has opened multiple large-scale new positions last year, as shown in the table below.

5 largest newly established positions of Towerview LLC as of December 31, 2016. Source: Nasdaq.com
On the top of that, it appears that the majority of the company's portfolio is comprised of positions established just recently. With a closed position in International Business Machines (NYSE:IBM) a total of 16 positions is listed as newly-established as of December 31, 2016.
Except for marginal position changes, the only significant changes in existing positions were made in the shares of BRT Apartments Corp (NYSE:BRT), Occidental Petroleum Corporation (NYSE:OXY) and Saga Communications, with an increase of 8.9% and decreases of 25% and 7.42%, respectively, according to Towerview's 13-F data from Nasdaq.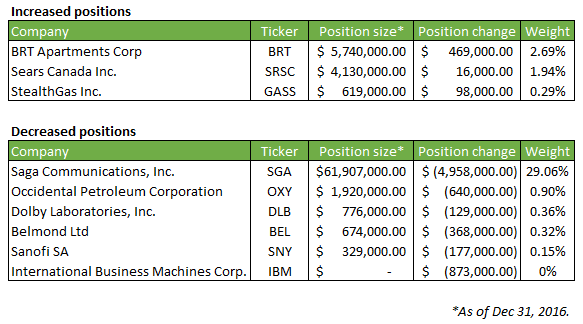 Increased and decreased positions of Towerview LLC as of December 31, 2016. Source: Nasdaq.com
Whether this might mean that the investment firm is likely to be motivated to gradually divest its positions in SGA or not, consider the chart below.
On a historical basis, SGA's largest insider has been timing its trading quite well. In the meantime, note that the recent uptrend in the share price has been accompanied by elevated selling levels, accounting for 105,007 shares from October 2016 through March 2016 (approx. 2.1% of the total SGA market cap. value).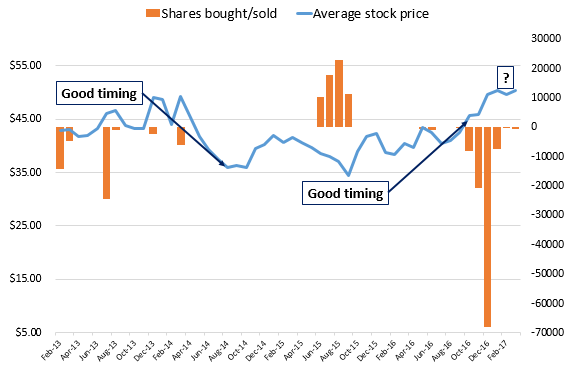 Average monthly stock price of Saga Communications and changes in the stock ownership of Towerview Financial LLC, February 2013 – March 2017. Source: Investing.com and company's insider trading data.
As of this writing, Towerview's position in SGA stands at 1,196,723 shares. With average daily trading volume of just 6,446 shares, a minimum of 187 trading days would be required to close the position in its entirety, assuming no elevated downside pressure on the stock price. One may note that higher institutional appetite might help drive the level of buying orders higher. However, low market capitalization of SGA makes it rather difficult to attract significant buyers except for ETF and Mutual fund managers. Finally, emerging negative catalysts and CEO's complete control over the company fail to result in a compelling bull thesis for the larger funds to act on.
In the meantime, one may find it challenging to find reasons for Towerview to remain 29% invested in SGA, especially if one considers the recent (rapid) position turnover rate. Even though the stock has undeniably earned its reputation as a compelling long-term value investment through the maintenance of a clean balance sheet and solid cash flows, it is mainly the recent growth that has spurred the recent rally. With industry headwinds still present and an expected post-election cooldown in the company's top-line looming, investors who bid up the stock on growth considerations might refrain from doing so going forward.
Finally, the very nature of the advertising revenues – and their sensitivity to economic conditions – makes the stock a rather painful investment to hold over an economic downturn, and I assume that Towerview's managers are quite aware of this fact.
Conclusion
Now, let's jump to the very top of the bottom-up analysis in this article. Even though the share price dynamics are subject to influence from a wide spectrum of fundamentals and unpredictable factors, it all builds up to a predominant assertion that the share price only grows when the number of buyers exceeds that of the sellers. Due to the factors highlighted above, it is therefore tempting to conclude that selling is likely to outweigh buying by a significant margin in the shares of Saga Communications later this year.
Summing it all up, there are multiple factors setting up a compelling short thesis on the stock of Saga Communications:
As the seasonal increase in political revenues is coming to an end, company's bottom line is likely to disappoint growth investors in 2017;
Unless the company's largest institutional investor chooses to hold on to the stock no matter the cost (with the recent data implying exactly the opposite), the stock is likely to end up under significant selling pressure later this year. Low trading volumes and advertising revenue seasonality increase the risk of staying invested in SGA going forward.
Changing industry trends are expected to significantly weigh on the company's top line and capital expenditures in the future.
There are a number of risks associated with establishing a short position in SGA, including (but not limited to the following):
Investing in small caps is often associated with higher levels of volatility and should thus be done with additional caution;
Low share float may result in additional volatility and potential short-selling constraints – investors might want to only consider a modest allocation.
As the company is under complete control of its President and CEO, I view the risk of SGA being acquired as very low. Edward K. Christian, 72, has been in control of the company since its inception. As an owner of 878,475 class A common shares, Mr. Christian's total voting power accounts for approximately 64%. Due to certain behavioral effects and the fact that class A common stock is also entitled to the quarterly dividend payment, the CEO might be unmotivated to give up the company.
I assign SGA a "Sell" rating.
Disclosure: I/we have no positions in any stocks mentioned, and no plans to initiate any positions within the next 72 hours.
I wrote this article myself, and it expresses my own opinions. I am not receiving compensation for it (other than from Seeking Alpha). I have no business relationship with any company whose stock is mentioned in this article.
Additional disclosure: This is not an investment advice. I am not an investment advisor.