Price action over the prior week
Over the last few weeks, the GDX has been meandering down into a pullback region which may mark the next best long-term buying opportunity for investors.
Anecdotal and other sentiment indications
For years, I have been told that if the dollar goes up, the metals/miners go down, and vice versa. However, my answer is always the same . . . that "correlation" is not wholly reliable and trying to trade based upon that perspective can put you in pain quite often.
On April 9th, the DXY hit an interim high, and has been in a steady decline ever since. And, within 4 days, the GDX hit its interim high, and has been in a steady decline ever since. Yes, both charts have now been in a steady decline for weeks. But, that is not really supposed to happen. So, I guess you will have to ignore the "red" in your account because it really does not exist.
As far as the DXY is concerned, after calling for a multi-year rally back in July of 2011, with a target of 103.50, the market has struck our long-term target, and is likely setting up for a multi-year consolidation.
But, I do not use the dollar to trade metals. Rather, I have said to everyone that follows me in my trading room that one should analyze each chart on its own.
You see, if you have a methodology that works consistently, you do not need inter-market analysis to guide your decision making. Rather, your analysis should be able to work on each chart individually, and you should make your decisions based upon the instrument before you. To do otherwise would mean that you would have to accurately prognosticate the correlative asset, and then "hope" that the supposed correlation maintains. That is a very indirect way to analyzing the market, which can often lead you holding a bag of losses and wondering way too late about what went wrong.
In fact, back in 2015 and early 2016, I even prognosticated that the seeming "correlations" that many follow will begin to break down in 2016 and it will leave inter-market analysts scratching their collective heads. And, of late, even Morgan Stanley has taken notice:
"Regional correlations, cross-asset correlations and individual stock and FX correlations have fallen simultaneously. That's unusual; we haven't seen a shift this severe in over a decade . . ."
So, again, I am going to strongly suggest you develop an analysis methodology that can provide you with a relatively accurate picture of the specific chart in which you are interested, rather than relying on some "correlation" that may break down without warning.
Price pattern sentiment indications and upcoming expectations
The current structure presented in the GDX suggests that we are now approaching a low-risk long term entry for investors in the mining complex. As long as the GDX remains over 20.30, we have a strong bullish set up in place that can set up a strong rally into the summer.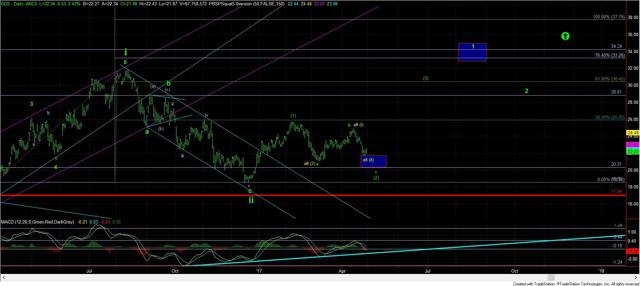 Alternatively, should we see a break of 18.58 (the December 2016 low), that would place our long term bullish perspective in serious jeopardy
Housekeeping Matter
Lastly, it seems that Seeking Alpha has changed the way they tag articles. So, while my articles used to be sent out as an email to those that follow the metals complex, they are now only being sent out to those that have chosen to "follow" me. So, if you would like notification as to when my articles are published, please hit the button at the top to "follow" me. Thank you.
Disclosure: I am/we are long PHYSICAL METALS AND VARIOUS MINING STOCKS.
I wrote this article myself, and it expresses my own opinions. I am not receiving compensation for it (other than from Seeking Alpha). I have no business relationship with any company whose stock is mentioned in this article.
Additional disclosure: I hold some hedges bought several weeks ago, and have been reducing these holdings as we drop