Skechers USA Inc. (NYSE:SKX) finally surpassed a billion-dollar quarterly sales mark for the first time in its history. Skechers reported $1,073 million in sales for the first quarter of 2017, reflecting a year-over-year increase of 9.6%. Skechers delivered resilient sales performance in the challenging environment, but the fact of the matter is that growth rates have declined significantly in the past few quarters.
Source: Company Filings
Skechers is not the only player experiencing slower growth in the U.S. Under Armour's (NYSE:UAA) footwear business is also in deep troubles as it posted only 2% growth during the first quarter – a steep decline from 64% a year earlier. The U.S. athletic footwear industry is growing albeit at a rather slow pace. According to the NPD Group, the U.S. athletic footwear sales recorded 3% growth last year – slightly below its 10-year average of 4%, primarily due to a couple of bankruptcies, reduced consumer spending and a shift in trends.
A recent report from the NPD Group shows that the U.S footwear sales declined by 1% to $65 billion during the 12 months ending February 2017. Due to weakness in the overall footwear industry, Skechers experienced a 4.8% decline in the average selling price in its domestic wholesale segment during the first quarter. Despite that, this division's revenue remained flat as volumes surged by 4.5% at a lower price point. However, the expected recovery throughout the year will help Skechers regain some lost momentum.
According to Euromonitor, the overall footwear industry in the U.S. will grow at a compounded annual growth rate of 3% by 2021, but the continuation of health and wellness trend will keep fueling the demand for athletic footwear category over the same period.
Skechers is struggling against the fierce competition from Adidas (OTCQX:ADDYY) and Nike (NYSE:NKE) who continue to steal growth with their Boost and Flyknit Technologies, respectively. However, Skechers also has the chance to continue its growth story as the trend moves away from performance basketball to casual and retro style sneakers. Skechers has recently released a new line of shoe for women lifestyle called You by Skechers to capture the growing demand for lightweight wellness footwear in the athleisure category. And to support the launch, Skechers is marketing its new line in collaboration with several healthy-living advocates, including Katie Yip and Koya Webb.
Skechers is one of the most profitable athletic footwear companies, as shown in the graph. Despite a mid-single-digit decline in average selling in the domestic wholesale segment, Skechers' gross margin increased 26 basis points, primarily due to higher contribution from the international wholesale segment. Although the significant boost in marketing dragged the first quarter operating and net margins by 256 basis points and 125 basis points to 11.6% and 9.94%, respectively, the aggressive marketing campaigns across all the key markets will help boost the appeal of new Skechers brands.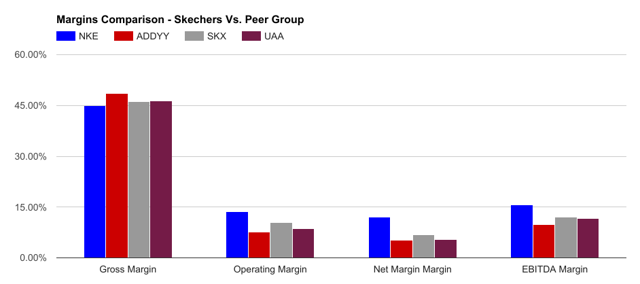 Source: Financials SKX, NKE, ADDYY, UAA
Skechers is consistently growing outside the U.S. in the face of stiff competition from Nike and Under Armour and aggressive comeback of Adidas. Thus, the growing contribution from the foreign markets due to the continued expansion of international wholesale and retail channels should subside the impact of slower domestic sales growth concerns. Furthermore, as the company's international wholesale division garners significantly higher gross margin than domestic wholesale division, the addition of another 425 to 475 Skechers-branded third-party stores during the rest of 2017 will steadily boost Skechers' profit margins.
According to a report from Research Nester, health and wellness trend will boost the size of global athletic footwear industry to $115.6 billion by 2023, which will translate into a CAGR of 2.3%. Skechers is performing pretty well in most of the international markets, including Canada, China, India, and some European markets.
Skechers recorded healthy growth in Europe during the first quarter, but its sales in the U.K. declined by 8.2% due to Brexit. While the headwinds will continue in the near-term, Euromonitor estimates that the U.K will overtake Germany as the largest sportswear market in that region by 2021, which means continued focus on the U.K. will provide healthy returns of Skechers over the longer run. Furthermore, Skechers will also benefit from potential growth in sportswear per capita spending in Western Europe, which is $190 less than North America.
Skechers has already regained a spot among the top ten sportswear companies in Europe. While Nike and Adidas continue to dominate the region, leaving lesser growth opportunities for smaller players, Skechers' innovation and differentiation efforts coupled with regional marketing campaigns will play a critical role in capturing market share.
Asia-Pacific is significantly important for Skechers to surpass $5 billion annual sales mark over the next few years. Skechers is placing its bets accordingly as Asia-Pacific will generate most of the growth in the global footwear market over the next decade.
Skechers' Asia-Pacific chapter ended the first quarter of 2017 on a high note with sales growing by 85% and 40% in India and China, respectively. Skechers is magnifying its footprints in China. During the first quarter, Skechers added 35 new stores in China and total count rose to 551. The company currently has 2,110 points of sale across China, which will continue to grow with the opening of new stores and expansion of company-operated e-commerce platform. The fiscal year 2017 is off to a good start as Skechers' e-commerce sales recorded triple-digit growth during the first three months. Further augmentation of e-commerce and stores network will help Skechers benefit from healthy demand for sportswear in China due to its relatively affordable price point and growing sports participation in the country.
Asia-Pacific chapter is incomplete without India where sportswear spending level is significantly low, though growing rapidly. The overall apparel & footwear industry of India is highly fragmented as companies like Aditya Birla Nuvo firmly hold a bigger slice of the market. However, according to Euromonitor, economic expansion, growing disposable income, and desire for a healthy lifestyle will fuel the Indian athletic footwear category over the next decade.
Skechers is relatively a smaller international sportswear brand India with only 72 stores, but doubling the store count by the end of this year will boost the company's presence in several Tier I and Tier II cities where demand for foreign athletic footwear brands is heating up. Besides opening new stores, the execution of e-commerce strategy on the broader scale and launch of a wider range of brands will help Skechers build a bigger and growing revenue stream in India.
As Easter is falling in April this year, Skechers is expecting its sales to be in a range of $950 million to $975 million, which will translate into a year-over-year growth rate of 7.8% to 10.7%. Skechers could hit the top mark of its projections, primarily due to expected improvements in the domestic wholesale business, incremental sales from company-owned retail stores and international operations, and rapidly growing direct-to-consumer business across the globe. Thus, improved visibility of top-line growth throughout the year should positively impact the stock price.
Skechers' innovation capabilities lag behind Nike, Adidas, and even Under Armour. However, the company is continuously reinvesting cash flows to acquire innovative technologies like Goga Max. Nevertheless, despite challenging industry dynamics, Skechers is well-positioned to sustain high single-digit to low double-digit growth going forward, primarily due to further expansion in the global markets and sharp focus on walking and running categories. Furthermore, increased marketing and technological investment and new endorsements will help generate sustainable top-line growth while study margins will magnify the bottom-line.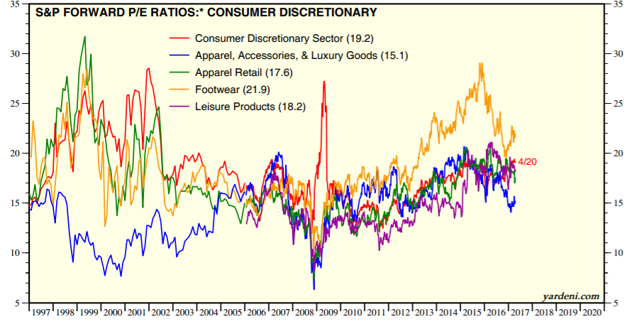 Source: Yardeni
The market is concerned about the future outlook of the company, which is putting pressure on the stock price. Skechers is slightly up so far this year, but it has significantly underperformed Nike, Adidas, and the broader market over the past twelve months. However, Skechers is worth buying considering the long-term growth potential. The stock is trading at a forward price to earnings multiple of 14.3x and 12.4x based on consensus earnings per share estimates of $1.77 and $2.03 for 2017 and 2018, respectively. In comparison, the market is valuing footwear stocks at a forward price to earnings multiple of 21.9x. Even if Skechers continue to trade at trailing valuation, its share price should soar to $30 over the next eight months, resulting into an upside of approximately 20%.
Disclosure: I/we have no positions in any stocks mentioned, and no plans to initiate any positions within the next 72 hours.
I wrote this article myself, and it expresses my own opinions. I am not receiving compensation for it (other than from Seeking Alpha). I have no business relationship with any company whose stock is mentioned in this article.
Editor's Note: This article discusses one or more securities that do not trade on a major U.S. exchange. Please be aware of the risks associated with these stocks.