Source: GameSpot
Last year, Sony (NYSE:SNE) sold a whopping 17.1 million units; that is more than Nintendo's Wii U sold in its lifetime. Unfortunately, Sony is no stranger to snapping failure from the jaws of defeat. The PS2 was the most successful console of all time, and it went on to sell 155 million units. The PS3, its successor, sold only 82.54 million, ceding 72.46 million consumers to Microsoft (NASDAQ:MSFT).
Sony's missteps couldn't have come at a worse time when both Microsoft and Nintendo (OTCPK:NTDOY) have taken shots at redemption. Microsoft's Scorpio (project name) will launch this year whilst Nintendo's Switch is burning up the charts. Please click here for my take on Microsoft's effort and here for my analysis of the Switch launch.
Virtual Reality, Actual Flop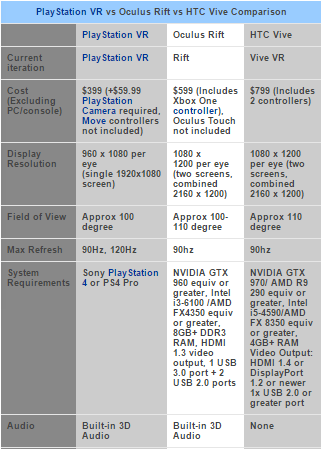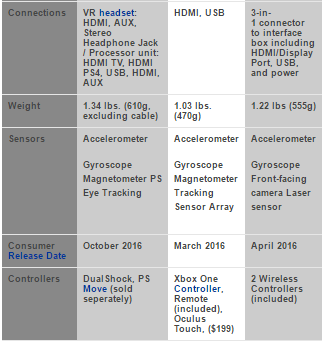 Source: IGN
The market pegs virtual reality to be next big "it" thing, and Sony's foray into the virtual reality market came in the form of the PlayStation VR. The device cost $399, which is several hundred dollars less than both its major competitors. Despite being the cheapest ticket to the virtual reality bandwagon, the PlayStation VR has not set the charts on fire. The detailed specifications are in the table above. Here are the cliff notes version; you get what you pay and the PlayStation VR is a technical laggard.
Fortunately, failed add-on peripherals are par for the course in the land of video games. In fact, Sony is no stranger to the phenomenon. The controllers used by the PlayStation VR are Move controllers-vestiges of their last foray into virtual living rooms.
Did Sony Lose the Recipe for its Secret Sauce?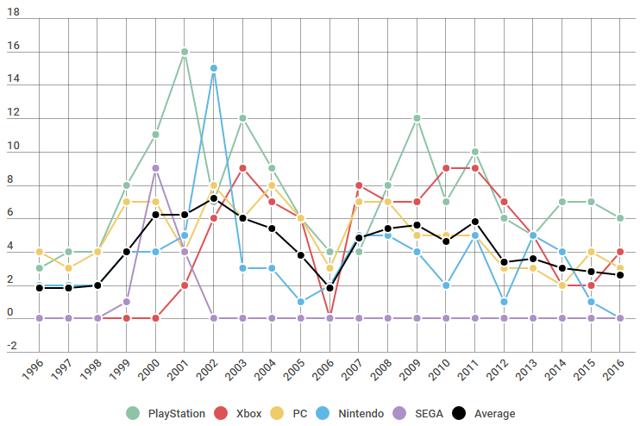 Source: Finder.com.au
Sony has a stellar track record of publishing AAA games. Finder.com.au's analysis of 20 years of Metacritic scores data revealed that Sony has garnered more 90+ Metacritic (think rottentomatoes.com for video games) exclusives than any other player in the industry. A key driver of Sony's success in the video game arena. Since 2014, Microsoft has published fewer than half the AAA exclusives Sony has. The Xbox One trails the PS4 by the same margin in unit sales. It is no coincidence.
Are Triple A Games Really that Important?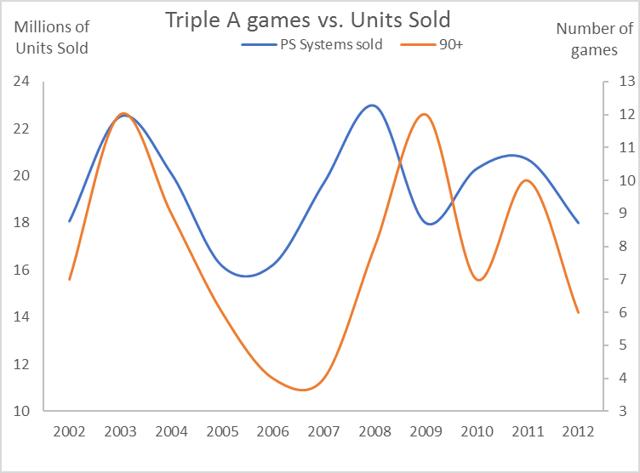 Source: Company reports
I analyzed the number of exclusive games released on Sony consoles and the numbers of consoles sold since 2002. The data revealed that variables consistently move in tandem. The only time they did not move together was during the Great Recession when dropping $299 on a video game console might not have been the best idea.
This is not a case of an analyst mistaking causation for correlation. Metal Gear Solid 5 and The Last Guardian spent five and ten years in development respectively. Consequently, video game publishers are not rushing to release games in banner years. Rather people are rushing to buy consoles when AAA games that appeal to them are released.
Therefore, the recent torrent of news surrounding heavily hyped exclusives is especially disconcerting. Both Street Fighter 5 and No Man's Sky, two insanely hyped exclusives, received lukewarm receptions. IGN reported that since its launch window, Street Fighter only shipped 100,000 units for a total of 1.5 million units. By comparison, Street Fighter 4 sold 3.9 million units. Capcom charged full sticker price ($59.99) for a half-baked game when it launched Street Fighter 5 without a story mode and key online features.
No Man's Sky developer Hello Games deployed the same strategy and released an incomplete game that required significant patching post launch to deliver on what the trailers promised. During an interview on Eurogamer, the president of Sony's Worldwide Studios, Shuhei Yoshida-san, criticized Hello Games' marketing campaign that highlighted gameplay mechanics that were not available at launch.
Sony's latest exclusive, Drawn to Death, added to its woes. The game is so bad (55 on Metacritic) that it is literally giving it away for free. David Jaffe, Drawn to Death's director, is the man behind the first God of War game, and his latest sub-par effort is truly rattling. Fortunately, Sony has hedged its bets.
Unlike Microsoft that essentially has three video game franchises to fall back on, Sony has got oodles. For example, Sony's third-party developed exclusives such as Persona 5 and Nioh are posting excellent sales numbers. Persona 5 has shipped 1.5 million units days after the launch, crowning it as the best-selling game in the Atlus's (developers) history. Whilst Nioh has posted over a million in unit sales. There are more to come! Here's a quick overview of two games that will tally up some serious sales numbers:
Uncharted: The Lost Legacy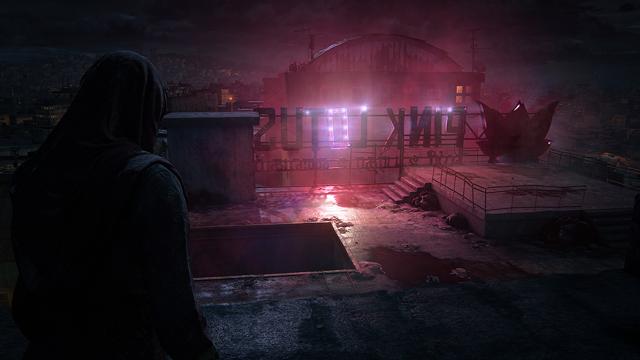 Source: Unchartedthegame.com
Uncharted 4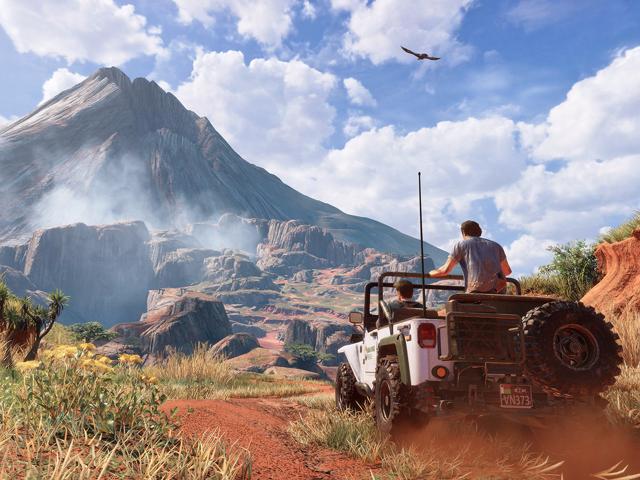 Source: PSU.com
The game is an expansion to the massively successful Uncharted 4: A Thief's End that sits on a cool 93 on Metacritic. Placing Uncharted 4 in the same echelon as Super Mario 64 (94), The Last of Us (95), and Halo: Combat Evolved (97), three of the most beloved first-party exclusives of all time. The proof is in the pudding; Sony reported that the latest entry of its flagship franchise has sold 8.7 million units in 2016 alone. Over their entire lifetime, Microsoft's two biggest franchises sold 5 million units apiece. Triple A games unlike movies have a long tail. For example, Grand Theft Auto 5, which was initially launched in November of 2013, was the sixth bestselling game last year.
The New Crown Jewel Horizon Zero Dawn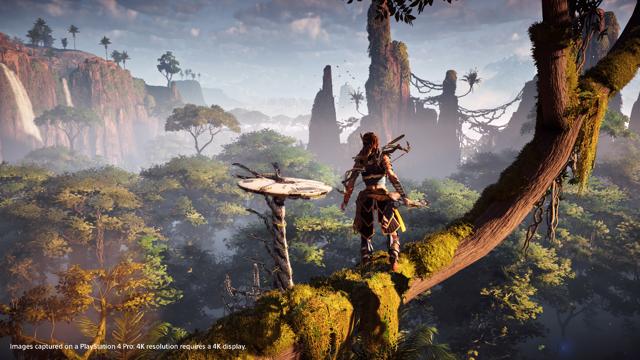 Source: PSU.com
Even though the first half of the year is a relatively quiet period for video game releases, Sony has already shipped Horizon Zero Dawn, which has sold 2.6 million units, making it the most successful new IP launch in the company's history. The 2.6 million units were sold in a month, a little over half of what the last Halo (Microsoft's biggest gun) could muster over its entire lifetime to date.
PS System S-Curves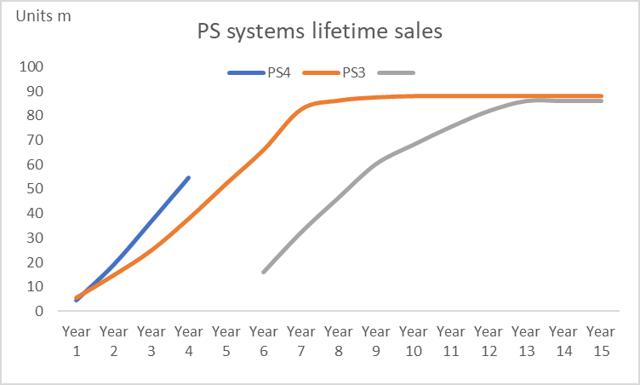 Source: Company reports
Now that we ticked the exclusives box, it is time to see what history can tell us about the PS4's future. On a side note, I was thinking of using a bass diffusion to forecast sales, but this is so much more intuitive. The chart above plots the S-curve for lifetime sales of PlayStations 2 through 4. The first few years have the lowest sales rates, and they gain traction during the middle of the cycle and eventually fade.
Before we discuss my expectations for the PS4 for this year, we will be well served by assessing if the arguments put forth by the bears hold any water. Now, there are several camps that are pessimistic about Sony's chances, but their arguments fall into two camps. Camp 1 believes that the system will flop. Some easy math highlights the flaw in their argument. I call it the PS3 Scenario.
PS3 Scenario. Probability: 5%
| | | |
| --- | --- | --- |
| System | Units sold | Lifespan |
| PS4 | 54.7 | |
| PS3 | 87.4 | 7 |
| PS2 | 157.3 | 13 |
| Average | 99.8 | 10 |
| | |
| --- | --- |
| PS3 Scenario | |
| Units sold | 87.4 |
| Incremental Units | 32.7 |
| Average Lifespan | 10.0 |
| Implied Annual Sales | 3.3 |
| Current Average | 13.7 |
| Delta | -76.1% |
Since the worst-selling PlayStation in this comparison is the PS3, which sold a total of 87.94 units, we can use that number as the ceiling on PS4's lifetime sales. Here's the rub; PS2 took 13 and PS3 took 9 to plateau and/or die off for an average lifespan of 11 years. At this point, the PS4 has only been out for four years, thus it has seven more to go. As of April 2017, the PS4 has sold 32.7 million units less than the PS3. A back-of-the-envelope calculation implies that the annual sales rate of the PS4 would have to fall to 3.3 million units. That's an 84% decrease, an unlikely outcome.
Sony Launches a New Console. Probability: 5%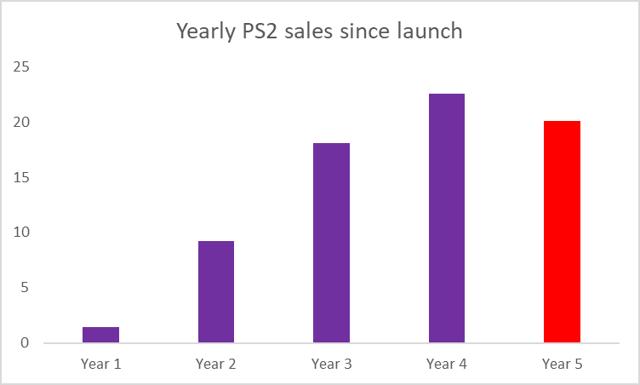 Source: Company Reports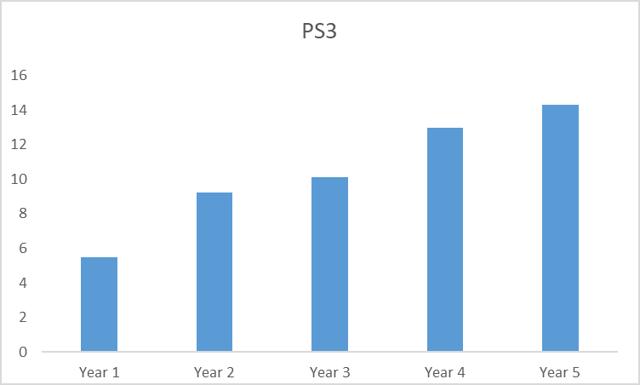 Source: Company reports
The only time a PlayStation system sold less in its fifth year than its fourth year was when the PS3 launched in 2007. Unsurprisingly, there was a mix shift to the PS3. Consequently, the PS2 experienced a 10% sales decline from 22.52 to 20.1 million. We do know for a fact that Sony has no plans of releasing the PS5 this year. Consequently, I opted to use a simple first-order auto-regressive OLS regression to forecast the sales figure for this year, ~19 million units, and its best year to date. Sony has got its game face on, and it is going to be another banner year.
This article is a part of a series that will cover the video game industry. If you enjoyed reading this article, then please click the "Follow" button so you won't miss out on new material and please visit my author page in case you missed an article in the series. Thanks for reading!
Disclosure: I am/we are long SNE.
I wrote this article myself, and it expresses my own opinions. I am not receiving compensation for it (other than from Seeking Alpha). I have no business relationship with any company whose stock is mentioned in this article.
Editor's Note: This article discusses one or more securities that do not trade on a major U.S. exchange. Please be aware of the risks associated with these stocks.