Acushnet Holdings Corp. (NYSE: GOLF) – Strong Sell or Short Recommendation
April 26, 2017, concludes the 180-day lockup period on Acushnet Holdings Corporation.
When the lockup period ends for GOLF, its pre-IPO shareholders, directors and executives (four firms and twenty-four individuals) will have the chance to sell their 55 million shares, representing 75% of total shares outstanding.
(Source: SEC Filings)
The potential for a sudden increase in stock available in the open market may cause a significant decrease in the price of Acushnet shares, opening a short opportunity for experienced investors.
We've written about GOLF previously on our IPO Insights platform. At the time, we recommend holding off on investing given the company's declining revenue and tough market conditions for golf manufacturers.
Business Overview: Manufacturer of Golf Products and Equipment

(Source: Company Website)
Acushnet Holdings manufactures and markets golf products and equipment in the United States and around the world. Its swath of products includes golf balls, clubs, shoes, gloves, outerwear, socks, putters, gear and accessories, as well as apparel for men, women and kids.
The company also operates Vokey.com, a platform to find information, updates and news on Bob Vokey, Vokey WedgeWorks, wedges used by tour players and wedge technology to golf enthusiasts. The website also provides information on golf-specific health, fitness and swing advice.
Acushnet has two highly favored golf brands: Titleist and FootJoy. The Titleist golf ball has been the #1 golf ball in professional golf for over 68 years, and FootJoy has been the #1 shoe on the PGA Tour for more than 60 years. In addition, it offers balls that produce speed for long distances on full swing shots and soft feel, along with low spin for long distances.
The company is based in Fairhaven, Massachusetts. It has locations in Eastern U.S., Western U.S., Australasia and Asia, as well as Europe, the Middle East and Africa. Acushnet Company, Corp. operates as a subsidiary of Alexandria Holdings Corp.
Management Team Highlights
Chairman and CEP Wally Uihlein previously worked for Dunlop and spent two years in the PGA apprentice program. He joined Acushnet as a sales representative for Titleist Golf in 1976. He rapidly rose through the ranks and was named chairman and CEO in May 2000. Mr. Uihlein earned a bachelor's degree in marketing in 1973 from the University of Massachusetts in Amherst and completed graduate courses in business management at Suffolk University in Boston.
EVP and CFO William Burke joined Acushnet in 1997. He previously held senior financial positions at Fortune Brands and American Brands.
Quarterly Financial Highlights and Competition
On March 22, Acushnet announced fourth-quarter and fiscal year-end results ending on December 31, 2016. Highlights include:
Q4 sales increased 3.0% year over year to $329.8 million, and full-year net sales increased 4.6% year over year to $1,572.3 million.
Q4 net loss of $0.2 million represented an increase of $20.3 million year over year.
Full-year net income increased by $46.0 million year over year to $45.0 million.
The company faces competition from a variety of golf equipment manufacturers. These include Callaway (NYSE:ELY), SRI Sports, Bridgestone (OTC:BRDCF), TaylorMade, Ping (NYSE:DKS), Nike (NYSE:NKE), Adidas (OTCQX:ADDYY), Ecco and Under Armour (NYSE:UAA).
| | | | | |
| --- | --- | --- | --- | --- |
| | Market Cap (mil.) | Net Income (mil.) | P/B | P/E |
| Acushnet Holdings | $1,282.0 | $45.0 | 1.7 | 27.8 |
| Adidas | $38,036.0 | $1,017.0 | 5.5 | 35.5 |
| Nike | $90,973.0 | $4,078.0 | 7.2 | 23.0 |
| Puma (OTC:PPRUF) | $4,721.0 | $62.0 | 2.6 | 71.2 |
| Industry Average | $2,073.0 | $131.0 | 3.6 | 42.1 |
(Source: Morningstar)
Solid Early Market Performance
Acushnet Holdings' IPO priced at $17 per share, below its expected price range of $21-24. The stock closed at $17.95 on the first day of trading. Since then, the stock hit a high of $21.44 on December 9, 2016. It has declined steadily, and now trades at $17.57 (close on April 10, 2017).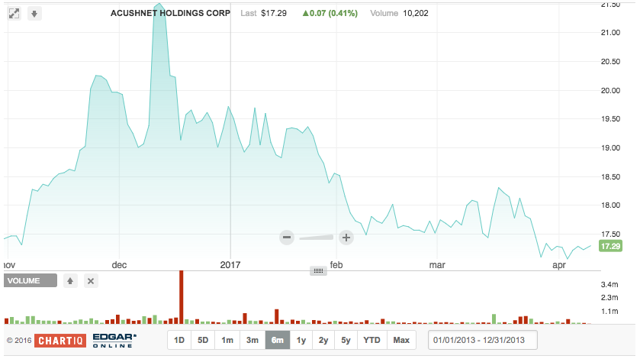 Conclusion: Sell or Short Prior to April 26, 2017
In our preview, we recommended that investors avoid Acushnet's IPO, given a tough market and declining revenue. The stock priced below its price range and has remained relatively flat, trading just slightly above its IPO price.
The stock price does not show signs of improving, and we predict the company's extensive array of insiders could be looking to sell on April 26 in order to cash in on gains as well as prepare for more lucrative investments.

(Source: Acushnet Holdings S-1 filing, October 17, 2016)
We see a short opportunity and predict a price decline around the lockup expiration date. This is in line with the price decrease we have seen with lockup expirations.
The probability for at least some of the major pre-IPO shareholders to sell is strong, given their possible desire to cash in.
Don Dion's IPO Insights provides up-to-date information and analysis on the major IPOs each week, along with additional opportunities to invest and short these stocks at their quiet period and lockup period expirations, respectively. Consider following us at the link above. We will continue our PRO offerings on Seeking Alpha alongside our more exclusive research.
Disclosure: I am/we are short GOLF.
I wrote this article myself, and it expresses my own opinions. I am not receiving compensation for it. I have no business relationship with any company whose stock is mentioned in this article.