On April 28, 2017, Synchrony Financial (NYSE:SYF) released mixed Q1 2017 financial results, as the company reported strong top-line growth but weakness in earnings. For the quarter, Synchrony reported net earnings of $499M, or $0.61 diluted share, on revenue of $3.6B. The company's Q1 2017 results beat the top-line estimates but missed on the bottom-line by $0.12, or ~16%.
The company's results were not well-received by the market, as SYF shares finished the trading day down by almost 16%.
(Source: Nasdaq)
The reserve build (this will be discussed later) is what spooked the market, but, in my opinion, Synchrony's deteriorating asset quality is not a significant enough concern to warrant a sell rating at this point in time. As such, long-term investors should consider adding SYF shares at the current levels.
The Q1 2017 Results, The Company Is Growing But A Significant Concern Is Still Rearing Its Ugly Head
Synchrony experienced impressive top-line growth during Q1 2017, as the company was able to report a ~14% YoY increase in net revenue before the provision for loan losses. The company's financial results are just as good when you dig a little deeper into the details, as Synchrony was able to report double-digit YoY increases in two of the four growth metrics that are monitored on a quarterly basis.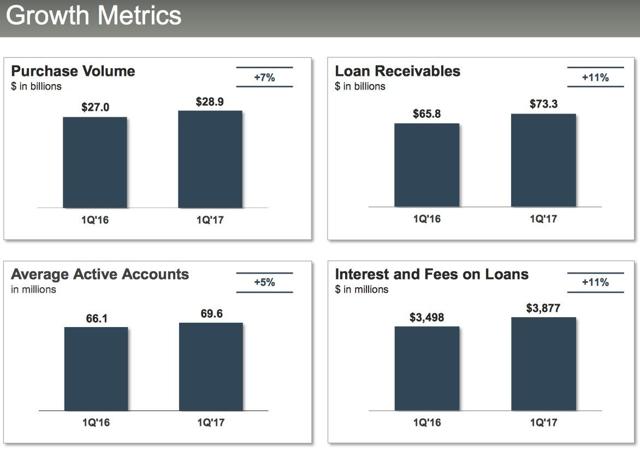 Moreover, Synchrony reported strong organic growth in each of its sales platforms, with Payment Solutions leading the charge.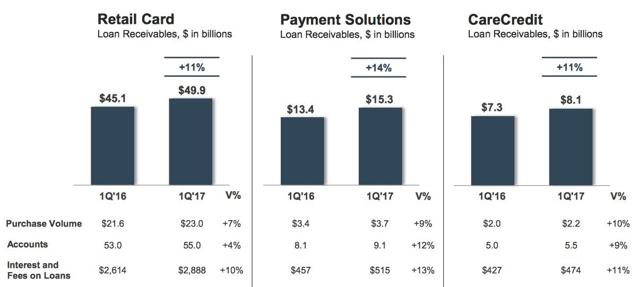 During the Q1 2017 conference call, management mentioned that the company's strong growth was a result of Synchrony expanding its network capabilities (portfolio acquisitions and infrastructure investments) in addition to growing its customer base (number of customers and volume growth from existing customers). These factors helped Synchrony to continue its streak of growing revenue and expanding its reach, which supports my assertion that this company has great growth prospects in place. But, it is important to note that not all of the Q1 2017 growth trickled down to Synchrony's earnings.
The Struggle Is Real
The top-line revenue beat is great from a long-term investor's prospective (remember, if you aren't growing, you're dying), but the reserve build had a significant impact on the company's quarterly earnings.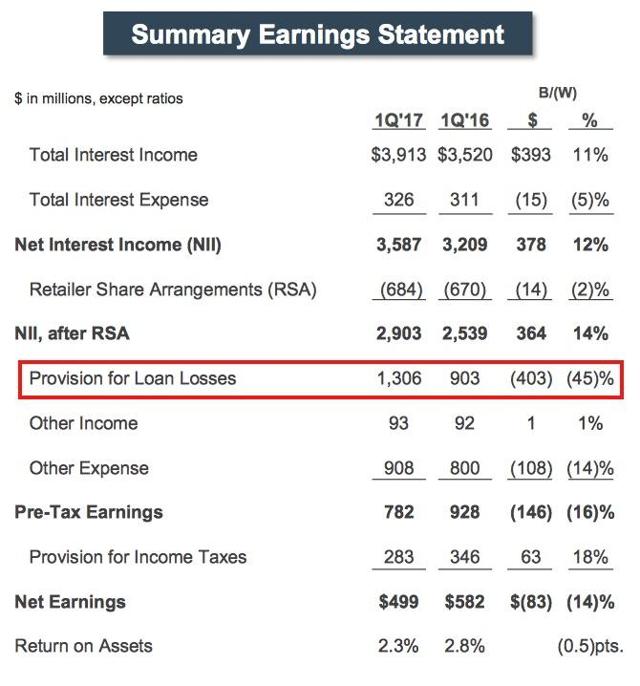 Synchrony's provision was increased by $403M, or 45%, which is the main reason why SYF shares sold off, but more importantly, management expects for the provision to provide further earnings pressure over the remainder of 2017:
"Looking forward, based on what we are seeing across the portfolio and assuming economic conditions continue to be stable, we believe that our loss rate will continue to trend higher into 2018, then start to level off in the second half of the year. We expect the net charge-off rate to be in the low- to mid-5% range for 2018.

Given that expectation as well as continued strong growth, the reserve builds for the next couple of quarters are likely to be in a similar range on a dollar basis to what we saw this quarter. In summary, while credit will continue to normalize from here, we continue to see good opportunities for growth at attractive risk-adjusted returns." – Brian D. Doubles, Q1 2017 Conference Call
In a recent article, I described Synchrony's deteriorating asset quality as a significant risk that must be closely monitored because further deterioration had the potential to materially impact earnings. This is exactly what played out during Q1 2017, as Synchrony reported YoY increases in each of the asset quality metrics.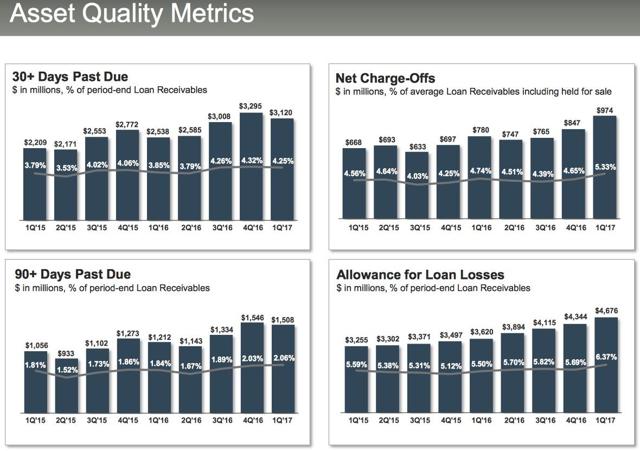 Management has tried to get out ahead of the results by communicating the fact that the company expects for the charge-off rates and provision to tick higher, but the Q1 2017 earnings release was a real eye-opener. I believe that investors should start to bake in expectations for the provision to produce further downward pressure on Synchrony's earnings over the next few quarters, but, in my opinion, this is already fully factored into the stock price.
Valuation
Synchrony is currently attractively valued when compared to its peers, especially after the double-digit decline in the company's stock price.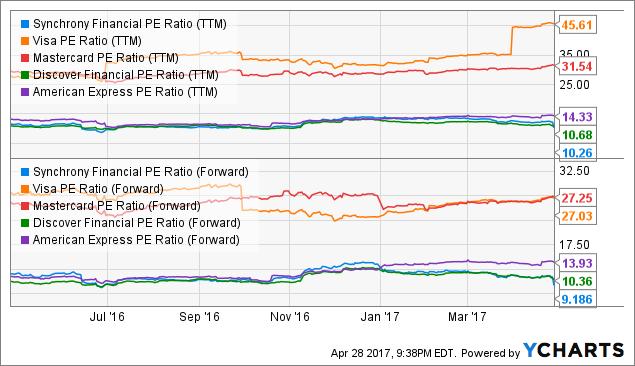 SYF PE Ratio (TTM) data by YCharts
Not only is this company trading at an attractive valuation but Synchrony has also stayed committed to returning capital to shareholders (still paying a quarterly dividend of $0.13 and repurchased $238M worth of shares during the quarter). Therefore, management should be able to create shareholder value while this company faces headwinds over the next three plus quarters.
Note: Synchrony's Q1 2017 Earnings Presentation was the source for all images throughout this article, unless otherwise specified.
Bottom Line
The biggest takeaway from Synchrony's Q1 2017 results is the fact that this company is well-positioned to grow its business for years to come, but, on the other hand, investing in this company does not come without concerns. At the end of the day, I believe that the market overreacted to Synchrony's Q1 2017 results and that a buying opportunity was created.
Shareholders should definitely treat Synchrony's reserve build as a concern that has the potential to derail the company's story; however, I would recommend for investors with a long-term prospective to consider adding shares around the $27/$28 range but also keep this company on a short leash through 2018.
Full Disclosure: I added to my SYF position in the R.I.P. Portfolio today while shares were trading slightly above $28.
If you found this article to be informative and would like to hear more about this company or any other company that I analyze, please consider hitting the "Follow" button above.
Disclaimer: This article is not a recommendation to buy or sell any stock mentioned. These are only my personal opinions. Every investor must do his/her own due diligence before making any investment decision.
Disclosure: I am/we are long SYF.
I wrote this article myself, and it expresses my own opinions. I am not receiving compensation for it (other than from Seeking Alpha). I have no business relationship with any company whose stock is mentioned in this article.