Note to readers: I will be launching a platform on Seeking Alpha's Marketplace this week to provide a place for readers to access in-depth reporting on business development companies ("BDCs") as they begin to report Q1 2017 results early next week. This is different than my current offline service given the functionality available on SA with the ability to have live chats/discussions and comment on focused reports. I will discuss the service in upcoming articles this week.
After the markets closed on April 19, 2017, TCP Capital (TCPC) announced an equity offering of 5 million shares as well as provided preliminary Q1 2017 estimates:
Net investment ("NII") per share between $0.37 and $0.39 (in line with my previous projections)
Net asset value ("NAV") per share between $14.89 and $14.95 (previously $14.91)
Additionally, there was origination/repayment information provided in the associated SEC filing:
Form 497: "From January 1, 2017 through April 18, 2017, the Operating Company has invested approximately $173 million primarily in eleven senior secured loans, as well as investments in two portfolios of debt and lease assets, with a combined effective yield of approximately 10.6%. From January 1, 2017 through April 18, 2017, investment exits totaled $170 million, with a combined effective yield of approximately 10.4%. This includes net deployments of approximately $21 million from January 1, 2017 through March 31, 2017 and net repayments of approximately $19 million from April 1, 2017 through April 18, 2017. The 18 days of April should not be assumed to be indicative of the run rate for the remainder of the quarter."
I decided to purchase additional shares for the following reasons:
Equity offering is accretive as shares were trading at a 16% premium and will likely increase NAV per share by almost 1% in Q2 2017 after taking into account discounts, commissions and offering expenses, including the potential for an additional 750,000 shares at underwriters' option.
NII covered its dividend and NAV per share is stable for Q1 2017.
Higher-than-expected repayments in Q1 2017 that will likely drive prepayment income including both prepayment fees and unamortized OID, similar to Q4 2016.
The equity offering is likely due to potentially higher portfolio growth expected in Q2 2017 and the wording in the Form 497 above suggests this as well. This will likely be discussed on the upcoming earnings call.
Negative pricing reaction to the offering provided an opportunity to purchase shares well below my suggested 'Short-Term Price Target'.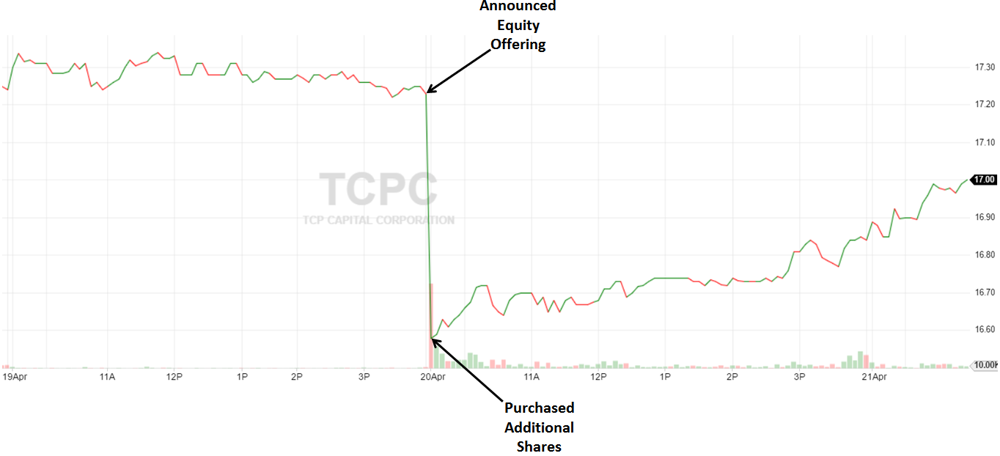 Disclosure: I am/we are long TCPC.
I wrote this article myself, and it expresses my own opinions. I am not receiving compensation for it (other than from Seeking Alpha). I have no business relationship with any company whose stock is mentioned in this article.