The stock market bear is back on the prowl. While certainly still not a meaningful threat to stock investors at the present time, the bear is increasingly lurking about in the shadows. And the longer the rot continues to linger in many stock market segments, the more emboldened the bear is likely to be to make a bigger charge at the broader market.
Hunting For Prey
While the mood still feels bubbly, particularly given strong up days like we saw on Thursday, the U.S. stock market (NYSEARCA:DIA) has been limping for several weeks now. In fact, stocks have been stuck in a sustained downtrend dating back to March 1. Since that time, the S&P 500 Index (NYSEARCA:SPY) has been mired in a downward sloping trading channel. So while days like Thursday were certainly positive, they are doing nothing more than bringing the stock market back to the top of a downward sloping trading range and setting up the market (NASDAQ:QQQ) for its next short-term lower low.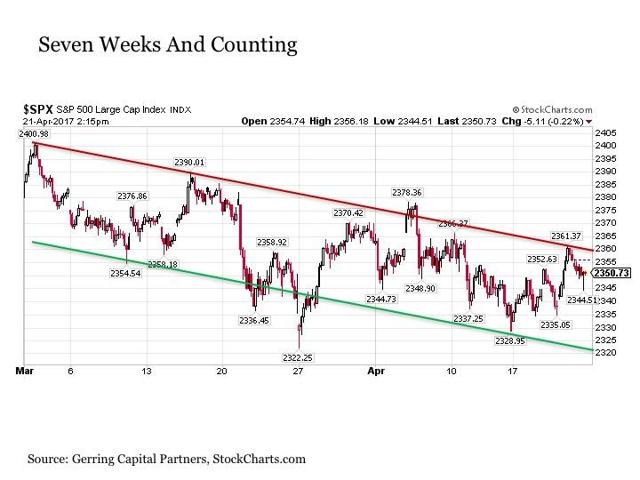 This recent downtrend has caused some notable technical damage for the stock market in the process. Most significantly, the S&P 500 Index has now broken below its 50-day moving average and is now finding resistance at a key medium-term trend level that had been providing support since early November.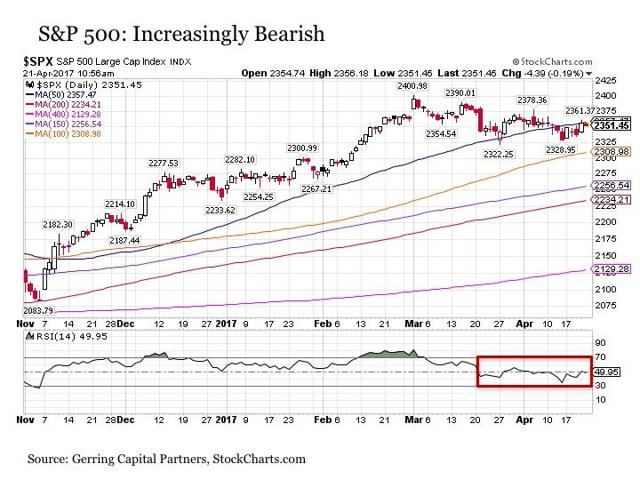 The weakness in the broader market is particularly troublesome for investors focused on the industrial sector (NYSEARCA:XLI). For as go the market, so go industrial stocks with a returns correlation between the two in excess of +0.90.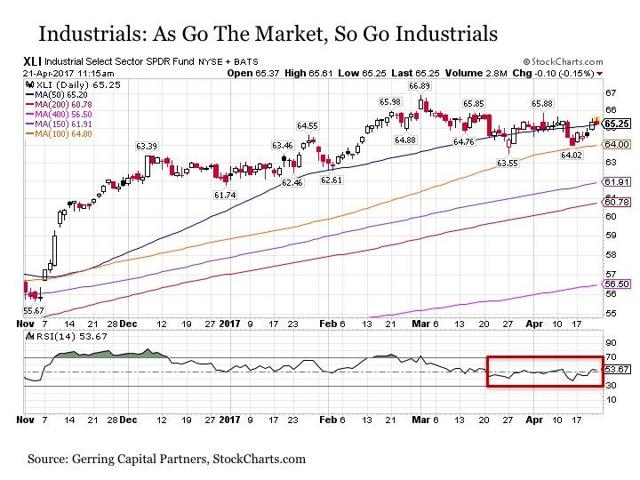 For those Dow Theorists, another troubling sign is the particular weakness among transportation (NYSEARCA:IYT) stocks within the industrial sector. Transports have been in a bearish trading pattern since early March and have been trading below both its 50-day and 100-day moving averages for several weeks now. Not only has the 100-day moving average proven stiff resistance in recent weeks, but the 50-day moving average has since rolled over and is now downward sloping. While these developments are only short to intermediate-term bearish, they are a notable recent deterioration of support for the broader market nonetheless.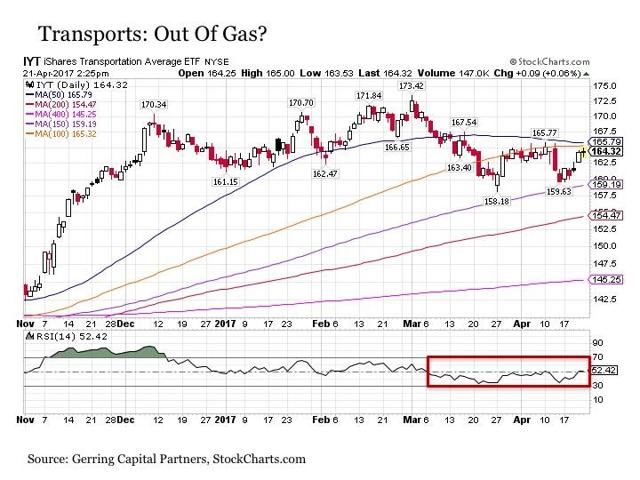 Size Doesn't Matter
The prowling bear has not limited its sights to the biggest stocks in the market. Instead, it has been applying pressure across the size spectrum. Mid-cap stocks (NYSEARCA:IJH) have been effectively stuck in the mud since December. And as of late, mid-cap stocks (NYSEARCA:MDY) have found themselves trapped below their 50-day moving average and have turned bearish from a relative strength standpoint since early March.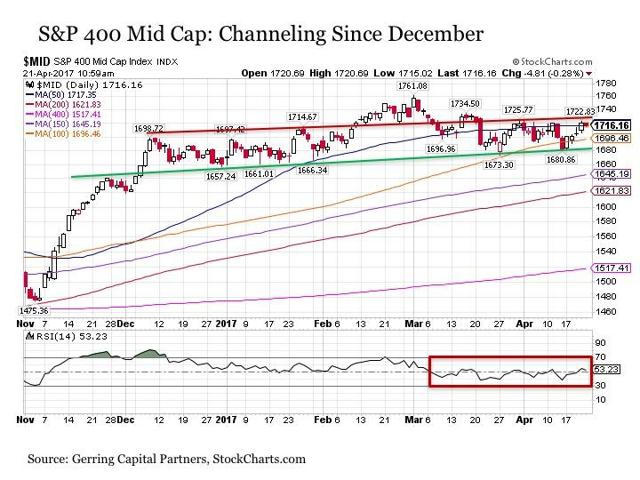 The performance has been even more lackluster for U.S. small cap stocks (NYSEARCA:IWM). Declared as the expected performance leaders only a few months ago, small cap effectively had nothing more than a strong three-week run in November. Since that time, they have gone absolutely nowhere other than breaking below their 50-day and 100-day moving average support levels and falling into bearish territory from a relative strength perspective.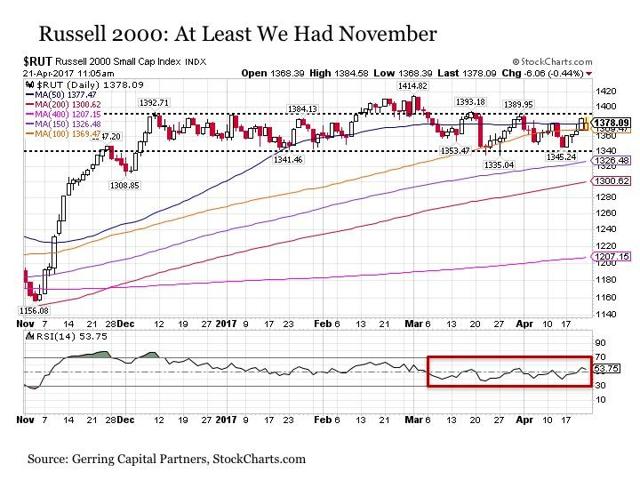 Where The Bear Currently Roams
Several sectors within the stock market are feeling the bearish threat the most.
Leading among these is the energy sector (NYSEARCA:XLE), which fell into correction all the way back in December and has shown virtually no signs of life since. In the process, the energy sector has broken virtually all of its key moving average support levels, save its ultra long-term 400-day moving average. Not only have these key support levels now turned into resistance but relative strength for the sector has been definitively bearish since the start of the year.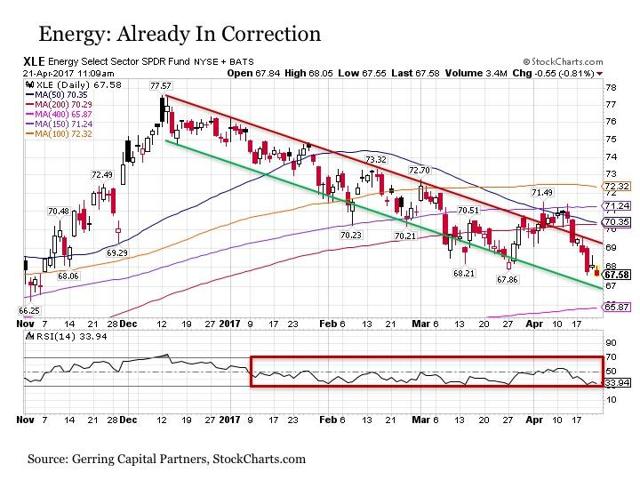 Within the energy sector, the bear has already descended on the exploration and production industry (NYSEARCA:XOP). Once considered a must-own market segment just a few months ago, E&P stocks have taken a decidedly different turn, not only plunging into official bear market territory but also now on the brink of breaking below its final key support level in its 400-day moving average.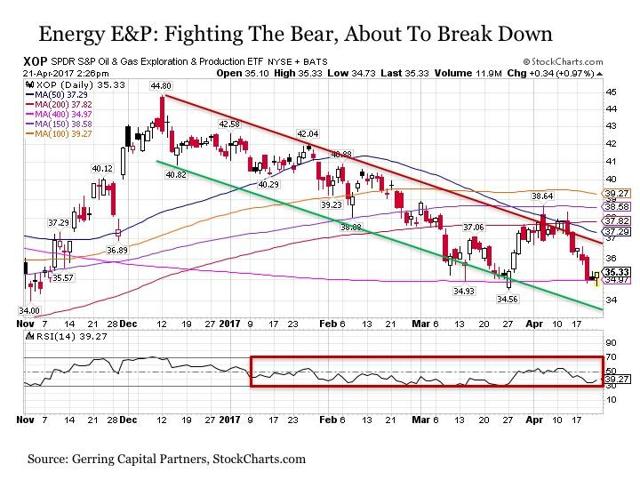 It appears unlikely that the struggling energy sector will receive a boost from a breakout in oil prices (NYSEARCA:OIL) anytime soon. Oil price (NYSEARCA:USO) gains have been repeatedly frustrated and turned back in the $54 to $55 per barrel range dating back to December, and oil prices appear to be increasingly losing steam since the start of March.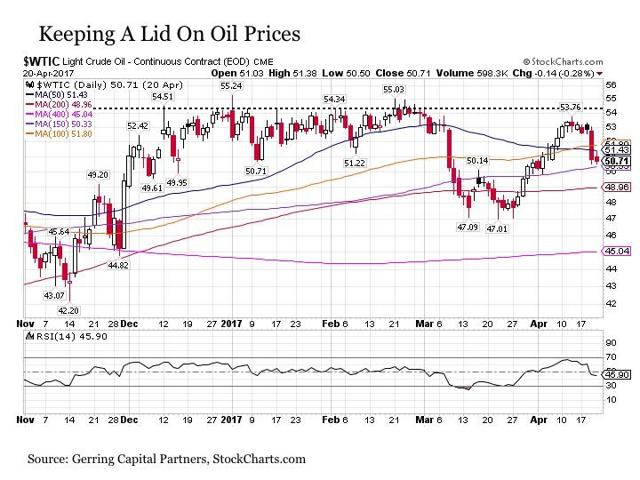 Staying within the economically sensitive commodities area, materials (NYSEARCA:XLB) stocks have also been range bound since January and have since fallen below its 50-day moving average support.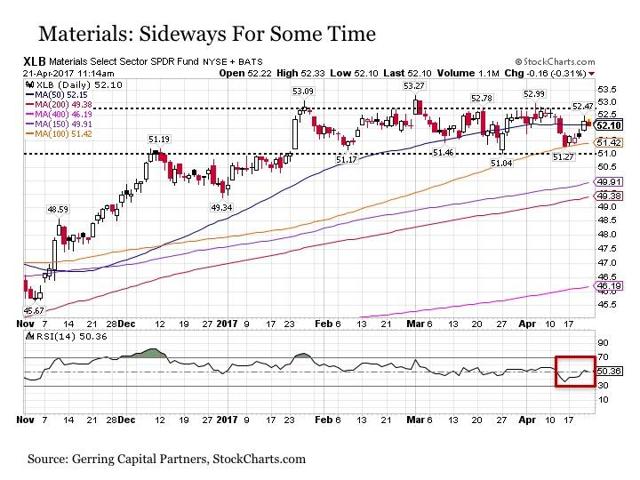 Particularly worrisome for the materials sector is the increasing fade in copper prices, which have been range bound since the early November surge and are showing increasing signs of breaking to the downside, including bearish relative strength that has persisted since the beginning of March.
The fact that inflation expectations according to 10-year breakevens are now fading at an accelerating rate does not bode well for the near-term outlook for either the energy or materials sectors. After peaking at 2.08% in late January, breakevens have fallen back to 1.85% and are now just 12 basis points above where they stood in early November before equities first picked up steam.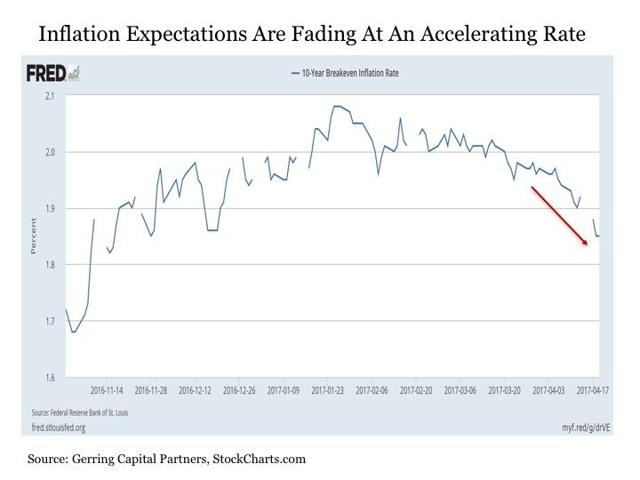 Another stock market segment under increasing threat from the prowling bear is the financials sector (NYSEARCA:XLF). The strong November surge for financials is now a distant memory, as the sector has largely been grinding sideways since early December. In the process, it has now broken below both its 50-day and 100-day moving averages more than a month ago, is now finding resistance at these key technical levels, and has turned decidedly bearish from a relative strength perspective.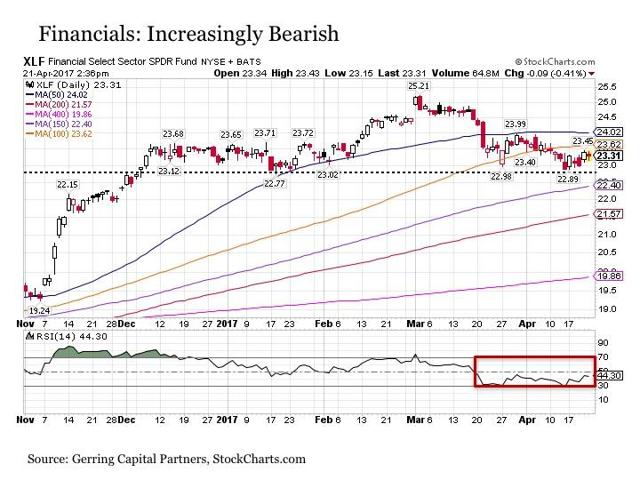 Perhaps more significantly, the fact that the yield curve, as measured by the 2/10 spread, has now flattened all the way back to where it stood in early November and appears to be set to continue flattening further bodes particularly poorly for the financials sector looking forward. This is due to the fact that one of the primary themes that inspired the rally in financial stocks in particular and, in turn, the broader stock market in general back in November was the notion that the yield curve would be steepening, and thus net interest margins would be increasing for banks. If the exact opposite is happening, it stands to wonder how much longer financials can maintain the gains over the past few months.
Where Bulls Remain In Command
The bear is on the prowl across a number of key economically and interest rate sensitive segments of the stock market. But highlighting the advantages of active management, the bulls remain very much in command across a number of key sectors. This includes the consumer twins of discretionary (NYSEARCA:XLY) and staples (NYSEARCA:XLP). It also includes the technology sector (NYSEARCA:XLK), which remains brisk despite a period of healthy consolidation in recent weeks. And the defensive utilities sector (NYSEARCA:XLU) as well as the low correlated REIT (NYSEARCA:VNQ) segment have performed particularly well over the past few months as economic and market uncertainties have mounted along the way.
The Bottom Line
At first glance, the U.S. stock bull market appears as strong as ever. But a closer inspection reveals that while the bull market remains very much intact, the bear is on the prowl across a number of key sectors that are instrumental keeping the bull running well into the future. Not only would further weakness across the economically and interest rate sensitive energy, materials, industrials, and financials sectors become increasingly problematic in working to keep the prowling bear at bay, but such weakness may become difficult to contain from spreading more broadly across other market segments save the most defensive of the group.
So while stocks continue to feel perky as evidenced by their healthy gains on Thursday as just the latest in a long line of examples, pressures are increasingly building underneath the surface of this market. And the longer the deterioration continues to persist and accumulate, the more likely a more pronounced and widespread move to the downside is likely to present itself.
As a result, investors are best served to remain on guard in the current market environment. Selected profit taking on the margins may be prudent, and a tilt in portfolio allocations toward more defensive allocations may also be worth consideration. Moreover, while stocks have been struggling for nearly two months now, both bonds (NYSEARCA:TLT) and gold (NYSEARCA:GLD) have been performing particularly well and are showing increasing bullishness. Thus, adding diversification on the margins outside of stocks to other uncorrelated asset classes may also continue to prove rewarding in the weeks ahead.
Disclosure: This article is for information purposes only. There are risks involved with investing including loss of principal. Gerring Capital Partners makes no explicit or implicit guarantee with respect to performance or the outcome of any investment or projections made. There is no guarantee that the goals of the strategies discussed by Gerring Capital Partners will be met.
Disclosure: I am/we are long TLT,PHYS.
I wrote this article myself, and it expresses my own opinions. I am not receiving compensation for it (other than from Seeking Alpha). I have no business relationship with any company whose stock is mentioned in this article.
Additional disclosure: I am long selected individual stocks as part of a broadly diversified asset allocation strategy.