The fear that the right-wing Le Pen has brought to Europe is putting a great deal of pressure on European financial markets. There is a real possibility that if Le Pen were to win there would be a referendum to leave the EU. That would spell the end of the EU as, largely, the EU is a Franco-Germanic experiment with a whole bunch of other countries involved. Safe-haven has been the name of the game as of late. And, if you live in Europe, the very first place you think when you consider safe-haven is Switzerland. The pressures on the CHF has been huge forcing the Swiss National Bank (SNB) to sell their currency in large order, driving up their currency reserves. But, Le Pen may make it to the second round versus Macron. However, polls indicate that Le Pen would not beat Macron in the second round. That presents a major opportunity to play a move shorting CHF.
Trump is a populist movement that shockingly beat a front-runner. The idea was "Me First". However, with polls at historic lows there is a lot of buyer's remorse. Brexit was largely the same thing but instead of "me" replace it with "Britain". Le Pen, is France's version of Trump and Brexit combined. Or, at least, she is playing that card quite handily. At the end of the day, it may be all a play just to win.
But, one thing about the polls that grabs me is the youth that support Le Pen as much as they do. That gives me a reason to say that she is beatable and that France would ultimately not leave the EU. If you recall, when Scotland ran their referendum a few years ago it was the middle-aged and older people that showed up in droves that ultimately beat the referendum.
But, these are different times and one need only look at the Trump Presidency and Brexit. However, polling in France tends to be very accurate. A run-off between Macron and Le Pen shows Macron the winner.
For now, markets are moving. Investors do not want to get caught up in surprises. Rather than taking a chance investors have been selling French government bonds and heading to the hills; the Swiss have been seeing their currency rise along with foreign reserves.
The SNB has been defending its currency by weakening it for several years now, mostly since the financial crisis. Switzerland is considered a financial safe-haven. The CHF has been surging since the financial crisis versus both EUR and GBP. It has increased versus the USD, but to a far lesser extent:
All three of these currencies, EUR, GBP and USD, respectively, have weakened significantly over the past several years. And, by defending the currency, the SNB has sold off their franc and built up their reserves: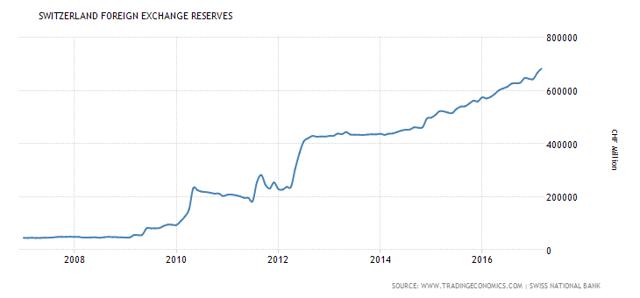 The tides are turning in world economies. The reasons why CHF has surged are abating. The EU is improving economically. In about 7 months the ECB will no longer be involved in quantitative easing and eventually will be raising interest rates. This is a huge opportunity to get involved in a major turn for a currency. The last crux to this is the French election.
I do not see Le Pen being the ultimate victor. The polls indicate as such. And, I do see the European economies improving significantly beyond this. Money will start to flow back out of Switzerland and into the main EU. This will be a very long, protracted move taking multiple years to unwind. It is going to be a major focus of my trading going forward. It should be a large consideration for you.
But, first, we gotta get past this election.
Disclosure: I/we have no positions in any stocks mentioned, but may initiate a long position in GBPCHF, EURCHF, USDCHF over the next 72 hours.
I wrote this article myself, and it expresses my own opinions. I am not receiving compensation for it (other than from Seeking Alpha). I have no business relationship with any company whose stock is mentioned in this article.