Since the end of 2016, The Brink's Company's (NYSE:BCO) shares have shown a ~40% growth in value:
(Source: NASDAQ.com)
Brink's market capitalization has reached a level of $2.9 billion, and the 52-week range is now between $26.86 and $57.90 as of April 21, 2017 (Source: Google Finance).
As seen in the recent press release, the company's management set very ambitious goals for the period 2017-2019:
"… We have developed, and are starting to deliver on, a three-year plan to drive substantial value for our shareholders. On a currency-adjusted basis, our three-year non-GAAP financial targets include 5% annual revenue growth, operating profit growth of 69%, earnings per share growth of 71% and adjusted EBITDA growth of 50%…"
In the analysis provided below, we try to estimate the impact of the mentioned three-year strategic plan on the company's enterprise value and the value of its shares.
Our DCF model is based on historical data and includes assumptions based on management's goals (for details see the press release and the Investor Day presentation):
– Revenue CAGR is set at 5% (2017-2021)
– EBIT CAGR is at 19% for the period of 2017-2019, and 4.8% thereon, which is in line with the historical CAGR (2015-2016).
– EBITDA CAGR is set at 15% (2017-2019) and 5% thereon (2020-2021). It is calculated based on forecasted EBIT and D&A figures.
– The growth rate for CAPEX in 2017 is 45% and then tied to revenue growth.
From our point of view, this scenario is extremely optimistic. For example, the respective CAGR rates for the historical period of 2012-2016 were negative.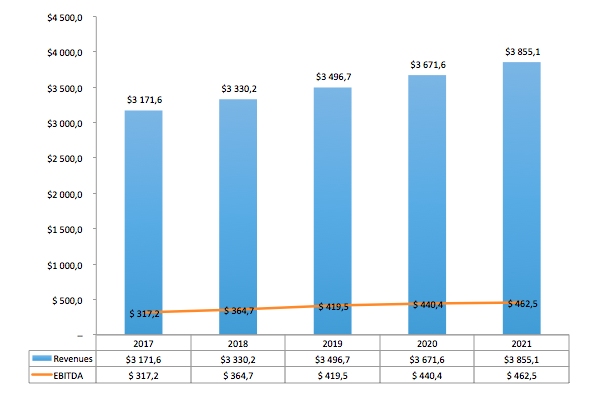 (Source: Author's DCF Model)
The main goal of the three-year strategic plan is to increase the company's profitability. The management expects that the main drivers for such changes will be the following:
– A decline in overall fleet costs caused by a decrease in the age of the fleet by 19% over the next three years.
– A decline in labor costs per truck through the standardization of the CIT vehicle's crew size to three people per car.
– An optimization of the branch network via a deployment of technology that enhances routes and mobility (handheld devices) and an investment in new data centers.
All these actions will require an aggressive capital expenditure program that includes spending on new CIT vehicle fleet, new hardware, training costs, consultants' fees, and so on. Hence, capital expenditures will increase at least by 45% in 2017.
Our DCF model shows that, after the implementation of all these optimistic assumptions, the calculated target range per share ($22-56) is lower than the current market price of the stock ($56.80 as of the time of writing).
DCF Sensitivity: EBITDA Multiple Method
Value Per Share ($)

DCF Sensitivity – Perpetuity Growth Method
Value Per Share ($)

(Source: Author's DCF Model)
At first, it seems that the EBITDA Multiple Method justifies the current market price. There is even an upside potential at a multiple of 13x the EBITDA, but if we look at the next table, we will find that the range of 5-9x to be more realistic given the implied growth rate of free cash flow in perpetuity.
Implied Perpetuity Growth Rate Sensitivity

Implied Terminal EBITDA Multiple Sensitivity

(Source: Author's DCF Model)
We can infer the same conclusion from the Implied Terminal EBITDA Multiple table: the perpetuity growth rate should not be over 4% in perpetuity (otherwise, the company is expected to surpass the size of US economy at some point in the future).
Hence, in the optimistic scenario with the ambitious growth in profitability, we can suppose that the fair price range is between $22 and $56 per share. This means that there is a significant downside risk for the stock.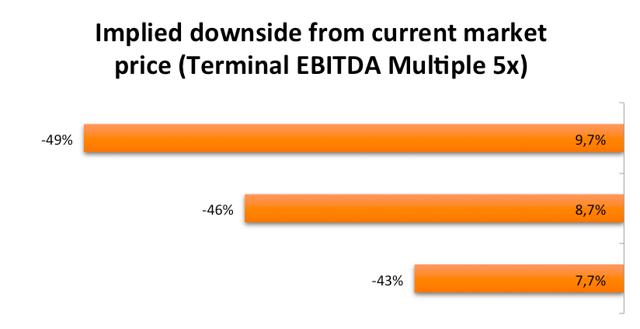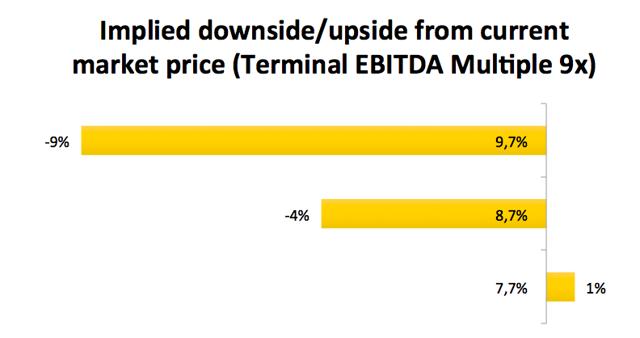 (Source: Author's DCF Model)
Our model shows that, after incorporating reasonable assumptions, the fair value of the stock is below $40 per share.
Conclusion
Our fundamental analysis based on the comprehensive DCF model shows that the stock is overvalued at current market prices. We recommend staying away from the stock as the potential upside does not justify the risk, and the current price likely reflects the most optimistic scenario. As per our calculations, the fair price range is between $22 and $56 per share.
Investors who want exposure to volatility in the company's share price may want to look at stock options, paying special attention to long-term spreads. In this case, the key objective is to not overpay for the expected volatility in the underlying stock.
Societe Financiers is an investment research team focused on long-term, long- and short-only ideas. Our research objective is to cover equities in various regions, such as North America, EMEA, Asia, Australia, and Emerging Markets.
Readers should consider whether any advice or recommendation in our research articles is suitable for their particular circumstances and, if appropriate, seek professional advice, including tax advice. The price and value of investments referred to in our research articles and the income from them may fluctuate. Past performance is not a guide to future performance, future returns are not guaranteed, and a loss of original capital may occur. Fluctuations in exchange rates could have adverse effects on the value or price of, or income derived from, certain investments.
Certain transactions, including those involving futures, options, and other derivatives, give rise to substantial risk and are not suitable for all investors. Transaction costs may be significant in option strategies calling for multiple purchase and sales of options such as spreads.
Disclosure: I/we have no positions in any stocks mentioned, and no plans to initiate any positions within the next 72 hours.
I wrote this article myself, and it expresses my own opinions. I am not receiving compensation for it (other than from Seeking Alpha). I have no business relationship with any company whose stock is mentioned in this article.