On Tuesday, after the close, IBM (NYSE:IBM) posted its first-quarter results. They were… not great. Though per-share profits of $2.38 were better than the expected $2.35, revenue missed estimates and the company logged a stunning 20th straight quarter of sinking year-over-year sales.
Clearly, the paradigm shift IBM is working on – the one that makes it more of a cloud player and less of a system-sales company – isn't getting enough traction. Unfortunately, that's nothing new for investors.
Also not new for IBM shareholders was that the conference call dishes out so many microscopic details that it's impossible to assemble them into a meaningful bigger picture (Five different corporate segments, each with a "strategic imperatives" and "cloud" sub-segment? Really?).
Then again, that varied segmentation underscores the scope of the shift Big Blue is cultivating. The new focal points look so different than the old focal points, it's pointless to lump them together as one.
With that as the backdrop, and knowing that a picture really is worth a thousand words, here's a closer look at five charts that tell the IBM story in a way that no amount of words can. If you're looking to reboot your opinion-forming of International Business Machines and want to start at a baseline of zero, keep reading.
Technology Services and Cloud is the Breadwinner… Sort Of
Last year, IBM regrouped its business lines into Global Business Services, Cognitive Solutions, Technology Services and Cloud, and Systems. It also continues to operate its Global Financing arm as a separate division, though its contribution to the revenue mix is a minor one.
The chart of each of these segments' revenue is telling, and not in a good way. One would hope for at least one crystal clear growth leader, even knowing some if not most of these lines would be losing ground. There's no key growth driver. Do note, however, that its Systems business – mostly its legacy systems hardware and operating systems – continues to deteriorate. The company's conference call slides accurately explained this is a reflection of a product cycle in decline.

Data from Thomson Reuters, chart made by author
Cognitive Pays the Bills
Sales are one thing. Profits are another. While the two go hand in hand in most cases, for IBM, the profitability of each of its different arms is stunningly varied.
The graphic below puts this variance in perspective. Its tiny Global Finance division routinely produces net profit margins at or in excess of 50% while its aging Systems arm is not only shrinking, but it's also putting up increasingly poor profits. While last quarter's loss and negative net margins of 11.9% were a bit of an anomaly, this business is reaching a point where IBM may be better off shuttering it or selling it.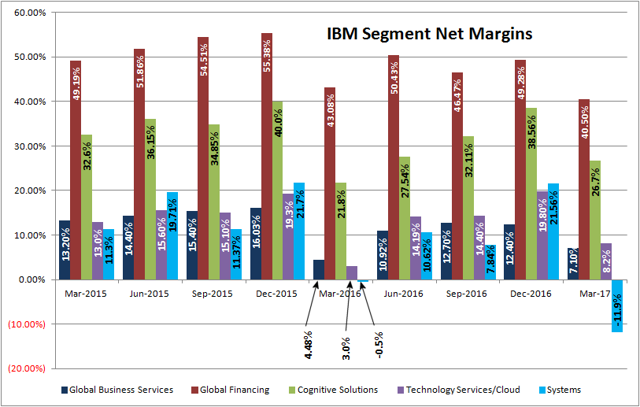 Data from Thomson Reuters, chart made by author
One of the unsurprising details brought to light here is how modest the margins from the company's services and cloud division are – profits in the mid-teens are the norm.
It's not surprising simply because as the cloud market matures and becomes more competitive, providers are waging their war with price cuts. Amazon.com (NASDAQ:AMZN) has seen its Amazon Web Services net margins level off at just above 20%, and Microsoft (NASDAQ:MSFT) is starting to see its cloud margins compress as well.
It's a business IBM has to be in, but any sales growth here may or may not do the bottom line much good.
On this same chart, however, the power of IBM's Watson and other artificial intelligence initiatives start to shine.
It's a unique product to be sure. While the aforementioned Microsoft and Amazon are both making plays in A.I., along with Alphabet (NASDAQ:GOOG) (NASDAQ:GOOGL), IBM has something businesses want but can't quite get anywhere else. That lets the company price its Cognitive products at a bit of a premium, leading to better-than-average margins. Cognitive isn't growing much, but given how profitable it is, perhaps the company should put even more focus on finding ways to sell Watson (and it is).
The Bleeding Should Stop, But Healing Won't Begin
The sales and per-share earnings chart below comes as no surprise. Going forward, the demise of the company's results should at the very least stop shrinking. Analysts aren't looking for a true turnaround within the next 24 months though.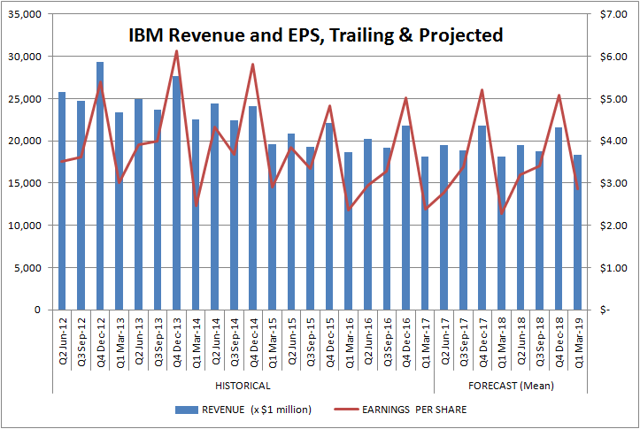 Data from Thomson Reuters, chart made by author
The problem is, the pessimistic outlook is completely plausible. And yes, analysts are changing their opinion on IBM in step with their tepid fiscal outlook.
Analysts Are No Longer Believers
The analyst community gave IBM CEO Ginni Rometty the benefit of the doubt late last year when the turnaround story was not only compelling, but also believable. It was almost an outright "Buy" by December. When the company didn't produce results in the fourth quarter of last year though, those same analysts began dialing back their opinions. This week's quarterly report certainly isn't going to make them any more bullish.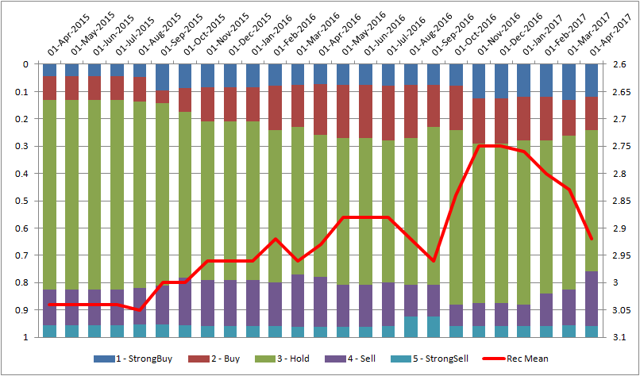 Data from Thomson Reuters, chart made by author
There's an alternative interpretation of this chart. That is, a consensus opinion of "Hold" (which is practically a "Sell" from the bullishly-biased analyst community) opens the door to a wave of upgrades that could easily prod the stock higher. It's happened before. In this case though, analysts pretty well have their finger on the pulse of the company. It's not made for a great contrarian trade in the recent past.
IBM Stock Falls Under Its 200-Day Moving Average Line
Last but not least, while it was already fighting a losing battle, with this week's setback, IBM is back under its key 200-day moving average line at $165.65. The rebound move seen over the course of 2016 has been shattered. That technical breakdown alone is enough to create a self-sustaining, self-fulfilling selloff, particularly with the stock's bearish history in view. The headlines aren't exactly encouraging either, helping investors interpret the recent selling as a "glass half empty" situation.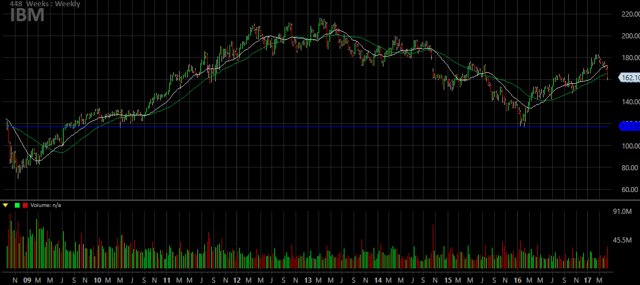 Chart made with Schwab StreetSmart Edge
This long-term chart suggests there's technical support at $117.55, where IBM shares hit key lows a couple of different times… once in 2016 and once in early 2010. But, in light of the trajectory of the four other charts above, a trip back to that price level isn't out of the question.
Conclusion
There have been a few suggestions that the recent setback for IBM shares is a buying opportunity. As Stifel analyst David Grossman put it:
While the stock is likely to remain under pressure the next three months, we continue to believe that IBM is doing the right things … even if the transition is testing our patience. Unfortunately, some ugly may provide (an) opportunistic entry point.
The wide margins of the company's Cognitive arm are encouraging too, especially seeing solid revenue there. IBM has got some tools to work with. And as Rometty noted with the earnings discussion, a couple of revenue-bearing projects that were initially planned to be in place by the first quarter were postponed until later in the year. Grossman was right in that regard – the future feels like it should be better.
Nevertheless, with little else besides Cognitive working and producing decent income, that's just not enough. The company has had more than enough time to get traction. If it hasn't happened by now, shareholders can't afford to wait around indefinitely.
Do keep an eye on Watson and the company's artificial intelligence portfolio though. If anything can, that will pull IBM out of this rut.
Disclosure: I/we have no positions in any stocks mentioned, and no plans to initiate any positions within the next 72 hours.
I wrote this article myself, and it expresses my own opinions. I am not receiving compensation for it (other than from Seeking Alpha). I have no business relationship with any company whose stock is mentioned in this article.