As many of you know, I am frequently in New York City, meeting with REIT executives or contributing on Fox (I will be on Fox & Friends this coming Friday morning).
While visiting New York, it's impossible to miss the eclectic mix of eye-catching billboards scattered across the town – from the Bronx Zoo to the Brooklyn Gardens, and hundreds of neighborhoods in between.
In fact, billboards are an essential element of New York City real estate, as they tower above most all buildings in prime locations, making them almost impossible to ignore.
Billboards in New York City create buzz, that in turn prompts the consumer to engage in a specific audience or direct them to the retailer's front door (real or virtual). Well placed digital media is a perfect conduit for consumers to engage through social and mobile integration, and use apps more efficiently.
It's not just the massive billboards that create buzz, New York City is also a primetime market for advertisers to display content on street furniture, buses, commuter rail, subways and sports stadiums.
Today I am going to provide research on a billboard REIT that is also creating plenty of buzz. I will be adding OUTFRONT MEDIA (OUT) to my Intelligent REIT Lab (including in the Forbes Real Estate Investor newsletter).
A Billboard REIT
OUTFRONT Media is one of the largest out-of-home media companies in North America. The portfolio includes more than 400,000 digital and static displays, which are primarily located in the most iconic and high-traffic locations throughout the 25 largest markets in the U.S. The company went public (IPO) on March 28, 2014 and began operating as a REIT on July 17, 2014.

OUT is also the advertising partner of choice for major municipal transit systems, reaching millions of commuters daily in the largest U.S. cities. OUT has displays in over 150 markets across the U.S. and Canada​. According to a white paper,
OUTFRONT connects brands to their target audiences, nationwide. Whether that audience be the techy, the business executive, the hipster, or the mom, OUTFRONT has it covered. Customized audience packages ensure brands reach the right consumer, at the right time, with the right messaging.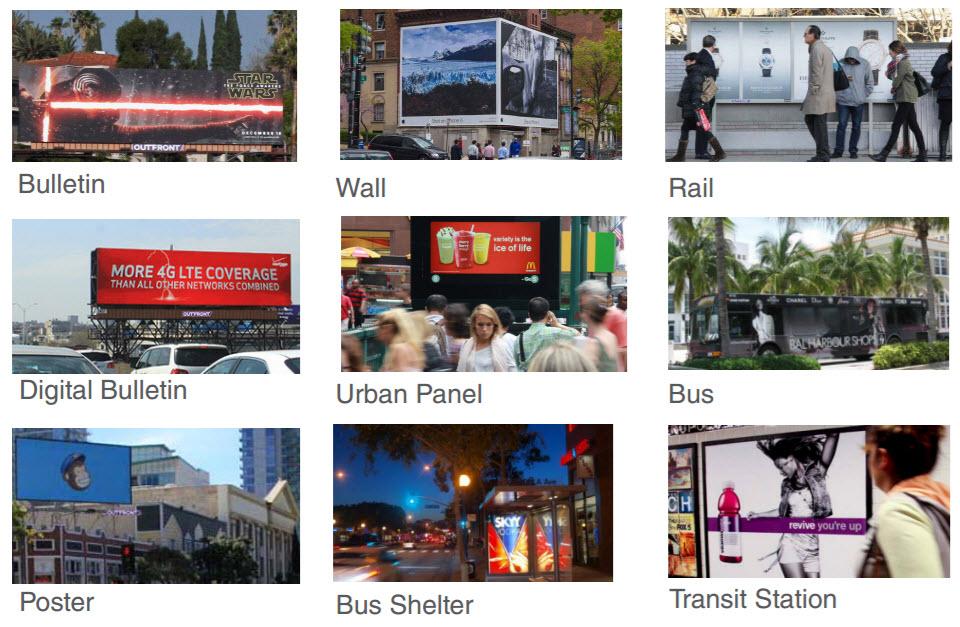 Bulletins (billboards) offer the most powerful impact of all outdoor advertising formats. Located on key highways, intersections and integral choke points throughout the U.S., bulletins provide messaging with long-term presence and tremendous visibility to vehicular traffic.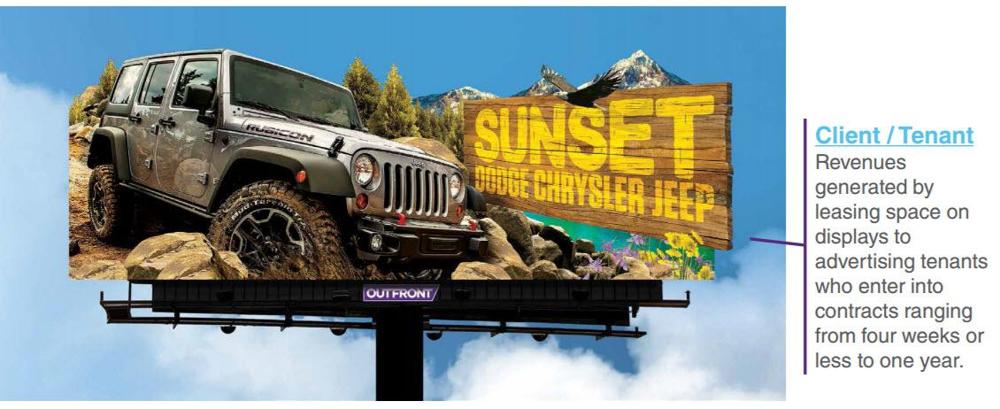 Here's a snapshot of the billboard asset components: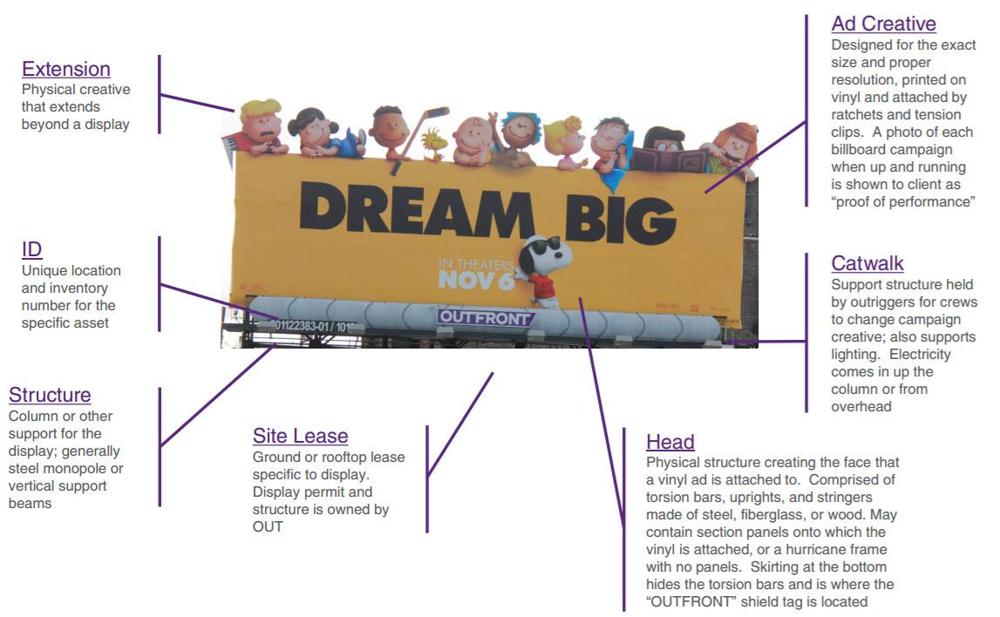 OUT owns the permit for each billboard location and that provides the company with a competitive barrier to entry. OUT owns less than 10% of site locations, there are approximately 23,000 leases with 18,500 landlords (average 8 year life average). The majority of leases have abate and/or termination clauses for market weakness and a small % have escalators.
In addition to billboards, OUT rents out wallscapes affixed to buildings in heavily trafficked areas. These assets provide maximum impact for creative messages and are considered a great point-of purchase exposure for creative districts. Wallscapes are perfect for penetrating urban centers and vary in size, providing endless creative options.
OUT's transit franchise assets also provide complementary value to the billboard business in urban/suburban markets. Buses serve as 'rolling billboards' traveling in and around densely populated city streets, leaving a lasting impact on pedestrians, motorists and passengers. Eye level bus exterior ads provide maximum exposure for customers.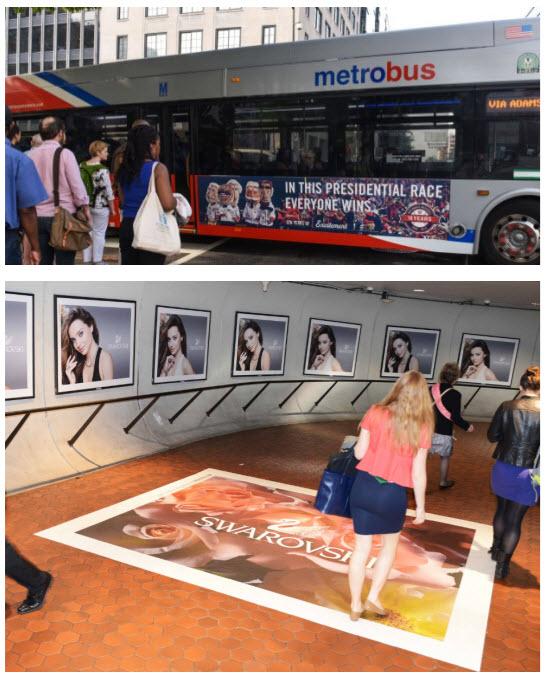 Rail exterior also makes a huge impact, influenced by riders, onlookers, vehicular traffic alike, as they are waiting for the train to arrive or alongside major highways. Rail reaches a captive audience on their average 40-minute commute each way.
Digital brings numerous benefits to advertisers, it adds an extra layer of timeliness and relevance and messaging can be easily changed.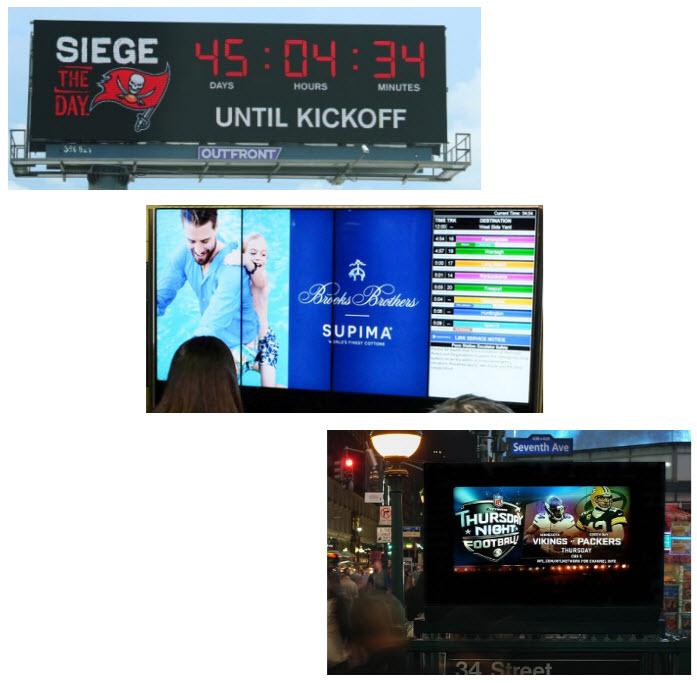 Here is a snapshot of OUT's top markets (broken down by billboard and transit):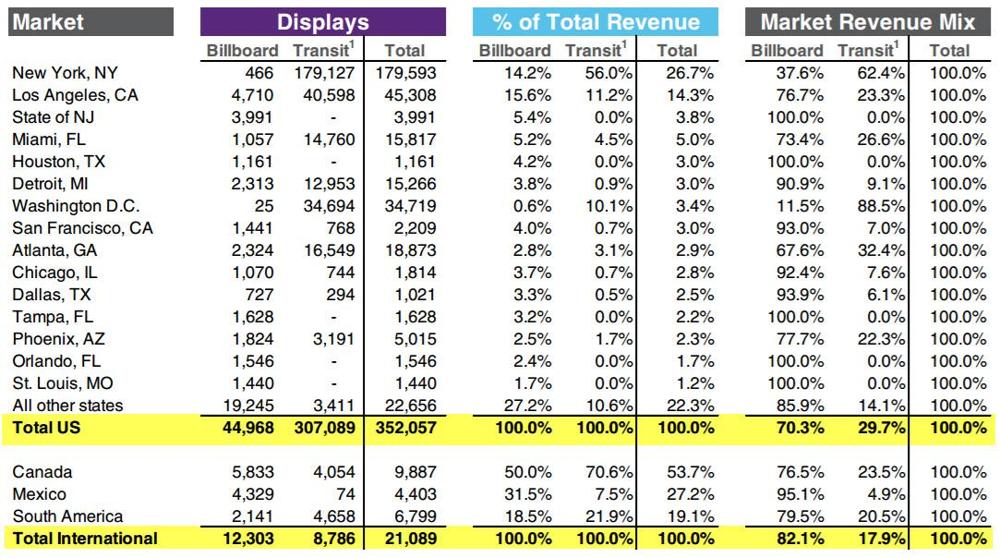 As you can see, New York City represents 26.7% of total revenue, followed by LA (14.3%), and Washington, DC (10.1%).
The OUTFRONT Media Network
OUT recently announced that it has over 1,000 brands using its OUTFRONT Mobile Network, the company's customized mobile ad delivery solution built on its out-of-home (or OOH) asset base. OOH provides marketers with additional data analytics and a proven way to close the loop with audiences.
OOH media can be targeted by market and demographic, allowing brands to pinpoint accurately who they need to reach, then reach them consistently – more than 20 times a day. OUTFRONT reaches 71% of the national population each week. As location infiltrates all media formats, OOH remains the most established location based expert. OOH's targeted locations allow brands to maximize on the recency of messaging – prompting consumer purchases in that moment. Location is considered the best indicator of consumer intent.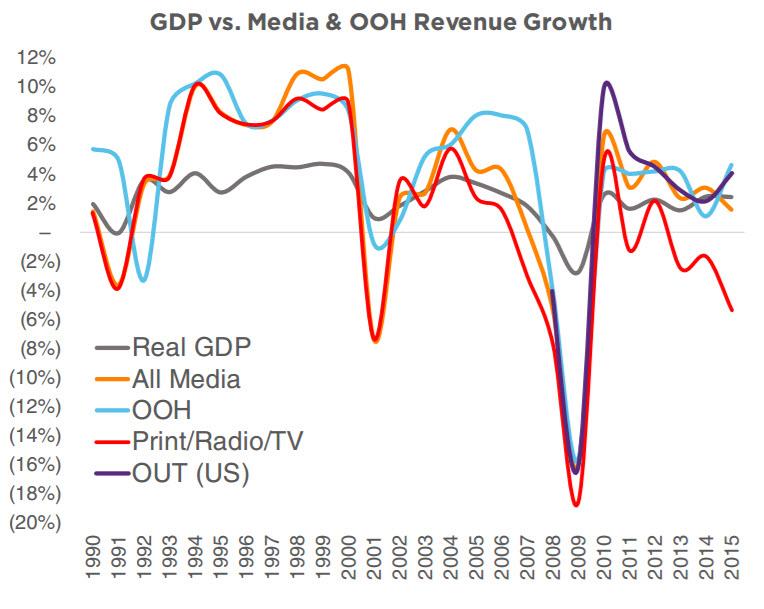 OOH continues to hold and grow market shares and, as illustrated below, internet growth is fueled by mobile demand. Print is shrinking considerably and radio is constant.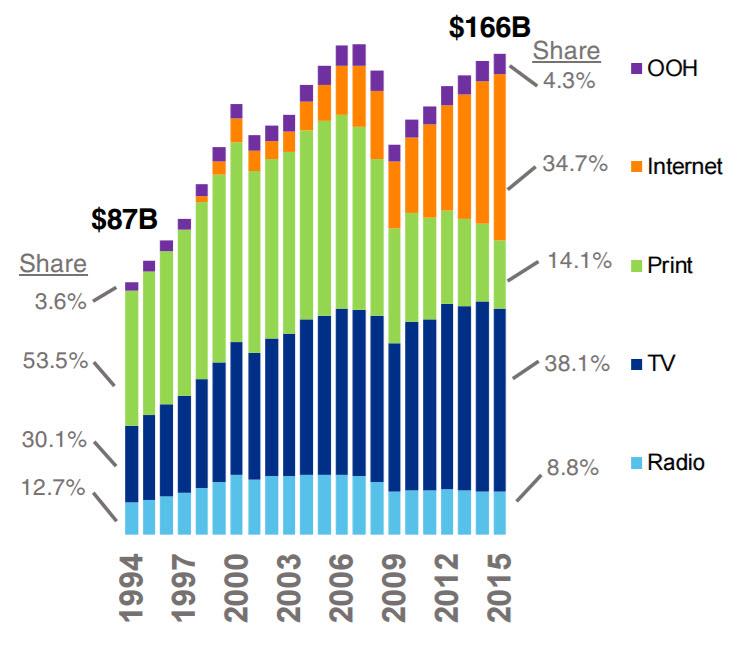 As illustrated below, the top 100 National advertisers spend differently than Local advertisers (OUT is 46% National and 54% Local). OUT sees significant opportunity to increase OOH allocations: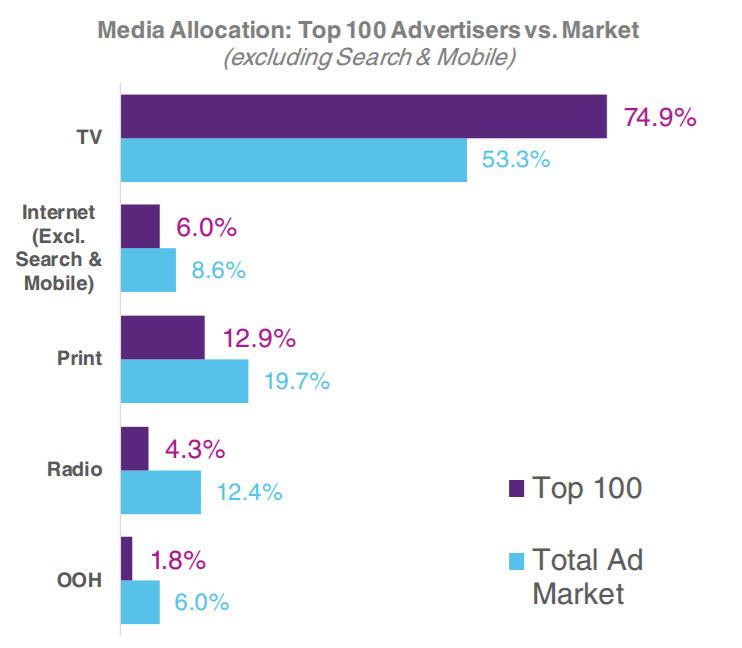 Here is a snapshot of OUT's Top 20 Advertisers based on "ad spending across all media":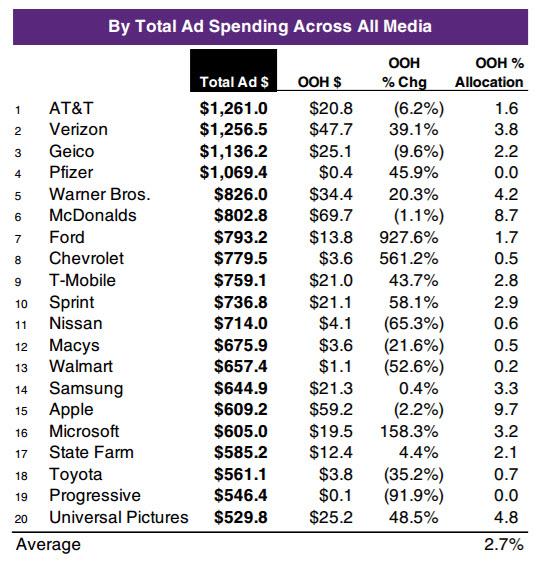 Here is a snapshot of OUT's Top 20 Advertisers based on "total OOH spending":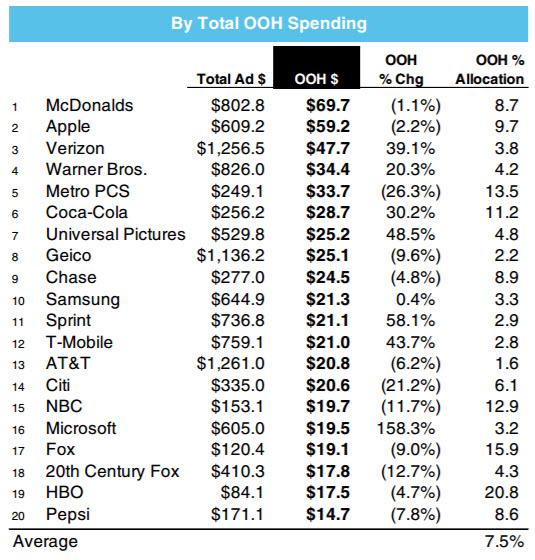 This snapshot illustrates where some brands put advertising: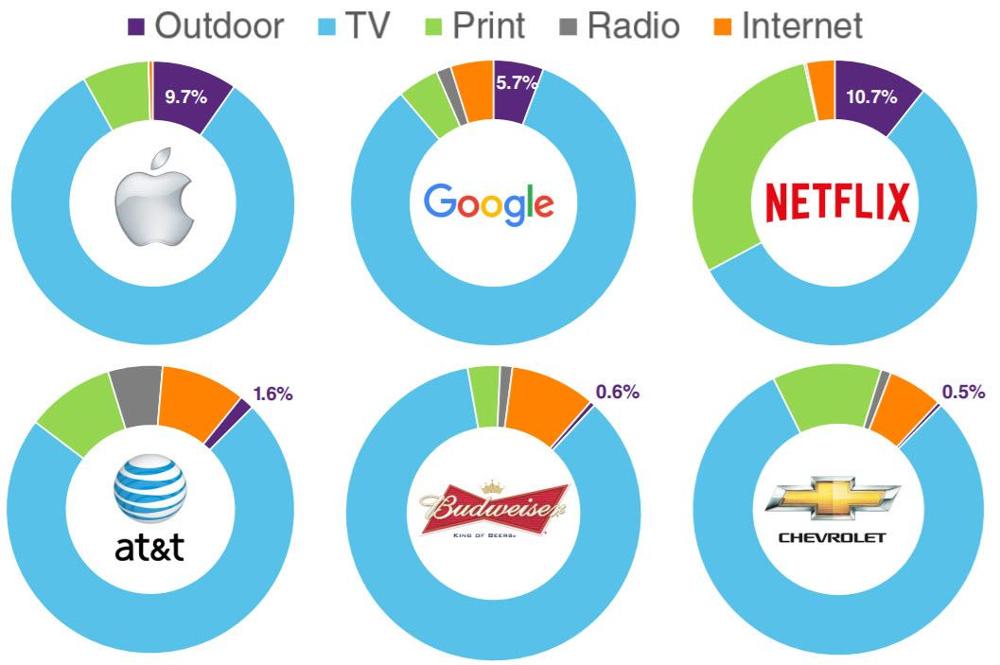 This snapshot below highlights the difference between OOH and traditional media: Note that the cost (or CPM) for OOH is $4.00 compared to TV ($19), Print ($23), and Radio ($13).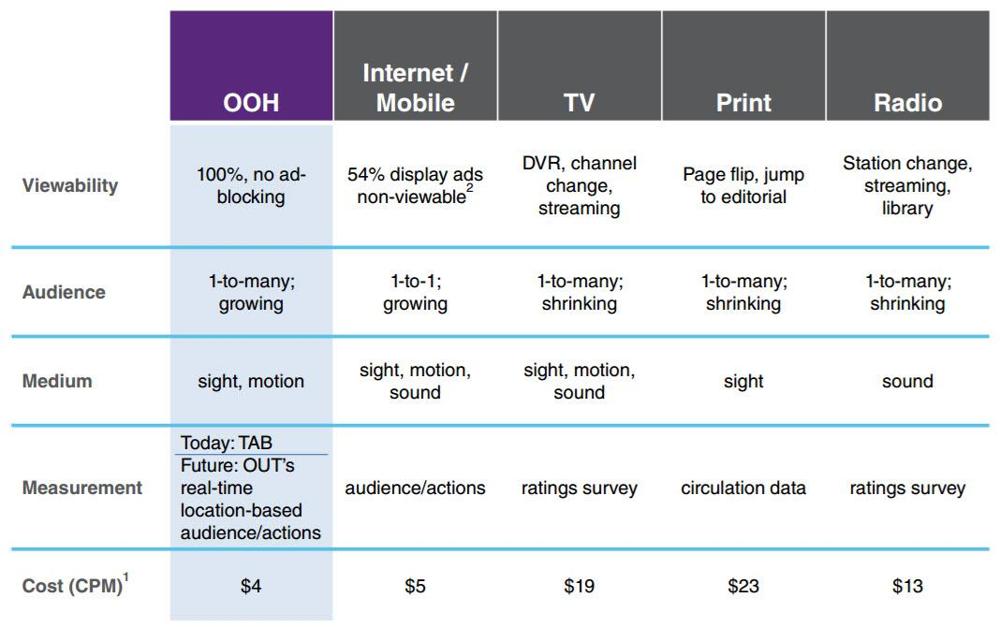 As illustrated below, OUT has a diverse tenant base: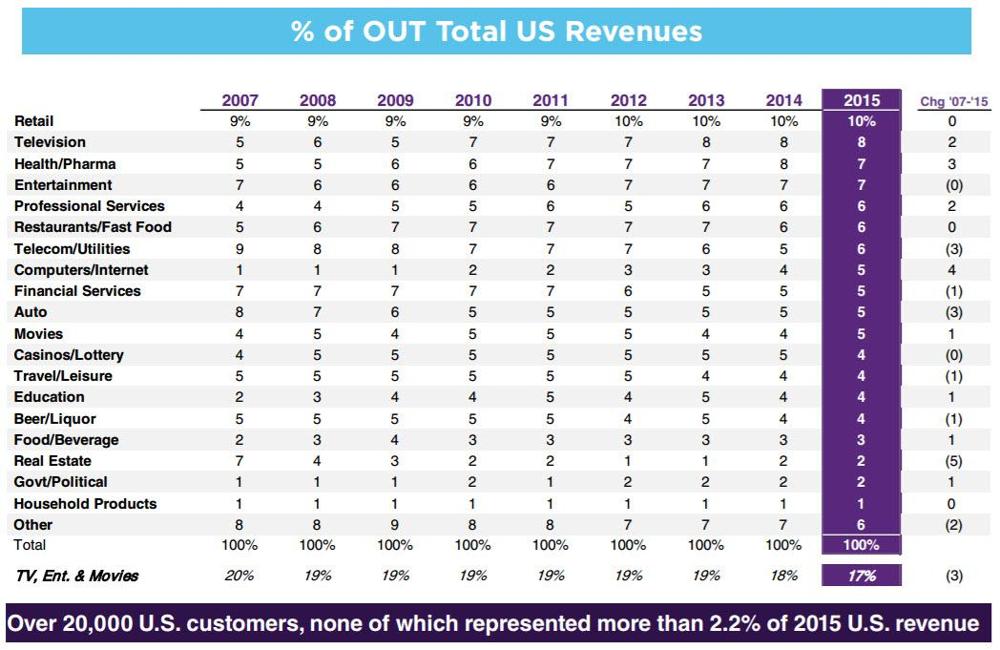 Apple is a good example of a repeat customer with multiple markets and formats.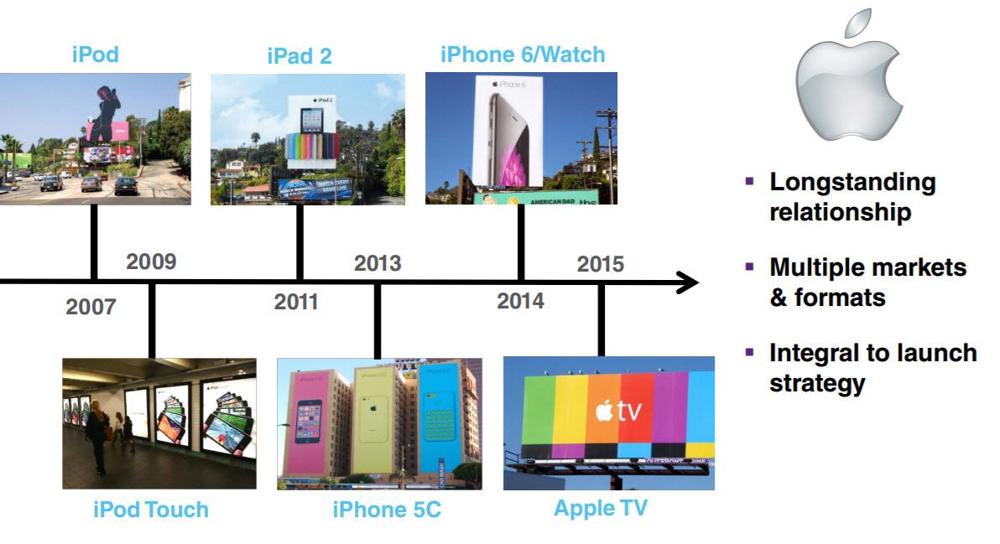 The Growth Strategy
As you can see below, OUT has 4 growth drivers: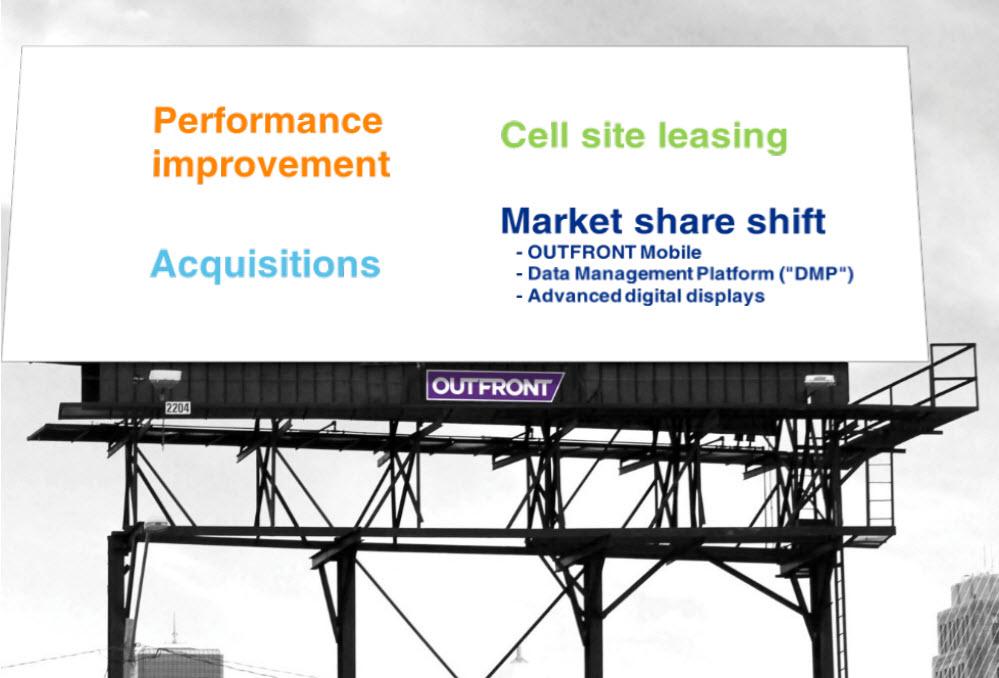 OUT invests in key strategic locations (high traffic areas, transit centers, retail districts, and iconic locations). The company's sales and operational incentives are aligned to maximize yield and profitability.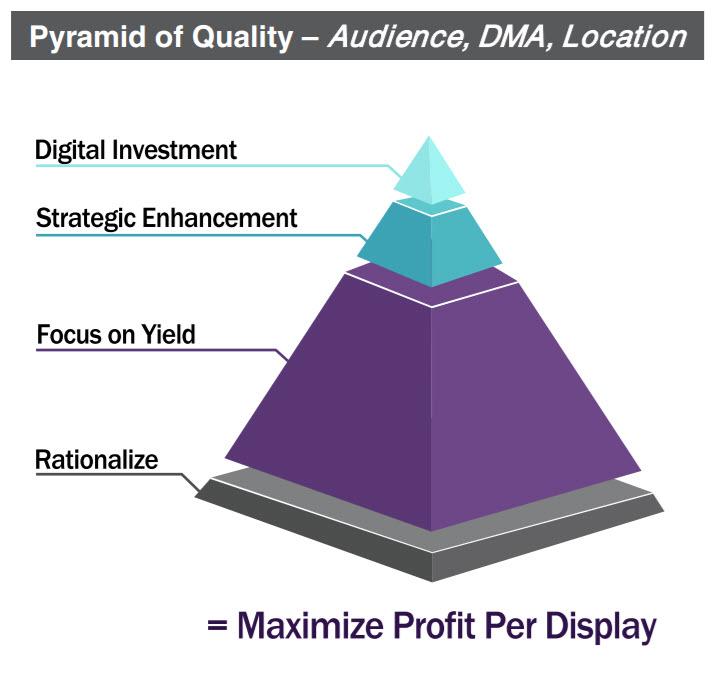 The US market is highly fragmented, as illustrated below: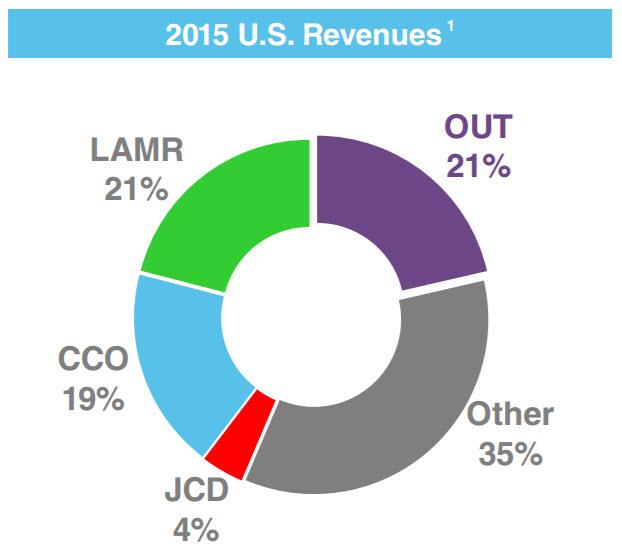 One way to drive growth is by leasing out space on wireless carriers. OUT has 25,000 potential sites and each site could hold 1-3 carriers. Wireless provides OUT with recurring, monthly rent under long-term lease contracts with no capital expenditures required. The carriers are responsible for providing backhaul.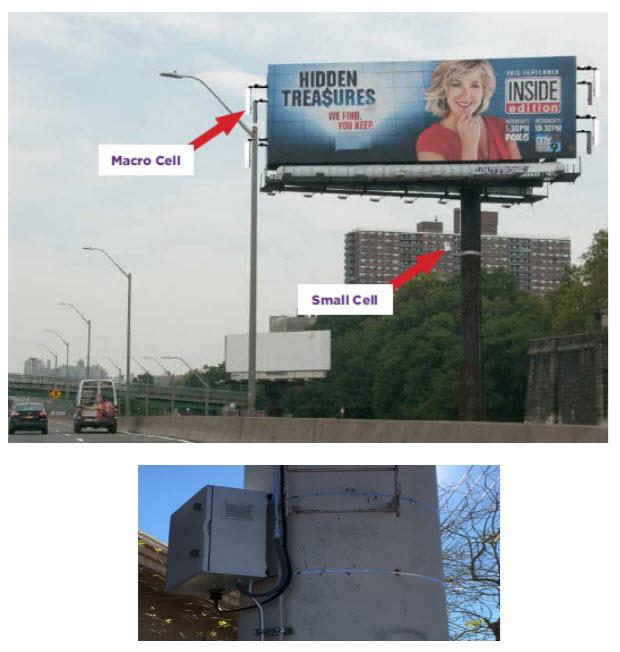 The biggest catalyst for OUT is to create unique products and processes to drive media allocation.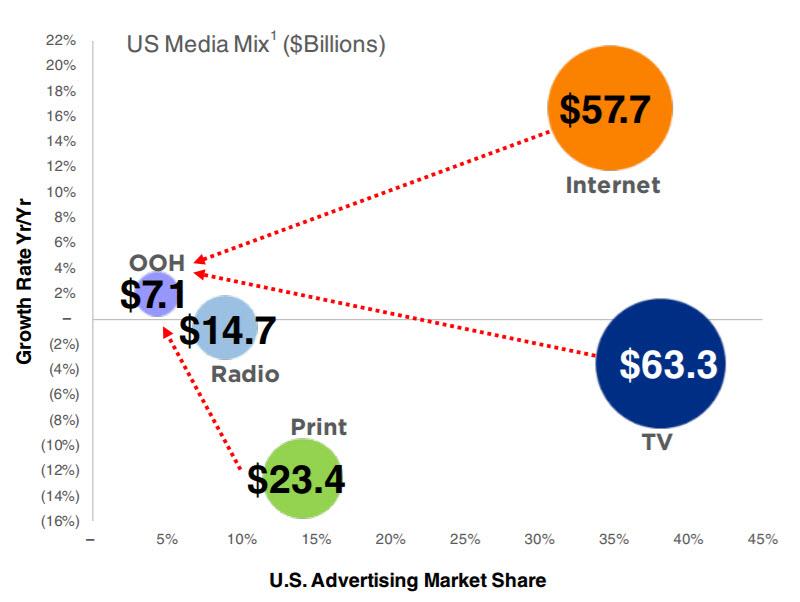 OUT Mobile is an ad tied platform that serves consumers within a geo-fenced area. This platform was launched in Q4-15 and drives strong secondary action rates.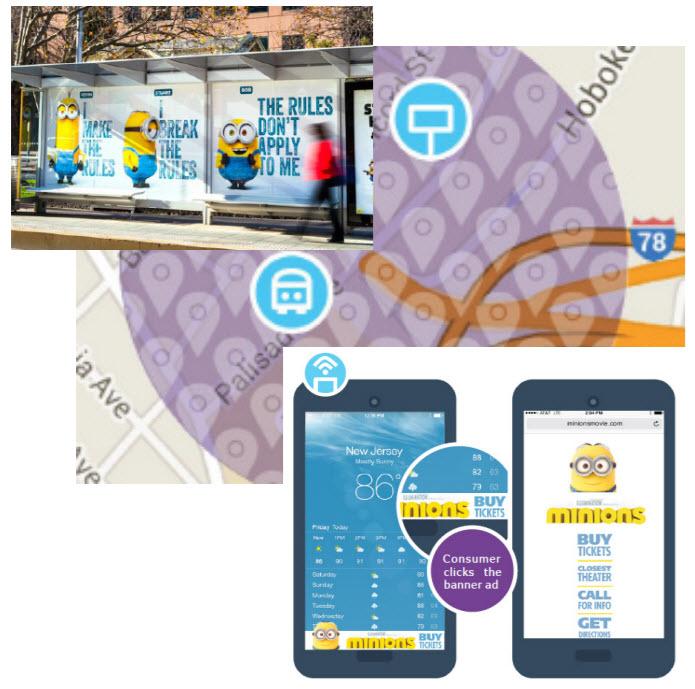 Consumers' travel patterns and behavior are represented in various formats (smartphones, billboards, mobile apps, ad cell carriers). OUT's proprietary data management platform will associate the data to make it relational and contextual. Audiences will be mapped to OUT assets by day and time.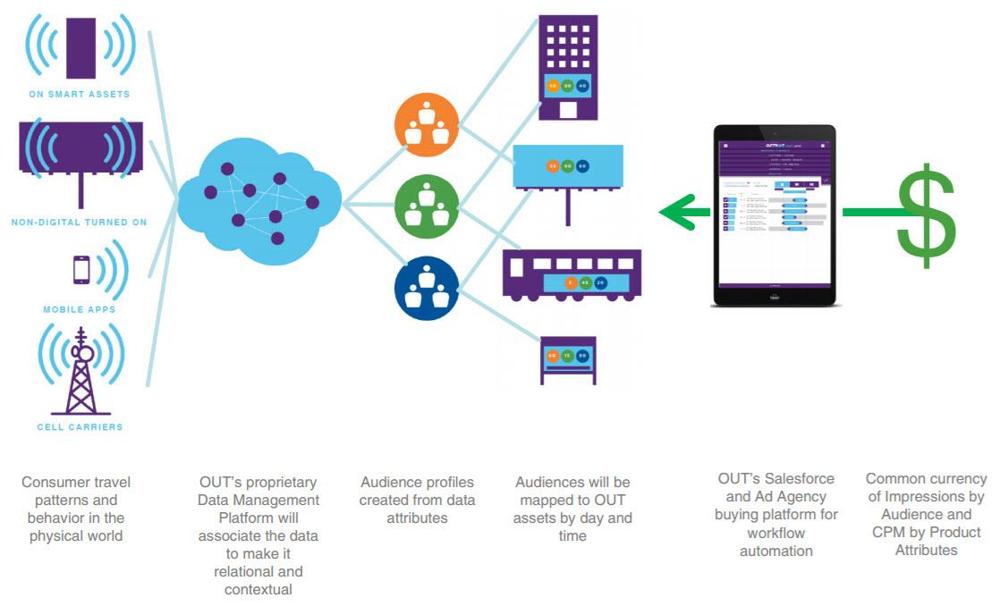 The Balance Sheet
As of Q4-16 OUT had a liquidity position of $458.5 million, including $65.2 million of cash and $393.3 million of availability on the revolving credit facility.
OUT received $82 million in proceeds from the sale of its Latin American business in 2016, and combined with cash generated in the business, made $68 million of acquisitions.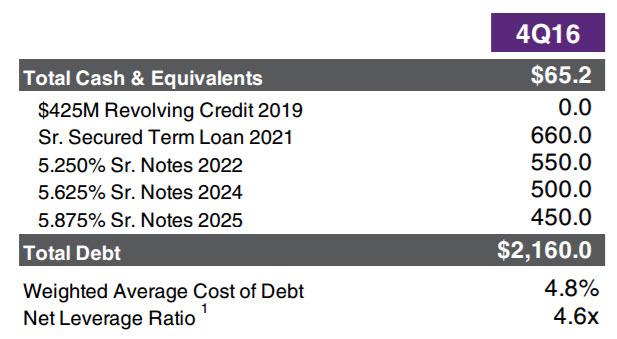 OUT's net leverage ratio was 4.6x, and the company's goal is to reduce leverage to a range of 3.5x to 4x through further growth in OIBDA and further debt reduction. OUT and its direct peer, Lamar (LAMR) are rated BB- by S&P.
Through good balance sheet management in 2016, OUT used internally generated cash and $82 million of proceeds from the sale of its Latin America business to pay down $90 million of debt, make $68 million worth of acquisitions and invest $11 million in strategic business development.
For the year 2016, OUT's revenues were up 3.1% organically and the company was able to convert this into 2.6% EBITDA growth and 9.8% AFFO growth (at the high end of the guidance range). The chart below shows OUT's 12 month 2016 AFFO of $295 million, and a dividend payout ratio of 64% compared to 70% in 2015.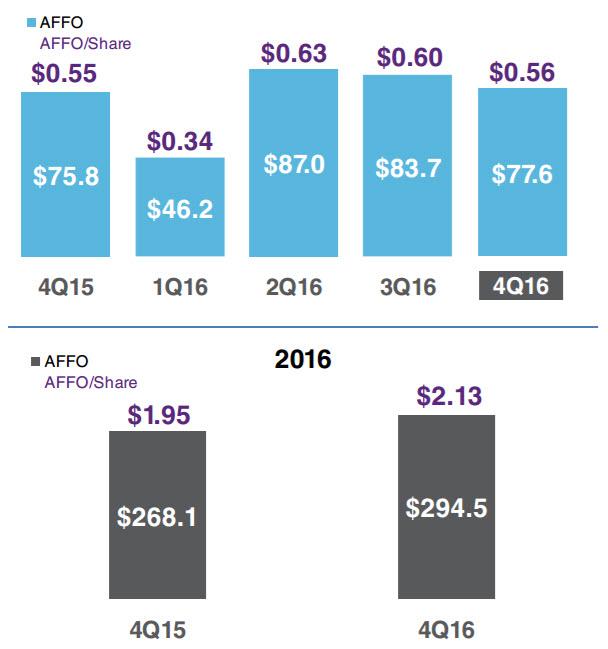 OUT's free cash flow in 2016 was $228 million and the dividend payout ratio on this metric was 83%, slightly higher than 2015 (was 80%). OUT decided to increase the quarterly dividend to $0.36 per share.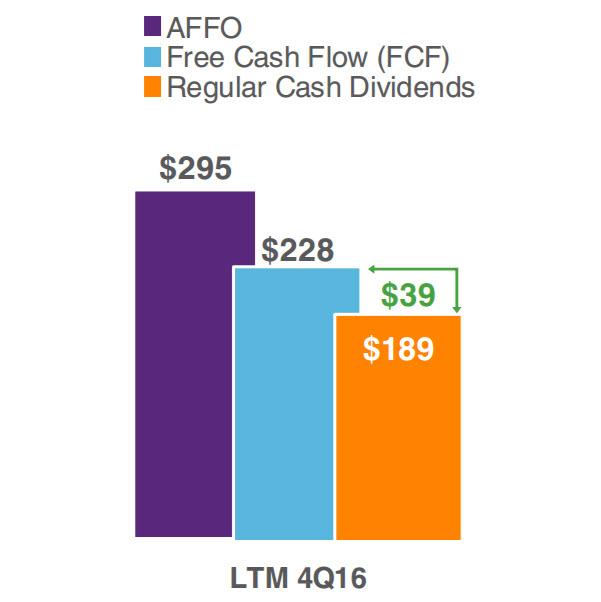 This Billboard REIT Creates Plenty Of Buzz
CBS's REIT conversion is deemed to be a more tax-efficient means to distribute cash flow. By converting to a REIT, CBS cuts its tax burden, but also requires OUT to distribute at least 90% of its profit among shareholders.
One thing I like about OUT is that it offers investors a diversified revenue model with many well-known brands (similar to Realty Income).
However, OUT (and LAMR) are also in the ad business and investors should recognize the erratic capex requirements associated with challenges to run an ad-based business.
In addition to the capex concerns, the business model does not provide the income sustainability warranted by other property sectors (due to the fluctuating ad-based business).
Also, states have passed billboard control statutes and regulations that are as restrictive as the federal requirements, including laws requiring the removal of illegal signs at the owner's expense (and without compensation from the state).
This means that some of the underlying assets owned by OUT could be subject to uncontrollable risks (economic, governmental, and competitive) as well as declining revenues.
However, even considering these risks, I believe OUT has an interesting REIT platform that is worthy of further analysis. Let's take a look at the cap ex costs (as of Q4-16):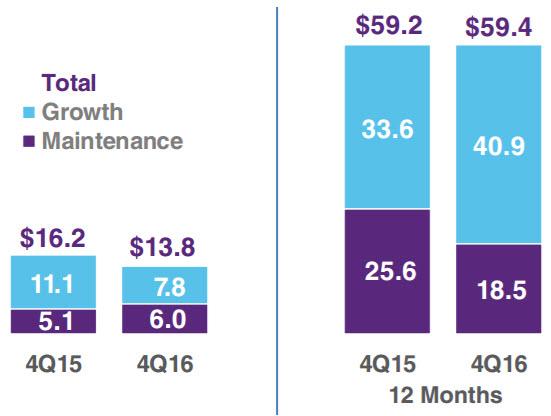 For the year ended December 31, 2016, OUT's total capital expenditures were $59.4 million (below original guidance range). This was driven primarily by lower maintenance CapEx and timing of cash payments.
For 2017, OUT expects capital expenditures to be in the $65 million to $70 million range, including growth capital expenditures of $40 million to $45 million and maintenance of $25 million. During the fourth quarter, OUT completed 18 digital board conversions in the U.S. and four in Canada.
In Q4-16 capital expenditures were $13.8 million, or 3.5% of total revenues. Growth spending was 2% of total revenues and maintenance was 1.5%. Maintenance CapEx principally represents spending on billboards, but also on office facilities, information technology and safety for OUT's operations employees.
I am really intrigued by OUT's propriety technology platform. This gives the company the ability to integrate its ad buying platforms, allowing real time audience buying by geo-location and it gives advertisers new tools to measure out-of-home ROI. The CEO, Jeremy John Male, explains on the latest earnings call,
We are moving forward with our design and the software development portion of the project and plan to test it live later this year. Our clients have seen where we're going with this and they are as excited as we are. We think these initiatives will be critical to our growth and outperformance of the broader media market in the future.
I also thought this next chart was interesting – it compares OUT to other REITs, and specifically, the capex as a % of revenue: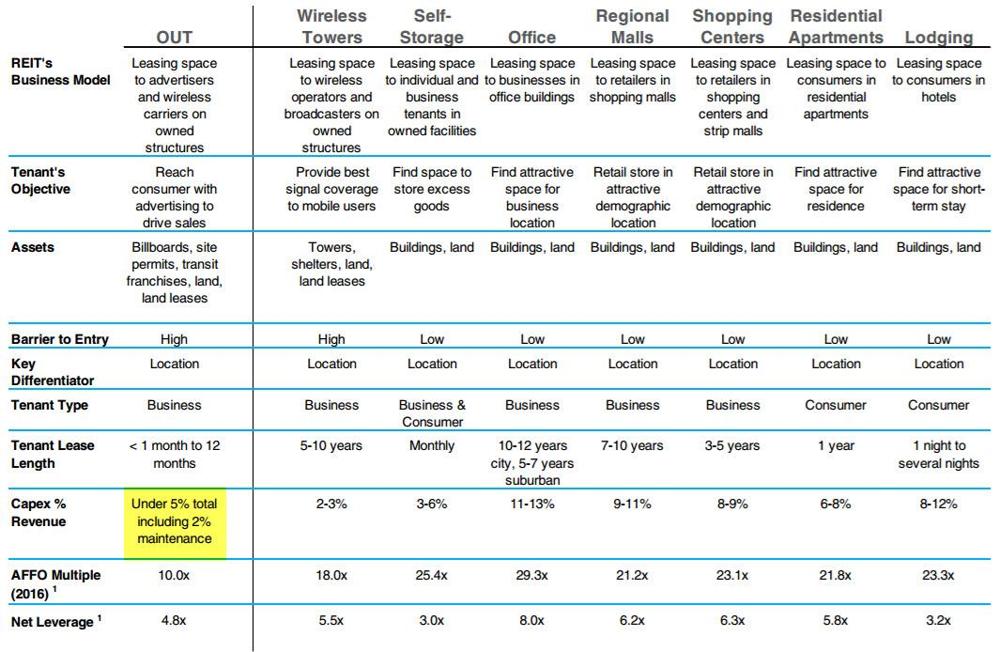 Now let's compare OUT's dividend yield: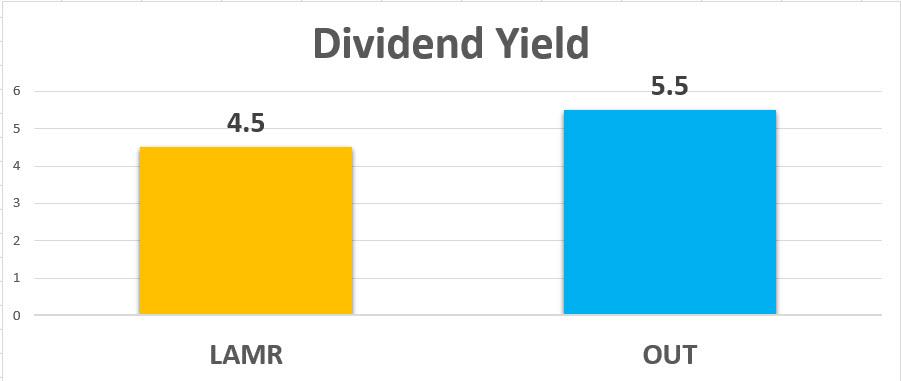 Now let's compare the P/FFO multiple: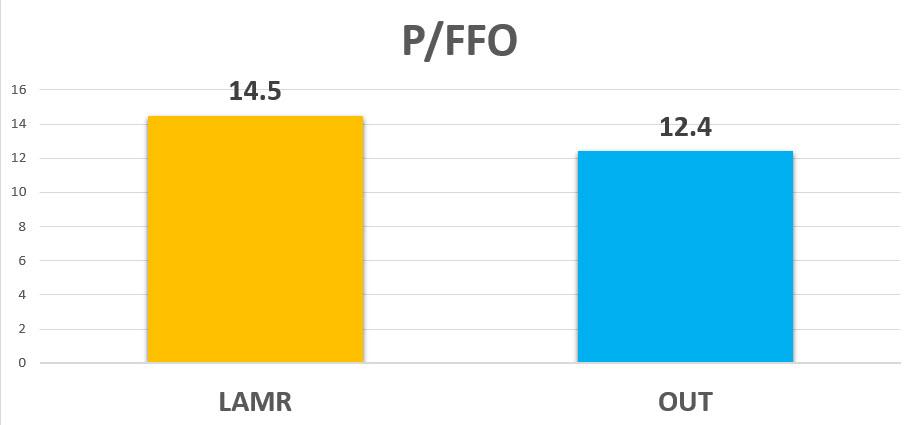 The Bottom Line: I see value in OUT, as a means to benefit from the continued growth in the US economy. Specifically, I am bullish as it relates to OUT's superior assets (in top markets) and hard-to-replicate portfolio. OUT's assets are located in prime, iconic locations and the cell tower leasing business should be an extremely profitable extension of the business.
I am initiating a BUY on OUT shares at the current price level:
OUT should begin to move in-line with LAMR and I am forecasting returns of around 25% per year…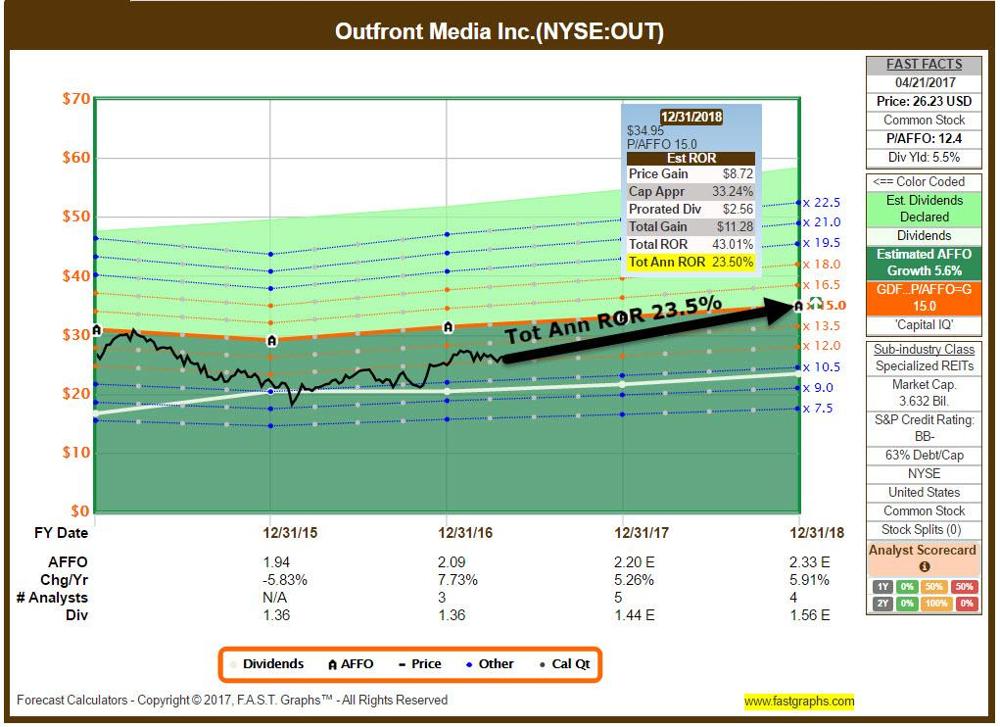 You can view all of my Rhino REIT Ratings by subscribing to REIT Beat here.
Author Note: Brad Thomas is a Wall Street writer, and that means he is not always right with his predictions or recommendations. That also applies to his grammar. Please excuse any typos, and be assured that he will do his best to correct any errors, if they are overlooked.
Finally, this article is free, and the sole purpose for writing it is to assist with research, while also providing a forum for second-level thinking. If you have not followed him, please take five seconds and click his name above (top of the page).
Source: F.A.S.T. Graphs and OUT Investor Presentation.
Disclosure: I am/we are long APTS, ARI, BXMT, CCI, CCP, CHCT, CLDT, CONE, CORR, CUBE, DLR, DOC, EXR, FPI, GMRE, GPT, HASI, HTA, KIM, LADR, LTC, LXP, O, OHI, PEB, PK, QTS, ROIC, SKT, SNR, SPG, STAG, STOR, STWD, TCO, WPC,.
I wrote this article myself, and it expresses my own opinions. I am not receiving compensation for it (other than from Seeking Alpha). I have no business relationship with any company whose stock is mentioned in this article.