The first round of French elections went pretty much according to what polls were suggesting and VIX futures have moved significantly lower from Friday's closing levels.
I expect government shutdown to be the next item providing hope for volatility longs and that particular market worry will also pass at some point in time.
(NYSEARCA:SVXY) had a decent week and looks to build on those gains when markets open on Monday on the back of reduced uncertainty with regards to the ultimate outcome of the French elections.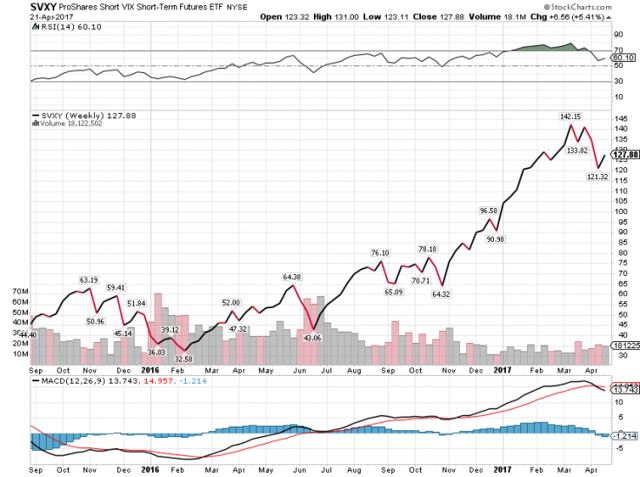 Based on the current move in VIX futures, SVXY may open above $136 when trading resumes in New York on Monday morning.
On the market front, bullish sentiment as measured by AAII was very low relative to historic standards, which being a contrarian indicator continues to be a tailwind for future gains in major indices. Internals remained quite healthy and bond yields are low enough to justify current equity valuations and potentially higher stock prices due to expected earnings growth in S&P 500 over the next several quarters.
Positions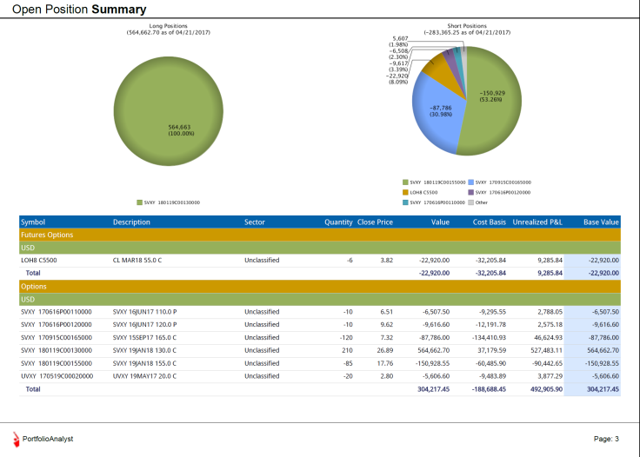 I made no changes to my positions last week and I have no intention to modify them now that front-month VIX futures are once again testing low 13s. Once government shutdown is averted, I expect VIX index to remain subdued and in all probability test low 10s at some point in May. Economic data is decent-to-neutral supporting current market conditions. As noted numerous times the only danger to market's status quo is some of sort of a major geopolitical event, which is impossible to predict and no way to quantify such a probability.
VIX futures contracts are low enough to refrain from actively buying SVXY at Monday's open and my early April projection of monthly gains in the range of 2-5% from previous all-time high will most probably materialize themselves over the next several months. I expect SVXY to close around $140 in mid-May and $150 in mid-June. Those are my base case projections given information available today.
Account performance YTD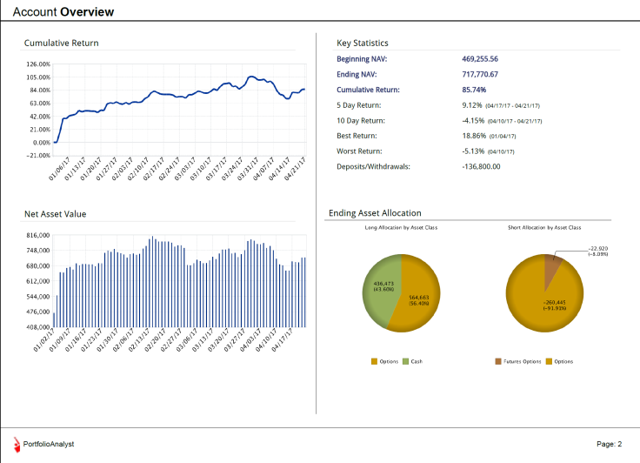 Disclosure: I am/we are long SVXY VIA OPTIONS.
I wrote this article myself, and it expresses my own opinions. I am not receiving compensation for it. I have no business relationship with any company whose stock is mentioned in this article.