Earnings per Share
The quarter ended March 31, which U.S. Bancorp (NYSE:USB) will report on Wednesday, April 19, has been a cyclically flat or low growth quarter. EPS was $0.76 a year ago, for the QE 3-31-16. Earnings per share of $0.80 has become the benchmark, is the average estimate of the analysts, and would be a strong year over year increase. An EPS, downwards to even $0.77, would not be a surprise and is not that bad, but would disappoint investors.
Estimated QE March 2017 Earnings per Share (GAAP)
Analyst Estimates: -$0.80 avg, $0.78 low, $0.85 high, 30 analysts
Prior Year $0.76 = +5.3% YoY
Prior Quarter $0.82 = -2.4% QoQ
The cyclical nature of earnings per share and the overall trend can be seen in the charts below. Earnings per share are increasing at a decreasing rate.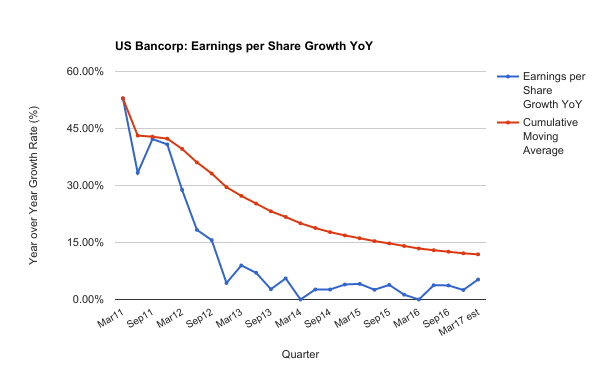 Return on Assets
The diminishing returns of U.S. Bancorp and be seen in the annualized Return on Assets now at 1.36%. The peak was the QE 12-31-13 at 1.60%. Though ongoing financial performance has been strong, deployment of assets into higher yielding loans has become increasingly difficult. There is only so high financial performance can attain without expansion or acquisitions.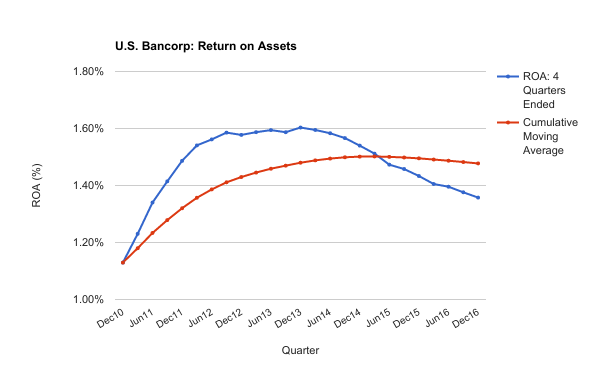 Asset Mix
This limitation in asset yield, and therefore return on assets, can be seen in U.S. Bancorp's asset mix. Net loans are the highest yielding asset and growth has been flat to decreasing at times. Currently net loans are 60.41% of total assets for the QE 12-31-16. Cash and investment securities of 28.02% of total assets provide a much lower yield.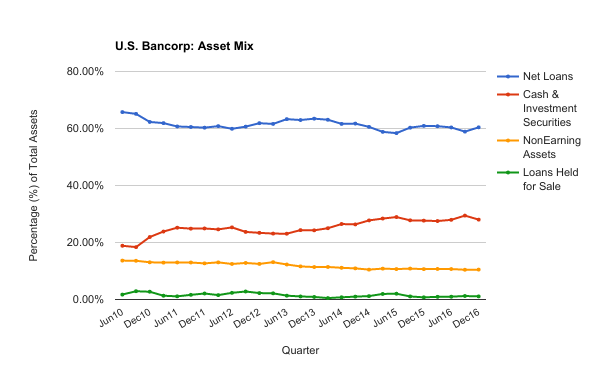 Operating and Net Margins
What is driving the strong financial performance of U.S. Bancorp is operating and net margins? Both are outstanding at 37.88% and 27.68%, respectively. Yet even these metrics have peaked.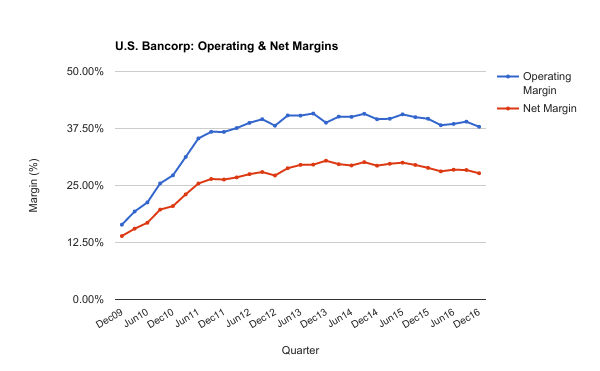 Conclusion
CEO Richard Davis and team have done a fantastic job sticking with old-fashioned banking and navigating through and after the financial crisis. Financial performance and position are strong.
The stock bottomed during the Great Recession at less than $10. An all-time closing high of $56.41 was reached on March 1, 2017. Continued strong financial performance for U.S. Bancorp is expected in future quarters under new CEO Andrew Cecere.
Continued growth and consistency in earnings per share, along with stock buybacks, should maintain the stock price. I expect this next quarter, the quarter ending March 2017, to be typical but not exceptional for U.S. Bancorp. I consider USB stock to be a Hold or a Long-Term Buy.
(Graphs created by author using data from U.S. Bancorp)
Disclosure: I/we have no positions in any stocks mentioned, and no plans to initiate any positions within the next 72 hours.
I wrote this article myself, and it expresses my own opinions. I am not receiving compensation for it (other than from Seeking Alpha). I have no business relationship with any company whose stock is mentioned in this article.