Quick Take
Used car online buying service Carvana (Pending:CVNA) aims to sell 15 million shares of Class A common stock at a midpoint price of $15 per share for gross proceeds of $225 million.
The company has created an easier way to purchase and take delivery of used cars, but has spent $240 million in cash from operation in 2016 alone to stand up its operations nationwide.
My guess is that it is prepping the IPO to get the full attention of online-first retailers such as Amazon (NASDAQ:AMZN) to put in an offer.
My opinion is to AVOID the IPO for this high cash-burning, loss-making company.
Company
Phoenix, Arizona-based Carvana launched its first used car buying market in January 2013 and operates an online service and network of facilities throughout the U.S. that can deliver purchased cars for free by the next day to local buyers in 21 metropolitan market areas.
The company has developed a unique "vending machine" for selling inventoried cars that it is beginning to roll out in selected markets, starting with the Houston area: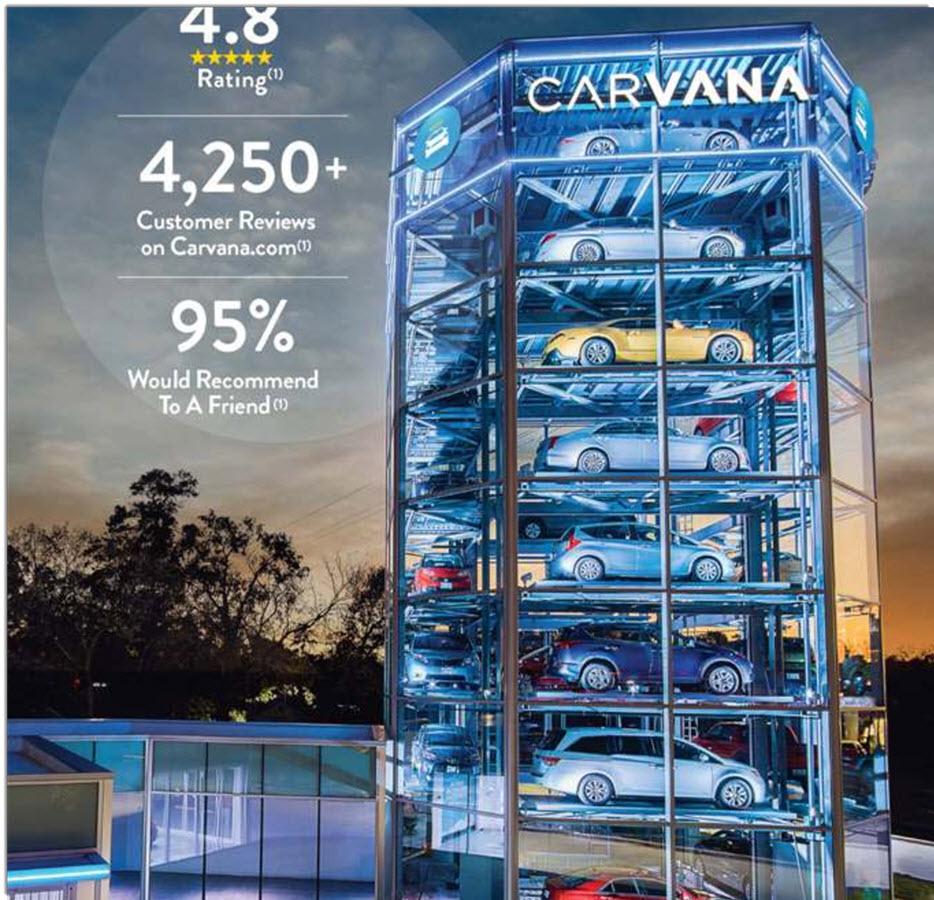 (Source: Carvana S-1/A)
Management is headed by CEO Ernie Garcia, who co-founded the firm in 2012 along with COO Ben Huston and Chief Brand Officer Ryan Keeton.
Notably, among the members of the Board of Directors is former vice president Dan Quayle.
Investors have invested $300 million in three financing rounds via CVAN Holdings, which is indirectly controlled by Mark Walter, who is the founder and CEO of private equity firm Guggenheim Partners.
Technology
Carvana has created an online used car buy/sell marketplace, along with related delivery service offerings and a new Carvana Vending Machine.
The company currently has a "nationally pooled inventory of over 7,300 vehicles" that it has inspected and "reconditioned" based on its 150-point inspection process.
Since inception in 2013, Carvana has cumulatively sold 27,500 vehicles, generating $541.8 million in gross revenue.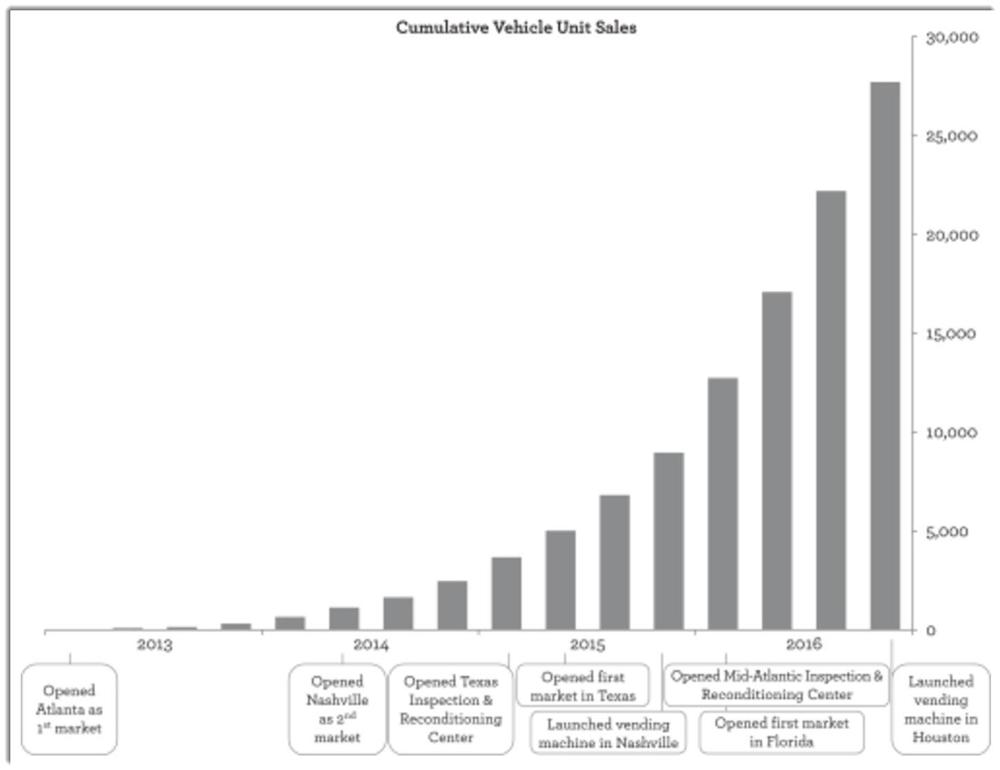 (Source: Carvana S-1/A)
Below is a brief explainer video about the Carvana Vending Machine:
(Source: Carvana)
Market and Competition
According to a 2017 used car market report by Manheim Consulting, in 2016, wholesale supply totaled 21.57 million vehicles:

(Source: Manheim Consulting)
Also, nearly three of four automotive sales in the U.S. involve a used vehicle.
However, Carvana is not alone.
Competitive vendors that provide similar or adjacent services include:
The company says its competition strengths include a purpose-built e-commerce platform, better shopping experience, proprietary financing technology and a more efficient logistics network that leads to a better fulfillment process for customers.
Financials
Carvana's recent financial results can be summarized as follows:
Rapidly growing top-line revenues
Increased gross margin
Large and rapidly growing use of cash in operations
Below are the company's operational results for the past three years (Audited GAAP):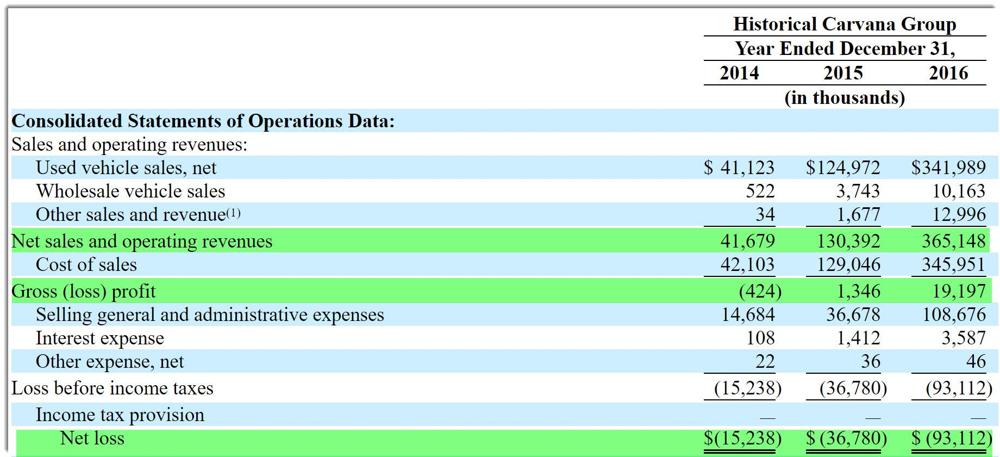 (Source: Carvana S-1/A)
Revenue
2016: $365.1 million, 180% increase vs. prior
2015: $130.4 million, 213% increase vs. prior
2014: $41.7 million
Gross Margin
2016: 5.3%
2015: 0.1%
2014: Negative
Cash Flow from Operations
2016: $240.2 million cash used in operations
2015: $53.5 million cash used in operations
2014: $30.3 million cash used in operations
As of December 31, 2016, the company had $49.4 million in cash and restricted cash and $200.8 million in total liabilities.
IPO Details
Carvana intends to raise $225 million in gross proceeds from an IPO of 15 million shares of its Class A common stock to be offered at a midpoint price of $15 per share.
Should the IPO be successful at that price, the public market cap for the company would be approximately $1.98 billion undiluted.
Management says it will use the net proceeds from the IPO as follows:
$210.7 million to acquire 18,750,000 newly-issued LLC Units (or $242.0 million to acquire 21,562,500 LLC Units if the underwriters exercise their option in full to purchase additional shares of Class A common stock) in Carvana Group at a purchase price per LLC Unit based on an assumed initial public offering price of $15.00 per share (the midpoint of the estimated public offering price range set forth on the cover page of this prospectus), less underwriting discounts and commissions. In turn, Carvana Group intends to:

Repay all outstanding borrowings under the Verde Credit Facility, under which $30.0 million was outstanding as of April 14, 2017, and which has a current interest rate of 12.0% per annum and matures in August 2018 (borrowings under the Verde Credit Facility were used to fund working capital on a short-term basis);

transfer approximately 170,000 LLC Units to Ernest Garcia, II (assuming an initial public offering price of $15.00 per share, which is the midpoint of the estimated public offering price range set forth on the cover page of this prospectus) in exchange for his 0.1% ownership interest in Carvana, LLC;

pay an estimated $5.5 million of expenses incurred in connection with the Organizational Transactions; and

use the remaining proceeds for general corporate purposes.
Listed underwriters of the IPO include Wells Fargo Securities, BofA Merrill Lynch, Citigroup, Deutsche Bank Securities, and four others.
Commentary
Carvana is attempting to make it as frictionless as possible to purchase a used car online and have it delivered quickly. It has called itself the "Amazon" of car marketplaces.
Selling used cars and making it a pleasant process is a compelling business for a company that can do it efficiently. The problem as I see it is that financially it is burning through so much capital just to stand up the firm, so much that it has caused an erstwhile competitor, Beepi, to lay off 180 employees at the end of 2016 and scale back operations while it seeks a merger partner.
Although management has done well to secure the necessary buyer financing to support its retail operations for the near future, I doubt investors have the patience to fund its larger ambitions while it burns through mountains of cash, such as $240 million in 2016 alone.
Perhaps Carvana's goal with the filing is to increase the pressure on a big buyer such as Amazon to step up and acquire it before it gets more expensive in the public markets.
My belief is the company has limited options and Amazon or another online-first retailer snapping it up before the IPO is its best bet for an exit.
My opinion is to AVOID the IPO.
I write about M&A deals and IPOs. Click the Follow button next to my name at the top or bottom of this article if you want to receive future articles automatically.
Disclosure: I/we have no positions in any stocks mentioned, and no plans to initiate any positions within the next 72 hours.
I wrote this article myself, and it expresses my own opinions. I am not receiving compensation for it (other than from Seeking Alpha). I have no business relationship with any company whose stock is mentioned in this article.