The entire pharmaceutical sector suffered a large sell-off after disappointing topline results for Johnson and Johnson (NYSE:JNJ). Valeant, (NYSE:VRX) with its over 5% drop, is one of the worst affected.
The problem is that a slowdown in JNJ sales is likely to mean a slowdown in the entire pharmaceutical industry (NYSEARCA:XBI). This represents an existential threat for Valeant because of the company's already weak guidance, poor interest coverage, and leveraged balance sheet. Investors can look forward to disappointing Q1 results and another guidance cut.
Sector Impact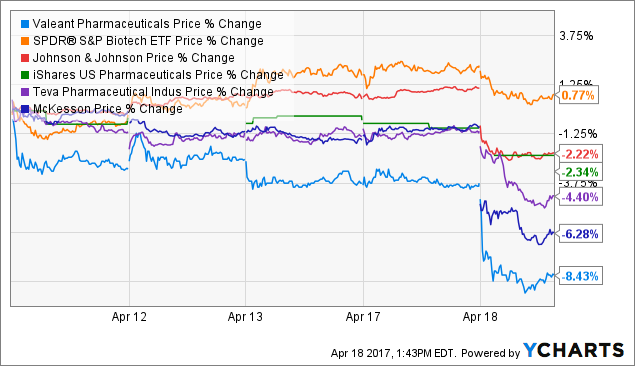 VRX Price data by YCharts
Johnson and Johnson is the largest healthcare firm in the United States, and its business is so large and diversified that its top line moves primarily on industry cyclicality and the business cycle. For this reason, a slowdown in sales is likely to reflect overall industry headwinds that will affect other companies expected to release Q1 earnings later in the month or next month.
Valeant's Company-Specific Risks
Valeant's forward EBITDA for 2017 is expected to come in at $3.5-3.7b while interest expense will probably be near $2 billion by the end of the year. Along with the interest expense, Valeant will be required to pay down the principal of many of its debt obligations.
Valeant's debt coverage is already weak, and the last thing the company needs is an industry-wide slowdown. Not only will such a development accelerate top line erosion, but it will also reduce the present value of many of Valeant's assets and reduce potential buyout interest. Valeant may also face goodwill impairments on some of its assets.
On top of this, interest rates are expected to increase in 2017 and 2018, and this poses a serious risk to all companies with heavy debt loads because it increases the risk-free rate and can increase the interest expense owned on variable rate loans and credit facilities.
Conclusion
Johnson and Johnson's weak top line results for Q1 are raising fears of an industry-wide slowdown in pharmaceuticals. Johnson and Johnson is seen by many as large enough to represent trends in the overall market.
This is terrible news for Valeant because the company cannot afford accelerated top line erosion at a time when it faces so many challenges from interest expense, mandatory debt obligations and rising rates. The company looks poised for a disappointing Q1 result.
Disclosure: I/we have no positions in any stocks mentioned, and no plans to initiate any positions within the next 72 hours.
I wrote this article myself, and it expresses my own opinions. I am not receiving compensation for it (other than from Seeking Alpha). I have no business relationship with any company whose stock is mentioned in this article.