In the past three years, Vitamin Shoppe's (VSI) stock has declined 57.7%. Its market capitalization has declined from almost $2 billion to the current $461 million. The decline is attributed to a few things. Its revenue growth has stalled, margins have shrunk, comp sales are declining, its recent acquisitions have not worked out well, and the general trends in the retail sector. This decline has happened at a time when the supplement industry is forecasted to grow as I will describe below.
In this article, I will explain the reasons why Vitamin Shoppe is an unhealthy company to own, even at its depressed price.
Vitamin Shoppe is an omnichannel retailer dealing with vitamins, minerals, and supplements (VMS). The company sells more than 900 brands from the leading nutrition manufacturers. It also sells its private products under the following brands: The Vitamin Shoppe, Body Tech, True Athlete, and Mytrition among others. In 2016, the private brands accounted for 21% of the total revenue. The company recognizes revenue in three segments; retail, direct, and manufacturing.
Vitamin Shoppe operates in a very competitive and fragmented industry. The company competes with specialty retailers like GNC (GNC), drugstore chains like CVS (CVS), and mass retailers like Walmart (WMT) and Natural Grocers. The company also competes with online-based companies like Vitacost and Bodybuilding.com. This competition has recently intensified as more people move to online shopping. As a result, although the industry has grown and is expected to grow, this competition has made it difficult for companies like GNC and VSI to compete.
According to the Nutrition Business Journal, VMS is an industry with estimated annual revenues of more than $41 million. It is expected to have a CAGR of 6.2% through 2020. Most of this growth will come from sports and supplements and meal replacements which will grow by 8.2% and 7.3% respectively.
Pricing Power
The competition in the VMS sector is based on several factors such as: convenience, price, quality, assortment of products, and customer service. In the past, these factors were fulfilled well by the specialty stores like VSI which were available in nearby malls. Unfortunately, these barriers have now been removed by the entry of Amazon (AMZN) and Walmart, two of the biggest e-commerce platforms in the country.
While Vitamin Shoppe's website has about 20,000 products, Amazon has almost 140,000 products in its vitamins and dietary supplements category. Products on Amazon come from small manufacturers as well as large ones like Quest Nutrition.
What's more? Products on Amazon are cheaper than those sold at Vitamin Shoppe. Consider the following products.
I have compared hundreds of products on the two websites with the same results. What is surprising is that some of Vitamin Shoppe's own products are relatively cheaper in Amazon, than on its own website. For instance, this ultimate man multivitamin sells at $24.99 on VSI's website and $19.99 on Amazon.
The fact that Amazon has more products and a lower cost than VSI is an important point. This is because of other services that Amazon has introduced to incentivize people to buy on its platform. Amazon Prime which has more than 70 million subscribers offers customers free two-day shipping in addition to other add-ons like free movies and file storage. In some markets, Amazon offers same-day shipping, a feature which VSI does not have. I therefore believe that more people are likely to use Amazon than VSI's website.
This is also significant because most products that customers buy at VSI are from other manufacturers. In 2016, Vitamin Shoppe's private brands, albeit growing, accounted for only 21% of net revenue. To remain competitive therefore, Vitamin Shoppe has to incentivize its customers which will eat-into its already thin margins.
Source: Vitamin Shoppe
Although the company announced improved margins on the last conference call, I have concerns that the company might not achieve the high margins it had in the past.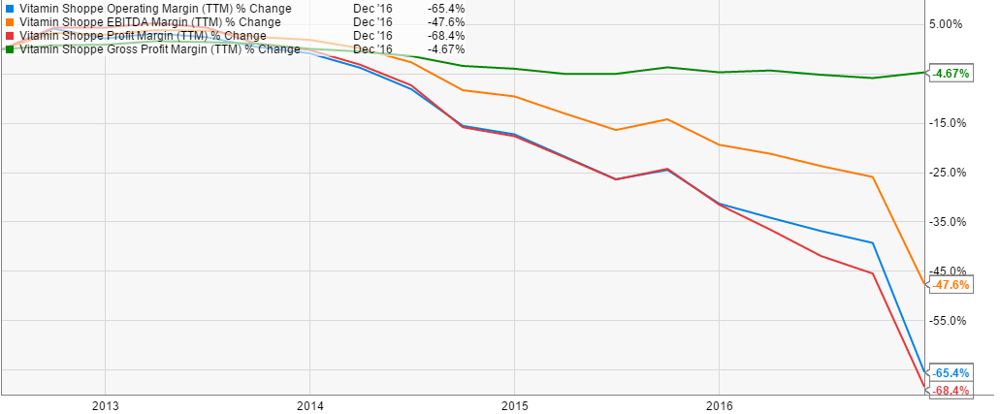 Reinvention Strategy
In 2015, the company started implementing a new turnaround strategy. The reinvention strategy had three goals: to win customers, differentiate itself, and compete in the VMS industry. The company expects the new strategy to save $25 million annually.
The strategy includes improving customers' experience both online and offline. In 2016, the company spent $9 million on SG&A associated with the new strategy. While this is good, I have doubts that improving a store's appearance will significantly help the company improve sales. A recent study in the Journal of Marketing stated that:
Although retailers invest millions of dollars in redesigning, refreshing, and remodeling their stores, it is unclear that such large investments are worthwhile. Prior research has indicated that remodeling has only a short-term effect.
Therefore, the investment that the company has made in improving its retail stores will have a positive long-term impact on sales.
The new strategy also places more emphasis on the company's private brands and its e-commerce platform. The company understands that these two will be the main drivers of future growth. The question is by how much. In 2016, e-commerce sales were just 14.4% of total sales down from 16.2% in the previous year. As shown below, the private brands have grown significantly in the past five years. Although this growth is significant, I have concerns whether the company can sustain growth in the private brand.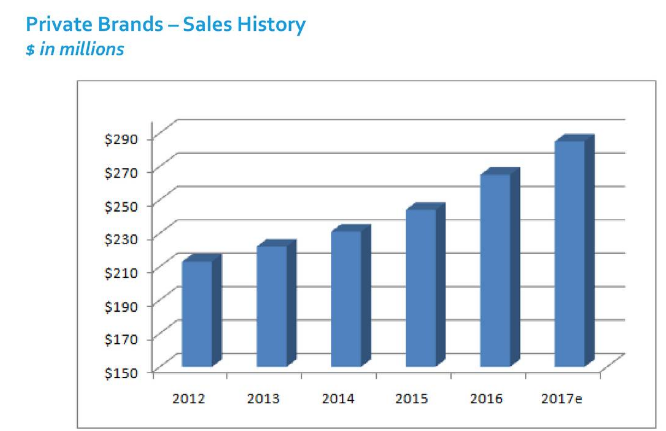 Source: Seeking Alpha
The new strategy also involves turning around Nutri Force, a company it acquired in 2014 for $85 million. The acquisition was intended to help the company improve its vertical integration goals. At the time of the acquisition, VSI's CEO said this about the company:
The company is attractive to us for a number of key reasons that fit with our long-term needs and include: a high-quality management team, product development expertise and capability, and the ability to produce and ship from one facility four key form factors – soft gels, tablets, powders and capsules.
In last quarter's conference call, he said this about the company:
Our biggest disappointment in Q4 was Nutri Force. While we were pleased with how the in sourcing and servicing of Vitamin Shoppe private brand SKUs is progressing, we continue to struggle with uneven performance from the third-party contract manufacturing business at Nutri Force.
In the third quarter, the company had a $39.2 million impairment charge because of the third-party manufacturing issues with Nutri Force. This is a significant figure since it represents almost half the amount VSI paid for the company.
Final Thoughts
In short, Vitamin Shoppe is a retailer in an industry that is going through serious changes. Its sales have plateaued and there are doubts that the reinvention strategy will help bring back the company to where it was. The same problems facing VSI are also being experienced by its direct competitor, GNC, which has seen its stock fall from $55 in 2014 to a current price of $8.5. As a result of these challenges, investors are better off staying away from the company.
Disclosure: I/we have no positions in any stocks mentioned, and no plans to initiate any positions within the next 72 hours.
I wrote this article myself, and it expresses my own opinions. I am not receiving compensation for it (other than from Seeking Alpha). I have no business relationship with any company whose stock is mentioned in this article.