Bank of America (NYSE:BAC) produced a strong set of numbers for the first quarter. The results were better than expected across the board with a decent pickup in NIM (net interest margin), solid non-interest income growth, and a better cost-income ratio. However, the market does not seem very impressed. The stock jumped to $23.15, in what traders called a knee-jerk reaction, before closing the session at $22.71.
Source: Bloomberg
The chart below plots the yield on the U.S. 10-year Treasury note and Bank of America's net interest margin. As the chart demonstrates, historically, there has been a strong positive correlation between those metrics.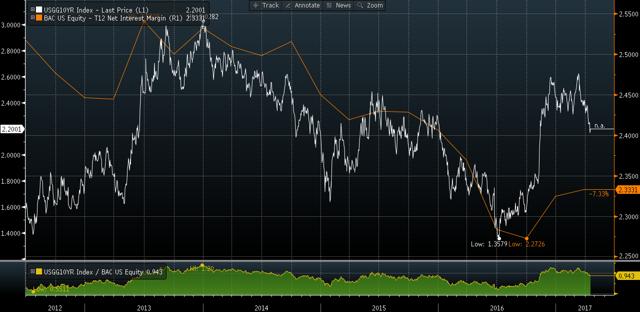 Source: Bloomberg
The correlation should not come as a surprise. BAC has a relatively large variable-rate commercial loan book and a higher share of deposit funding, while its deposit beta is one of the lowest among its peer group. Thus, the bank's interest income is highly rate-sensitive, with the significant part of that sensitivity coming from the long-end of the yield curve. As a result, BAC's NIM got a nice boost from higher rates/bond yields in 1Q17. The bank's loan yields improved meaningfully, while deposit costs remained flat.
However, 1Q results now seem to be ancient history as the yield on the 10-year Treasury note has declined by 43bps since mid-March. Several fixed-income analysts expect the 10-year yield to go as low as 2%. In addition, BAC's CFO, Paul Donofrio, mentioned that the bank's improvement in net interest income will be 'much more modest' in the second quarter. According to Donofrio, a 25bps Fed rate hike could mean an extra $150mn in BAC's net interest income. This compares to an increase of $729mn in 1Q.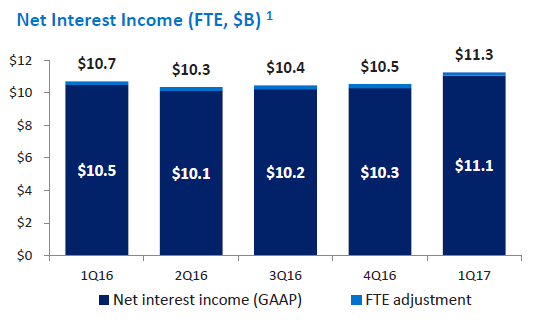 Source: Company data
Importantly, the market expects just one rate hike this year, and the probability of a rate hike in June plunged to 46% from about 70% a few weeks ago.

Source: Bloomberg
To summarize, given the CFO's comments and assuming long-term rates remain at current levels, BAC's FY2017 net interest income will be less than currently expected by consensus. As such, Bank of America needs more rate hikes for a further re-rating and, in the near term, the stock is likely to remain a hostage to the Treasury yields. One can argue that bond yields are one of the factors that are outside of management's control, and BAC has done a good job of delivering on its cost-cutting measures as its efficiency ratio improved to 62% in 1Q. While it is a valid point, better cost-efficiency metrics will not move the needle as much as BAC's shareholders want to. Rates and yield curve are key for Bank of America; no doubt about that.
Below, we run a scenario analysis, trying to quantify the impact of the UST yields on BAC's fair value, all other things being equal.

Source: Renaissance Research estimates
In terms of company-specific events, we believe the 2017 CCAR (Comprehensive Capital Analysis and Review) could serve as a catalyst. To recap, Bank of America plans to increase its dividend payout ratio to 30% and use the rest of excess capital to buy back shares. The CCAR results are expected to be released by June 30.
As a buy-side analyst and a deputy portfolio manager, I oversee a financials-focused fund and will be continuously providing research coverage on developments with Bank of America and other global banks. If you would like to receive our articles, consider following us by clicking the "Follow" button beside our name at the top of the page. Thank you for reading.
We also invite readers to check out our recently launched subscription service. Get in-depth fundamental research, stock recommendations, trading ideas, exclusive access to professional databases, sophisticated valuation models and expert commentary on Wall Street recommendation from a hedge-fund analyst with a proven track record. Go here to learn more or to activate your free 14-day trial period, we look forward to having you on board.
Disclosure: I/we have no positions in any stocks mentioned, and no plans to initiate any positions within the next 72 hours.
I wrote this article myself, and it expresses my own opinions. I am not receiving compensation for it (other than from Seeking Alpha). I have no business relationship with any company whose stock is mentioned in this article.