The strong fourth-quarter earnings report from Teva Pharmaceuticals (NYSE:TEVA) is but a distant memory. Despite reporting revenue growth of 33 percent and issuing non-GAAP earnings per share guidance of up to $5.30, the stock is hovering near yearly lows. Even the dividend, yielding 4.3 percent, is not giving the share price much support.
Product Launches
A downgrade to "hold" for Teva by Argus on Feb. 28 offset the positive news of an FDA priority review for SD-809. Used to treat tardive dyskinesia, the drug acts on regulating the level of dopamine, a neurotransmitter, in the brain. The drug has the potential to take market share from Tetrabenazine, since it has fewer side effects. Side-effects in Tetrabenazine include restlessness, dizziness, sedation, bradykinesia, and drowsiness. Since the body removes the drug quite quickly, some people must take the drug three times a day. Expect studies for SD-809 to prove the drug's effectiveness and safety.
On March 1, Teva launched Pristiq, an antidepressant and has a potential market of $883 million. On April 4, the FDA approval of HD chorea, a drug used to treat abnormal involuntary movements associated with HD. But none of the good news is helping the share price.
Generic Drug Suppliers Out of Favor
Markets are ignoring the positive product developments from Teva. Instead, wary investors are avoiding generic drug stock suppliers. Companies like Endo International (NASDAQ:ENDP), Valeant Pharmaceuticals (NYSE:VRX), and Mylan (NASDAQ:MYL) are all down year-to-date. Mylan gave back much of its gains after recalling 81,000 Epipens.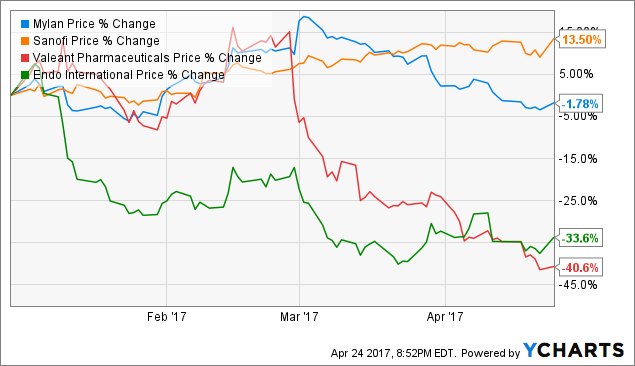 While Valeant's debt levels are manageable, its debt/equity profile is unfavorable compared to Endo's, which is 3.06 times. More recently, Valeant launched SILIQ, a drug that treats psoriasis, at a list price of just $3,500 per month. The stock sold off on the news.
Valuation
Teva's share price is at a substantial discount of over 40 percent to its future cash flow. This discount in the industry, on average, is over 20 percent. On that basis, Teva's intrinsic value is $55.11 a share:

Source: simplywall.st
Using a 5-year DCF Model: Gorden Growth Exit model, assume EBITDA improves after Teva rationalizes jobs and exceeds its cut in operating expenses over the next five years:

Source: finbox.io
Select a steep discount rate of 8.5 percent to over-estimate the generic competition for Teva's Copaxone. That would imply a fair value as low as $27.64 percent:

Source: finbox.io
A more optimistic forecast is that the government lightens its scrutiny over generic drug pricing. Teva may exceed revenue consensus estimates when it reports results on May 11 before the market opens. Teva may not face as much generic drug competition in the near-term. That would justify a discount rate of 7.5 percent and implies a fair value of $50.41 per share.
Takeaway on TEVA Stock
With the stock trending near yearly lows, the bear case is clear. Eventually, new leadership for management through the hiring of a competent CEO will turn Teva's fortunes around. For the time being, the company will continue on cutting operational costs to balance out with weaker revenue. Shareholders will continue getting paid a high dividend while waiting for the company's fortunes to recover.
Please [+]Follow me for continued coverage on value stocks in the biotechnology and pharmaceutical sectors. Click on my name next to my avatar at the top of the article.
Disclosure: I/we have no positions in any stocks mentioned, and no plans to initiate any positions within the next 72 hours.
I wrote this article myself, and it expresses my own opinions. I am not receiving compensation for it (other than from Seeking Alpha). I have no business relationship with any company whose stock is mentioned in this article.