Visa (NYSE:V) reported second quarter earnings on the 20th aftermarket; it beat across the board. It reported an EPS of 0.86 cents, beating EPS expectations of 0.79 cents. It also beat on revenue, reporting $4.48 billion dollars with an expectation of $4.295 billion for this quarter. Second quarter revenue grew a very impressive 23 percent year over year. The total amount of transactions which were processed this quarter also surged 42 percent, almost increasing by half. We also saw the total volume of payments which were processed by V increase by 37 percent rising to $1.7 trillion in second quarter. Cross-border volume increased by over 132 percent! Data processing revenues rose 25 percent, company service revenues increased 17 percent, and international transactions increased 41 percent. A dividend of 0.165 cents a share (0.72 percent yield) was also announced recently applicable to shareholders of record on Friday May 19th. This will be paid out on Tuesday, June 6th.
In my opinion, V still has more room to run. It reported extremely strong numbers this quarter, and growth trends seem to heavily be in favor of V. The acquisition of Visa Europe also provides V with more European exposure and strengthens its long-term outlook. Cross-border transactions should also increase and lead to accelerated volume and growth. This is due to the weakening of the British Pound, along with the Euro due to Brexit and other geopolitical problems.
V beat on nearly every metric possible across the board; shares were up around 2 percent aftermarket when the quarter report was announced. Expenses were high because of the purchase of Visa Europe last year. The purchase had a costly price tag of over $20 billion. But this temporary pain, in my opinion, is worth the long-term gain as V entrenches itself and expands more into Europe. Visa Europe is one of the reasons for double-digit revenue growth. The temporary expenses which come with it should not be a worry to shareholders at all. Visa Europe provided nearly one-fifth of the volume of total payments. In the long run, Visa Europe ensures a steady new stream of revenue along with an already well-established foothold in Europe.
V also has a very impressive return on equity clocking in at 20 percent. In addition to this, it pays out a healthy 0.72 percent dividend to shareholders. There was also a $5 billion buyback of shares, which was announced this quarter. So far in 2017, Visa is already up over 15 percent. Needless to say, Visa has been very giving and generous to its investors.
Economic trends also happen to be in Visa's favor. The economy for the US in 2017 has seen healthy growth with low unemployment, higher incomes, and high consumer sentiment. This is good news for Visa, a payments processor which benefits from more consumer spending. US consumer spending is expected to rise through 2017. The first three months have already seen a rise in incomes and spending. Data from the Federal Reserve from earlier this year has also shown that the US has now accumulated over a trillion dollars in credit card debt. These economic trends all point towards the same thing; more consumer spending, which will ultimately help increase the amount of revenue V generates.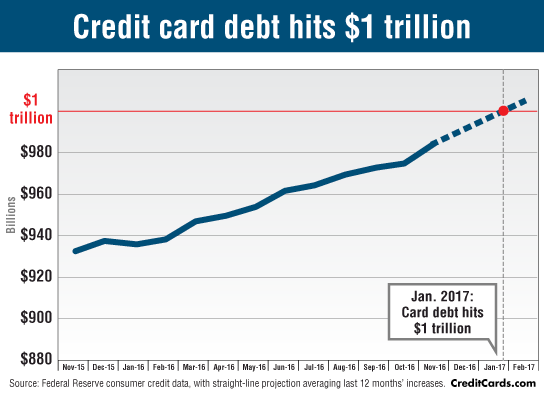 Data Source: Consumer credit data from Federal Reserve
I also predict that cross-border transactions will continue to grow significantly in the next few quarters as Brexit and other geopolitical wild cards cause the British Pound to continue to weaken. This will cause more transactions across the border as parts of businesses based in Britain relocate to other European countries to reduce expenses. If France also votes either far left or far right in its next election and decides to leave the European Union, you can probably expect cross-border transactions to increase even more as the value of the Euro collapses.
V is led by a very experienced management team and is a strong company financially. It has a history of rewarding its shareholders with high ROE percentages and share buyback programs, along with consistently issued dividends. Its acquisition of Visa Europe will pay for itself and strengthen its position in Europe. Macro conditions are also very bullish for the future of V. It beat analyst expectations this quarter and has consistently beat the past 11 quarters with one miss. Its successful track record, along with bullish economic conditions and the purchasing of Visa Europe, makes the future for V very bright.
Disclosure: I/we have no positions in any stocks mentioned, but may initiate a long position in V over the next 72 hours.
I wrote this article myself, and it expresses my own opinions. I am not receiving compensation for it (other than from Seeking Alpha). I have no business relationship with any company whose stock is mentioned in this article.