Yum China Holdings (NYSE: YUMC) became an independent company through a spin-off from Yum Brands (NYSE: YUM). Yum China has competitive advantages that I like, but the valuation looks a little lofty. The spun-off assets do provide some of the best exposure to China, especially with the increase in consumer spending power within the country.
Investment Thesis
Yum China has a strong advantage in China with its brand equity and distribution network. The company was one of the first global restaurant brands to enter the country in 1987. The KFC brand is considered the largest restaurant brand in China in terms of sales. There are 5,200 KFC restaurants spread throughout, along with 1,700 Pizza Huts. 90% of the restaurants are owned and operated by the company. Management believes there is capacity for 22,000-23,000 restaurants within the country, and right now it owns 7,500.
The operational advantage the company created was by establishing its own distribution network. Yum China utilizes 17 logistic centers along with a consolidation center in Shanghai. These were necessary steps to build out the infrastructure at the time, and now it has created a moat. These structural advantages lead into greater cost savings over competition, and this flows into higher operating margins.
(Source: SEC Filings and Author's Work)
As you can see, management is really starting to streamline operations and it shows, with restaurant-level operating margins being the highest it's ever been in the past 5 years at 16.91%. Management believes going forward it will keep the 17% margins even after the consideration of the 3% licensing fee paid to Yum Brands.
Store counts haven't contributed to top line growth over the last 5 years, but mainly because in 2012 and 2014 a huge food safety scare was upon the company over its chicken suppliers. Same-store sales really took a hit during these times. The silver lining is that the company started to really enhance its supply chain with increased food and safety testing and is starting to turn the corner. During the first quarter of 2017, same-store sales grew 1%, but that was against 12% growth in the prior year.
Valuation
In its outlook for 2017, company management sees 550-600 new stores added, double-digit growth in operating margins and robust growth in digital & delivery system sales. Currently, the digital platform has 93 million loyalty program members. All of these are great value drivers, but when forward price/earnings is around 23-24 times, I'm not sure an investment is warranted at these levels.
From an EV/EBITDA valuation, it appears Yum China could be slightly undervalued.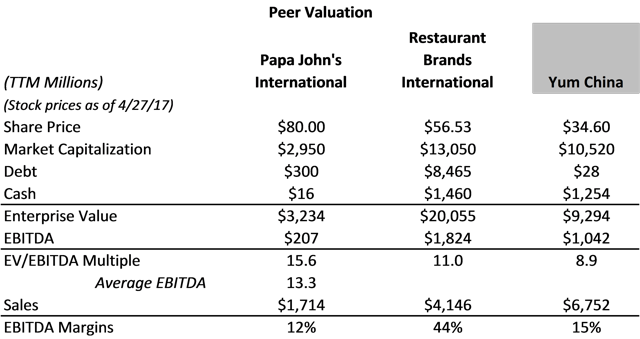 (Source GuruFocus and Author's Work)
The peer valuation does provide some data that there is value here, but the higher multiples for the peers could be warranted. Papa John's International (NASDAQ: PZZA) has shown good top line growth over the past 3 years, and Restaurant Brands International's (NYSE: QSR) business model is more a franchiser model, where it doesn't own many stores, which is why the higher EBITDA margins. Even so, Yum China does provide higher EBITDA margins compared to Papa John's and deserves one or two upticks in the multiple.
Conclusion
From just a standard P/E valuation to a peer valuation of EV/EBITDA, Yum China looks fairly valued to slightly undervalued. I am optimistic same-store sales will keep growing, while new stores help drive top line growth. The company is working on simplifying the menu and enhancing its digital platform to drive sales. With $1.2 billion in cash on the balance sheet, there are many options to drive shareholder value – I just don't want to overpay for the company. Yum China does give investors excellent exposure to China's growing market with a large-moat business, but it appears fairly valued, which is why I'm only adding it to my watch list.
To read more research on stock spin-offs, micro-mid cap companies, and special situations, please consider following me (by clicking the "Follow" button at the top of this article next to my name) to receive a notification when I publish research next.
Disclosure: I/we have no positions in any stocks mentioned, and no plans to initiate any positions within the next 72 hours.
I wrote this article myself, and it expresses my own opinions. I am not receiving compensation for it (other than from Seeking Alpha). I have no business relationship with any company whose stock is mentioned in this article.
Additional disclosure: This article is intended to provide information to interested parties. As I have no knowledge of individual investor circumstances, goals and/or portfolio concentration or diversification, readers are expected to complete their own due diligence before purchasing any stocks mentioned.