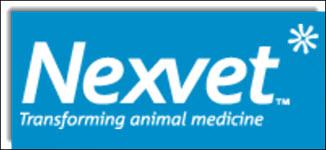 Quick Take
Parsippany, New Jersey-based Zoetis (ZTS) has announced an agreement to acquire development stage animal pain management company Nexvet Biopharma plc (NVET) for $6.72 per share in cash, or $85 million in total consideration.
Nexvet has developed a promising pipeline of companion animal (cats and dogs) pain treatments that are in various stages of development.
The deal is a 33% discount to Nexvet's original IPO price and represents a smart move by Zoetis management to build out its portfolio of animal pain biologics.
Target Company
Ireland-based Nexvet was founded in 2010 to develop a range of species specific monoclonal antibody treatments for pain, cancer, inflammation and other therapeutics areas for companion animals such as dogs and cats.
Management is headed by CEO Mark Heffernan who has been with the firm since 2011. Previously he co-founded Opsona Therapeutics Ltd, a company focused on human mAbs for inflammatory diseases.
Below is a brief demo video about Nexvet's approach to therapeutics veterinary biologics:
(Source: Nexvet)
Nexvet says it is the "only clinical stage animal health company completely focused on bringing a 100% species-specific biologics portfolio to market."
In its most recent earning release, Nexvet management highlighted that the company had entered into a research collaboration with Genentech, signed a licensing agreement with Pfizer (PFE) for certain of its anti-NGF mAB patents and initiated field efficacy and safety studies for frunevetmab.
The company went public on February 11, 2015, selling 4 million shares of its common stock at $10 per share.
Acquisition Terms, Rationale and Commentary
Prior to the acquisition agreement, Nexvet's shares were trading at around $4 per share. The acquisition offer of $6.72 represented a 66% premium over its closing price on April 12, 2017.
Zoetis' financial resources provide ample room for the $85 million deal to be paid out of existing cash, which as of December 31, 2016 was $727 million.
Since Nexvet is a development stage company and thus has no revenues, the acquisition was likely valued on the strength of its pipeline and potential collaborations and licensing opportunities, in addition to Zoetis' belief in its ability to commercialize treatments in-house.
Stating the rationale for the deal, Dr. Alejandro Bernal, EVP Strategy, Commercial and Business Development at Zoetis said:
This acquisition is a strategic fit that brings to Zoetis an R&D organization that shares our commitment to industry-leading innovation. It will strengthen our R&D pipeline in monoclonal antibodies and help sustain our category leadership in chronic pain management for companion animals, which is an area poised for innovation with new mAB therapies.
Zoetis management cites its research indicating a current worldwide market for companion animal pain management of $400 million.
I couldn't obtain a verified market size estimate, but according to a 2015 report on U.S. small animal pain management by Brakke Consulting:
The pain management market has been one of the fastest growing areas in animal health, with a variety of new active ingredients and novel formulation in the past 20 years. Sales of small animal analgesics have increased 20-fold since the introduction of Rimadyl, the first of the new-generation NSAIDs, in 1996.
Although the deal is a small one for $4.9 billion revenue Zoetis, it is squarely in its wheelhouse and represents an opportunistic approach to building out its animal pain management treatments.
In only two years from its IPO, Nexvet's stock had fallen from $10.00 per share at IPO to $4.00, yet the company had made significant pipeline progress on a number of fronts.
I view the transaction as a definite win potential for Zoetis, assuming trial candidates can successfully complete their trials without delay and be commercialized soon thereafter.
With Zoetis' presence in over 100 countries, there is little commercialization risk. We'll need to wait and see the results of pivotal trials to learn if they get the chance.
Author's note: I write about M&A deals and IPOs. Click the "Follow" button next to my name at the top or bottom of this article if you want to receive future articles automatically.
Disclosure: I/we have no positions in any stocks mentioned, and no plans to initiate any positions within the next 72 hours.
I wrote this article myself, and it expresses my own opinions. I am not receiving compensation for it (other than from Seeking Alpha). I have no business relationship with any company whose stock is mentioned in this article.
Editor's Note: This article covers one or more stocks trading at less than $1 per share and/or with less than a $100 million market cap. Please be aware of the risks associated with these stocks.